Another year another Group 1 blank for beleaguered Italian racing professionals
Q&A with breeder Massimo Parri from a racing nation hoping to restore its pride
One thing Italy, devastatingly, has had a lot of is the coronavirus. One thing it does not have at all is Group 1 horseracing.
Late May witnessed the return of the sport in Italy, and while that in itself was a relief, so began another campaign bereft of a domestic Group 1 target for the nation's beleaguered racing professionals.
There were seven Group 1s in 2013, but the figure has been whittled down and last year marked what might rank as the bleakest season yet in the country's long, noble and distinguished racing history, when the downgrading of the Premio Lydia Tesio meant no top-level races were run.
That situation remains for 2020, as does Italy's sorry status as only an associate member of the European Pattern Committee, with no voting rights. There are also fears for the Derby Italiano - won in the modern era by luminaries like Glint Of Gold, White Muzzle and Rakti, and in 1938 by Nearco - as it is on the EPC's risk-of-downgrade list, its Group 2 brackets under threat.
The Derby is now this year on July 12 (instead of May 24), and was preceded by the 1,000 and 2,000 Guineas on June 14 (originally April 26), while the Oaks is on July 5 (June 21).
For every racing nation, the coronavirus will mean this is a season like no other, and for Italy's sake it is to be hoped the EPC takes all factors into account when looking back on 2020 with a view to shaping the 2021 pattern - while there might yet be further pain for the nation to endure in terms of its status within the European framework, what it could really do with is an arm over the shoulder.
It will also, when possible, need the support of British and Irish connections, along with the French and Germans, whose horses invariably help when it comes to the top races' average ratings.
On the prize-money front, difficulties associated with being paid does not seem to have been an issue over the past couple of years, and while prize-money overall has crashed since the early years of the century - along with betting turnover - purses for Italy's major races have stood up remarkably well in the circumstances.
In 2010, the year before governance of racing was taken out of the control of the organisation which began life as UNIRE (Union Nazionale Incremento Razze Equine - the national authority for horseracing) by the Ministry of Agricultural and Forestry Policies, Italy's seven Group 1s all boasted a winner's purse of £119,469.
While the same prize for the Premio Presidente Della Repubblica and Gran Premio Di Milano was last year £82,883, the dip to £105,405 for the Premio Vittorio Di Capua, Gran Premio Del Jockey Club and Premio Roma was less significant, while for the Gran Criterium the downturn was marginal, to £117,117. First prize for the Lydia Tesio was actually up, at £126,126.
Very much down, understandably, are the numbers of breeders operating in Italy, to a total of around 380 who had runners last year, there having been a gradual slide from 800-plus in 2011.
One such breeder, Massimo Parri, owner of Le.Gi Stud, and chairman of Italy's Thoroughbred Breeders' Association, is not unhopeful the nation's racing and bloodstock industries can regain previous powers, numbers and respect, but he admits there is no quick fix to Italy's troubles and that, even more so in light of the coronavirus, long-term support from overseas breeders, owners, trainers and jockeys will be crucial and greatly appreciated by their colleagues from the land of Tesio, Ribot and Dettori.
Here, he answers our questions...
RP How long has the horseracing sector been managed by the Ministry of Agriculture, and what impact is that having on the health of the breeding and racing industries?
MP The Ministry of Agriculture has managed the racing and breeding industries since 2011. Unfortunately, the public administration has been characterised by bureaucracy, inefficiency and delays that have blocked progress, and many passionate people in our industries walked away.
RP What money does the government provide for thoroughbred racing and trotting?
MP In 2019 prize-money for thoroughbred racing and trotting was around €90 million. About 50 per cent of this amount is dedicated to the racecourses - most of them for thoroughbreds also have training centres, i.e. Milan, Rome - and, of the other half, 60 per cent of that is for trotting and 40 per cent for thoroughbreds.
RP What are the prospects of management of the racing sector transferring to racing organisations, and how long might this take?
MP Every person involved in the thoroughbred industry hopes for reform that takes the management of it outside of the ministry. It is crucial to have a new management that can guide the industry in a faster way, aligned with our timetables, and to be able to plan the future and the relaunch of the whole industry. Unfortunately, this has not been possible recently because Italy's government has changed three times in the last three years.
RP How many big stud farms and smaller breeders are there in Italy, and how would this compare to a decade ago?
MP In terms of Italian thoroughbred breeders, in 2019 there were around 380 - that is including big breeders and breeders who have at least one runner a year. The data since 2011 is here...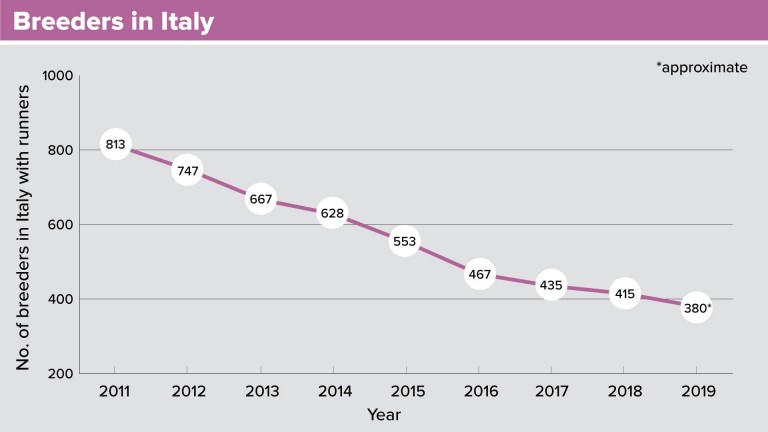 RP What are stallion, broodmare and foal numbers like? Have they declined in the past few years?
MP Our foal numbers have gone down yearly, from around 2,100 born in 2007 to 650, with around 150 of those actually born outside of Italy. The number of stallions in 2019 was 32, a number which has been stable in the last three years. The number of Italian broodmares has naturally followed the trend of the foals, and now we are at around 800.
Even if the trend is clearly negative, the Italian breeder has continued to produce international Group 1 winners, for example Beauty Only, winner of the 2016 Longines Hong Kong Mile, and 2018 dual top-level winner Sea Of Class.
RP How are bloodstock sales performing and how many are there?
MP In terms of auctions, we have a 'selected sale', the SGA. SGA (Societa Gestione Aste - literally the auction management company) is 100 per cent owned by the breeders' association. This company organises one yearling sale per year and two horses in training sales (around 20-30 lots).
The yearling sale had around 150 lots - the highest figure that can be mustered in Italy - and in 2015 had the worst result with a turnover of around €900,000. Since then, every year had seen an increase, until last year, when the turnover was close to €2,500,000.
RP What is the effect on breeders and owners of declining prize-money and loss of Group 1 races?
MP The effect of declining prize-money has been that many people moved their business abroad or closed down. The loss of Group 1 races has penalised the industry, because the value of Italian horses has gone down. We hope the big thoroughbred owners and trainers will once again come to Italy with their horses, to give more value to our races.
RP Italy currently has no voting rights on the European Pattern Committee - what are the feelings around that?
MP In Italy no-one was happy about this decision, and if the Italian thoroughbred industry continues to be penalised, it is harder for us to move on and improve the situation. Should the Italian thoroughbred industry ever completely come to an end, all European racing jurisdictions will be the poorer for it.
RP How important to Italy is the support of foreign racing professionals - especially from Britain and Ireland - when it comes to contesting your Group races?
MP It is crucial that owners and trainers come to Italy whenever possible.
RP Finally, what is the morale of racing professionals, racegoers and punters in Italy? Is there belief in the situation getting better in future?
MP Everyone involved in the industry is fearful about the situation, but hopefully our passion, history and culture will enable us to emerge from the current circumstances and move forward.
---
Pattern races run in Italy
Year Group 1 Group 2 Group 3 Listed Total
2010 7 4 17 69 97
2011 7 5 17 68 97
2012 7 5 18 60 90
2013 7 5 18 58 88
2014 6 6 19 55 86
2015 6 5 17 54 82
2016 4 6 17 56 83
2017 1 8 16 52 77
2018 1 9 16 51 77
2019 0 11 15 50 76
2020* 0 11 15 50 76
*scheduled
---
Prize-money of Italy's former Group 1s
Race 2010 winner's purse (£) 2019 winner's purse (£, +/-)
Premio Lydia Tesio 119,469 126,126 (+6,657)
Gran Criterium 119,469 117,117 (-2,352)
Premio Vittorio Di Capua 119,469 105,405 (-14,064)
Gran Premio Del Jockey Club 119,469 105,405 (-14,064)
Premio Roma 119,469 105,405 (-14,064)
Premio Presidente Della Repubblica 119,469 82,883 (-36,586)
Gran Premio Di Milano 119,469 82,883 (-36,586)

---
Members can read the latest exclusive interviews, news analysis and comment available from 6pm daily on racingpost.com
Even if the trend is clearly negative, the Italian breeder has continued to produce international Group 1 winners