How minimum bid mare Bulrushes became a ticket to riches for Nicky Teehan
Martin Stevens speaks to the breeder about a cheaply bought mare marvel
Every now and again a rags to riches tale comes along to remind smaller breeders why they stay in the game despite incurring financial losses, horses inevitably sustaining injuries and the long nights on foaling duty.
The latest example is up there with the very best Cinderella stories. Bulrushes, a Byron half-sister to Jersey Stakes winner Tariq, was disregarded by all but one suitor when she appeared at the Tattersalls December Mares' Sale and sold for the minimum bid a decade ago.
She was then sent to a range of inexpensive sires who turned out to be unfashionable, but those matings have resulted in five winners from as many runners, including three at black-type level – the classy sprinters Ross Castle and Snazzy Jazzy, as well as Tuesday's Leopardstown Listed scorer Ten Year Ticket.
The upwardly mobile mare has since been sold for considerable profit and now graces the court of Europe's leading stallions.
Nicky Teehan was the man who first took the chance on Bulrushes when no one else would. He runs Bluegate Stud in County Kilkenny – home to just five broodmares, three jumps and two Flat – with his partner Louise Lyons, an accomplished eventer who represented Ireland in the sport at the Beijing Olympics.
Among the operation's previous notable successes are breeding Galway Plate winner Shanahan's Turn and selling him and other useful jumpers Raya Time and Spencer's Hill for good profit. The stud has also stood a number of National Hunt stallions down the years, including Darnay and Sunshine Street early on and later Native River's sire Indian River.
Remembering the day Bulrushes came up for sale as an unraced two-year-old in Newmarket in 2010, Teehan says: "I liked her pedigree as she was a half-sister to a Royal Ascot winner and was by a fast horse. Not only that, but she was an attractive filly and had a lovely walk.
"For whatever reason she hadn't run for Ed McMahon, who was selling her. I wasn't aware why, but at 800gns I was happy to take the risk. In fact at that money there was very little risk involved and Michael Donohoe of BBA Ireland bought her for me.
"She had cost 26,000gns as a yearling so I assume she must have had a mishap but I had no intention of racing her. I was just keen to get into a good sprinting family."
Asked why he thinks Bulrushes was overlooked by others at the sale, Teehan offers: "It was the last day of the sale and it was exceptionally cold and frosty that year, so it's possible people had already gone home or couldn't get out to see her and that's how she slipped through the net.
"In fact, the weather was so bad that year that when she was delivered to me the lorry couldn't make the last four or five miles to my farm as the roads were so bad, so I had to go out to collect her.
"The market has also improved since then and I think a mare with a similar profile would have made a fair bit more money last year."
It took a while for Bulrushes to reveal just how much a bargain she was, as the sales of her first two produce were a "disaster" according to Teehan.
"I went to Tattersalls October Book 3 with her first offspring, a Fast Company filly, and she didn't attract a bid so I put my hand up and bought her back at 5,000gns in order for her to be qualified for auction races," he relates.
"In the end I decided to send her to the breeze-ups and she went to Goresbridge. She was not overly big, a typical first foal, but she was very correct and she did a good breeze."
Michael Donohoe bought her for €12,000 on behalf of Scandinavian clients, and the filly won seven races in Norway and Sweden under the name Dancewithastranger.
The next foal for Bulrushes was a Bushranger colt, the result of a mating planned in the hope the sire would set the industry alight with his early crops – a widely held belief at the time that sadly turned out to be misplaced.
"The expectations for Bushranger were massive and I thought I was very clever having a mare in foal to him before his first two-year-olds ran, but by the time I sent my colt to the yearling sales he was considered very disappointing," Teehan says. "Not one person came to see him, he went unsold at €1,800 and I went home from Goffs with my tail between my legs.
"So I rang my friend, the trainer Matthieu Palussiere, and he said send him over to France and we'll see what we have. So I gave him three-quarters of the colt who turned out to be Ross Castle and I kept a quarter. He was a great horse and gave us plenty of fun days."
Ross Castle has won five races, his finest hour coming with victory in the Group 3 Prix Texanita at Maisons-Laffitte in 2016.
Bulrushes' third foal is her highest rated to date – the five-year-old entire Snazzy Jazzy, a soft ground specialist who won the Tattersalls Ireland Super Auction Sale Stakes at two, the Ayr Silver Cup and Group 3 Prix de Seine-et-Oise at three and the Listed Cathedral Stakes at four.
The Red Jazz colt also turned around the mare's fortunes at the sales, as he was in strong demand as a yearling at Fairyhouse. It took his trainer Clive Cox a bid of €65,000 to secure him.
"Snazzy Jazzy was just a smashing colt," Teehan says. "As a yearling he walked for sport. They couldn't get enough of him when I took him to the Tattersalls Ireland September Yearling Sale. It had taken a while, but it finally happened for the mare."
It was onwards and upwards for Bulrushes from that point. Her next produce, the 2016-foaled Henrythenavigator colt Admiral Rous, was sold to Eoghan O'Neill for €47,000 as a yearling.
He won three races and ran third in the Group 3 Prix Paul de Moussac for the Normandy-based trainer, and commanded the fourth highest price at last year's Tattersalls July Sale when sold to race in Qatar for Jassim Ghazali for 325,000gns.
Then came Ten Year Ticket, who is unbeaten in two starts for Jim Bolger having taken a competitive Curragh maiden last October and striking in the Listed Holden Plant Rental Trial Stakes at Leopardstown on Tuesday.
The three-year-old Rock Of Gibraltar gelding carries Teehan's silks. Explaining that, and the horse's name, he says: "Ten Year Ticket had been heading to the yearling sales but got a niggle and we couldn't get him ready in time. We had no option but to put him in training.
"When he was a yearling, rising two, I met Jim [Bolger] at an ITBA meeting at Kilkenny. I'd worked for him when I was a kid and hadn't met him in a while, so it was good to catch up.
"Jim and my late dad used to meet after hurling games, both being avid followers of GAA. I mentioned to him about my yearling and he told me to send him the horse and he'd have a look at him.
"The name refers to my dad having a ten year ticket for Tipperary GAA at Semple Stadium. I remember when I was young him having conversations with his friends – they'd ask if he was going to the game at the weekend and he'd reply of course, I've got my ten year ticket! It's just something that stuck with me."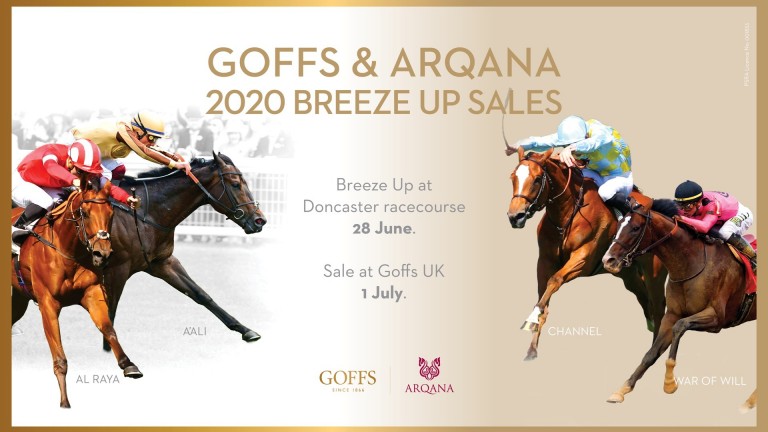 Ten Year Ticket will no doubt have attracted the interest of acquisitive buyers and with Teehan's modus operandi being to put form on inexpensively bred or bought horses and resell them, he might well be carrying different colours in the future.
Indeed, Teehan had tried to sell the gelding after his Curragh victory last year but he was a vendor buyback at just 75,000gns. If only agents had the power of time travel.
"We tried to sell Ten Year Ticket as a wildcard at the Tattersalls Autumn Horses in Training Sale after he'd won at the Curragh but it just didn't work," he says.
"The handicapper declined to give him a rating for his win as the race was full of newcomers and it was on soft ground. We ended up being offered only 70,000gns, so we bought him back at 75,000gns."
Did Teehan worry Ten Year Ticket might not go on from that maiden victory, and that the horse was at his peak value at that point?
"No, I was confident the win wasn't a fluke," he replies. "He was a big price probably because he doesn't do a lot at home, but I thought he would go on to be quite useful. Aidan O'Brien had three Galileos in the race and the runner-up was a Khalid Abdullah-owned colt trained by Ger Lyons [Lough Cutra]."
Mindful of cash flow, Teehan accepted a private offer for his golden goose Bulrushes after the non-sale of Ten Year Ticket. The 12-year-old is now owned by Qatari operation Al Wasmiyah Farm and resides alongside glamour mares such as Dar Re Mi and The Fugue in the salubrious surroundings of Watership Down Stud, where she delivered a Dark Angel colt in March.
"The only reason I sold her was because I came out of Newmarket not having sold Ten Year Ticket," says Teehan. "If he'd sold I would have held on to the mare – but I had bills to pay and to be frank she was the only animal on the farm worth a few quid. It was bittersweet letting her go, though."
All the more bittersweet because Teehan had stuck with Bulrushes despite those early sales ring flops, when others in similar circumstances might have moved the mare on.
"She'd looked a disaster in the early days but when I buy a mare I tend to stick with them," he reflects. "I suppose some might call me soft. Harsher men might have pulled the plug with her earlier.
"But I don't have a big backer and operate on a small budget, so I have to make the best of what I've got. And anyway, as soon as Snazzy Jazzy came along I knew he could be the one – he was just a gorgeous young horse."
It is far from the final chapter of this fairytale for Teehan, however. He may not have Bulrushes or any daughters to breed from in future, but he does have a yearling brother to Snazzy Jazzy who is likely headed to Tattersalls October Book 2 this autumn.
Even better, he managed to snare a half-sister to the mare, once more for buttons. Katora, an unraced daughter of Kodiac, cost just 4,500gns from the Tattersalls December Mares Sale in 2018. She delivered a filly for her new owner last May.
---
If you enjoyed reading this, you might also like...
Bargain buys: Sceptical bidding to become the latest cheaply bought cast-off star
West End Girl headlines five Royal Ascot entries in Tattersalls' online sale
Goffs to host first online auction as sales industry adapts to 'new realities'
I suppose some might call me soft. Harsher men might have pulled the plug with the mare earlier