How a holiday in Argentina inspired the breeding of Nando Parrado
Martin Stevens speaks to Anita Wigan, the brains behind the Royal Ascot hero
A starting price of 150-1 was not the only unusual element of Nando Parrado's victory in the Coventry Stakes at Royal Ascot on Saturday.
The Clive Cox-trained colt is by a familiar source of two-year-old winners in Tally-Ho Stud stalwart Kodiac, but he is out of Argentinian Grade 3 winner and Grade 1 place-getter Chibola.
The mare is by Roy, a Grade 2-placed son of Fappiano who became a prolific champion sire in South America but whose name is hardly ever seen in pedigrees of big race winners in Europe.
Chibola's import to Britain was the result of Nando Parrado's breeder Anita Wigan being impressed by the local stock on a holiday to Argentina with husband James, the leading bloodstock agent.
"We went racing at San Isidro and saw how firm the ground was, and how tough the horses must be as they run on it quite frequently, and I thought to myself I have to have one of these," she says.
"So I got in touch with Diego Zavaleta of Haras Embrujo about purchasing a broodmare from Argentina. He sent lots of pictures of potential candidates and I picked Chibola."
Chibola had already produced two useful performers for Wigan before Nando Parrado's shock victory – Muntadab, a ten-time winner by Invincible Spirit who achieved a peak Racing Post Rating of 112 and is still showing good form for Roger Fell at the age of eight, and Dubai Horizon, a six-year-old Poet's Voice gelding who was Group 3-placed for Saeed Bin Suroor at Meydan in February.
The mare's first foal, the Oasis Dream mare Paella, was unable to race after breaking her pelvis but trainer Richard Hannon snr reportedly thought highly of her. She passed on plenty of ability to her debut offspring Getchagetchagetcha, a useful handicapper by Champs Elysees with a best RPR of 105.
Chibola is therefore a useful advertisement for re-invigorating European bloodlines that are becoming increasingly inbred to names such as Danzig and Sadler's Wells.
Not only is she by Roy, but she is also out of a mare by the winning Damascus stallion Confidential Talk. Moreover, her second, third and fourth dams are all by Argentinian-bred stallions – Mariache, Black Out and Embrujo.
However, Wigan insists that those exotic genes were not her prime concern when buying the mare.
"It was more to do with trying to replicate those Argentinian mares' soundness and toughness than the bloodlines, and looking at Muntadab and Dubai Horizon still running well at their advanced ages I think I've been proved right.
"Chibola's progeny haven't always been top-class but they are very, very genuine."
The mare has been based at Whatton Manor Stud since Wigan left her Rushbrooke Stud in Suffolk in 2015 and distributed her stock between the Player family's operation in Nottinghamshire, Selwood Bloodstock in Somerset and Copgrove Hall Stud in North Yorkshire.
Chibola, aged 17, has an Aclaim yearling filly who will likely head to the sales this autumn and a Showcasing filly foal who could be retained by Wigan. She is back in foal to Magna Grecia.
Whatton Manor Stud consigned Nando Parrado to the Tattersalls December Foal Sale, where he sold to Paul and Marie McCartan's Ballyphilip Stud as a pinhooking prospect for 165,000gns.
"Paul couldn't be a nicer guy, so I was thrilled he bought him as a foal," Wigan says. "But then I believe the colt just received a small cut that meant he couldn't go to Book 1, and so he went to the December yearling sale but didn't achieve the price they wanted.
"The trouble is, people often think there's something wrong with the horse if they have to go that sale. But that just isn't the case, and so Paul and Marie raced Nando Parrado instead and I'm delighted it's worked out."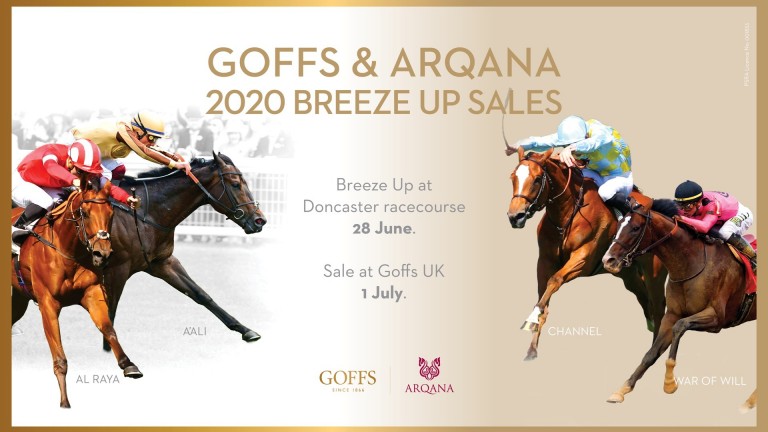 Wigan always rated Nando Parrado as a young horse – "but more importantly Paul McCartan really liked him, and he's a much better judge than me" – but didn't hold out much hope for him winning the Coventry Stakes due to his odds.
"I saw he was 150-1 and assumed other connections must know more about their horses, so it was a lovely surprise," she says.
"I received lots of nice messages after the race from other breeders who realise how few and far between these days are and how difficult it is to do it."
Much of Wigan's time these days is devoted to the Thoroughbred Breeders' Association, since her election to the board two years ago.
"It's been a busy time dealing with Covid-19 and looking at measures to help us emerge from lockdown," she says. "The TBA is so important for breeders in a crisis like this. I hope people realise."
---
Read more...
Why this year's Royal Ascot belonged to those breeding on a budget
Star sires and brilliant breeders: five things we learned at Royal Ascot
'I've never had my temperature taken so many times' - Insiders report on the first socially distanced breeze-up in Newmarket
I saw he was 150-1 and assumed other connections must know more about their horses, so it was a lovely surprise