Hopes high as 2019 breeze-up season kicks off at Tattersalls Ascot
82 two-year-olds due to come under the hammer
Europe's two-year-old sales circuit may be getting warmed up but prospective buyers had to brave unseasonably chilly conditions as Ascot on Tuesday as the 82 juveniles comprising the Tattersalls Ascot Breeze-Up Sale catalogue were put through their paces up the home straight of the iconic racecourse.
The progeny of 14 first-season sires are among those on offer, and results on the track on Tuesday showed a couple of those stallions in a particularly favourable light, with Cable Bay supplying his first winner and Brazen Beau getting his first in the northern hemisphere.
---
View full Tattersalls Ascot Breeze-Up Sale catalogue
---
Brazen Beau has one juvenile entered at Ascot (Lot 10) while Cable Bay has three, including a colt out of Hadeeya (49) consigned by Kilminfoyle House Stud who fetched £110,000 as a yearling, and a colt out of Mahatta offered by Dunsany Stables (67), the vendor of last year's top lot, the Excelebration colt Reloaded bought by Alex Elliott and Excel Racing for £120,000.
"He's a grand tough, genuine colt who'll be ready to run in a few weeks," said Dunsany Stables' Danny Benson of the Cable Bay colt. "I'm delighted to see Cable Bay have a winner today."
Benson also offers a filly by another first-season sire, and the superlatives poured freely from the vendor when asked about the Hot Streak filly out of Qatar Princess (84), who caught the eye of the clockwatchers present at Ascot.
"She's a lovely filly and she breezed very well, but she's been like that from day one," said Benson. "She's had no prep at all, she's very clean-winded, sound, just a good filly – the good ones are easy to get ready. She seems to be very smart and there's a lot of talk for the Hot Streaks as well."
But for all his enthusiasm for the filly, Benson was quick to play down his chances of topping the sale for a second consecutive year.
"Last year was a dream! I don't think that happens the whole time," he said.
---
WHERE/WHEN
Where Tattersalls Ascot sales ring, Ascot
When Selling begins on Wednesday at 12pm
Last year's stats 59 sold (50 per cent) for turnover of £1,422,900 (down 30 per cent year-on-year); an average of £24,117 (down 21 per cent); and a median of £16,000 (down 24 per cent)
Notable graduates The Wow Signal (sold by Lynn Lodge Stud, bought by Sean Quinn for £50,000); Sands Of Mali (Bansha House Stables, Cool Silk Partnership and Stroud Coleman Bloodstock, £75,000); First Selection (Bansha House Stables, Simon Crisford, £42,000); Shumookhi (Tally-Ho Stud, Blandford Bloodstock, £11,000)
---
No vendor can match Con Marnane's record of bringing high-class talents to Ascot, think horses like Sands Of Mali, First Selection and Sporting Chance, and the master of Bansha House Stables has four lots on offer on Wednesday.
There are colts by Kodiac (19) and Elusive City (61) described by Marnane as "very nice", as well as a son of French 2,000 Guineas winner Lucayan (43).
"He's a lovely big, strong colt," Marnane said of the Lucayan. "I've had a couple of horses by strange stallions here before, Diktat and Panis, and people were asking me questions about them, and this lad is by Lucayan so they better brush up!"
Marnane also offers a colt from the debut crop of French Navy (20). Not only did Marnane breed the late March foal, he is also responsible for the colt's jockey, as his daughter Olivia was in the saddle during the breeze.
"She did very well as he actually shied at one of the lasers going off and she did well to stay with him," said Marnane. "But he came up nicely and finished with his ears pricked."
Last year's breeze-up sales proved trying for vendors, as demand struggled to keep pace with significantly increased supply. However, Marnane said vendors were entitled to some cautious optimism having reacted to those market signals.
"Everybody has tidied up their numbers, on average I'd say there's a third less breeze-up horses, which should make life a bit easier," he said.
"Last year was a bit of a bloodbath in the ring, but we still had two Group 1 winners, Teppal and Sands Of Mali, and that's what counts.
"We have some gorgeous horses for the year, I'm delighted with them, and we've had a good winter as well so they're quite forward."
Tattersalls Ascot have also taken heed and this year 55 fewer two-year-olds have been catalogued than in 2018.
---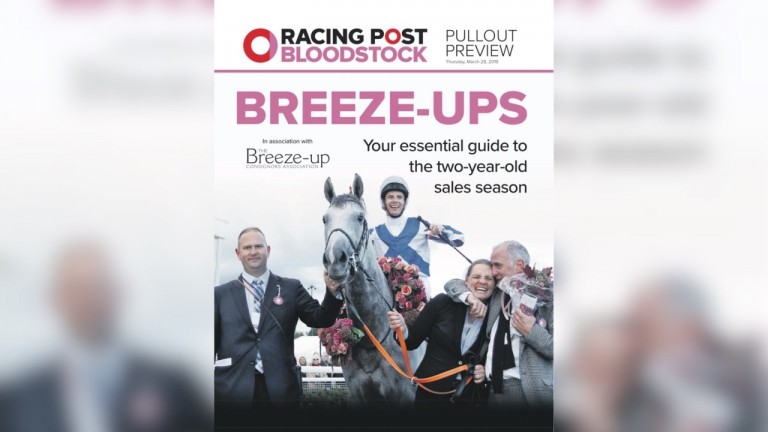 Prepare for the breeze-up season with our 16-page supplement packed with unmissable features
I've had a couple of horses by strange stallions before, and people were asking me questions, this lad is by Lucayan so they better brush up!