Goffs' new internet bidding platform ready and waiting for next week's auction
Goffs Arqana breeze-up sale takes place on Wednesday and anyone can submit a bid
Goffs Online, Goffs' new internet bidding platform, will be offered for the first time at the Goffs Arqana 2020 Breeze-Up Sale at Doncaster on Wednesday, and registrations for the service are now open.

Accessed via www.GoffsOnline.com, registrations to bid online must be made at least 48 hours prior to the start of the Breeze-Up Sale. When a registration has been processed, the user will be notified by Goffs prior to the start of the sale.

Telephone bidding will also be available at the sale and can be made by contacting Tim Kent or Jeremy Mactaggart of Goffs UK and Eric Hoyeau or Freddy Powell of Arqana. All phone bidders must have supplied a signed Authorisation of Agent Form appointing Goffs or Arqana to bid on their behalf. The form can be downloaded here.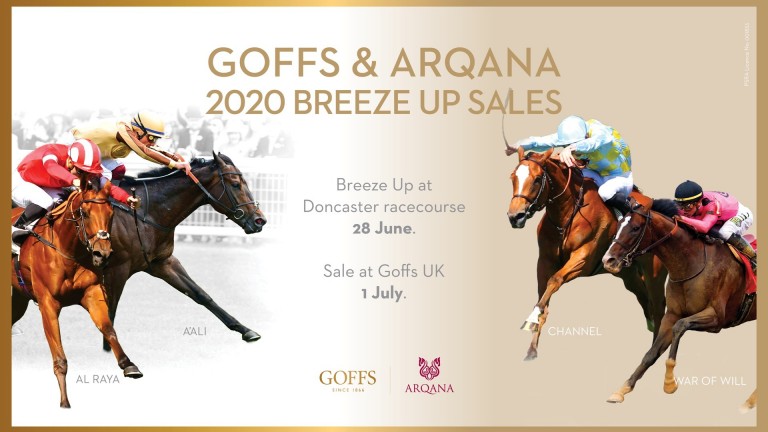 Commenting on the introduction of Goffs Online, Goffs group chief executive Henry Beeby said: "We have been planning an online bidding platform for some time but the new realities surrounding Covid-19 have meant this technology is now an essential part of the Goffs service.
"We are 100 per cent committed to making our auctions as accessible as possible and Goffs Online allows purchasers to participate from anywhere in the world. Indeed, online bidding will now be a permanent feature at all Goffs sales and we have developed a simple format that is very easy to use."
Read more...
Star sires and brilliant breeders: five things we learned at Royal Ascot
Luckless on the track but Jacqueline Quest finding redemption at stud
Foley's ambition fulfilled as The Lir Jet gives Ballyhane sires an Ascot double
We're 100 per cent committed to making sales as accessible as possible and Goffs Online allows purchasers to participate from anywhere in the world