Godolphin signal intent to re-enter Australian yearling market
James Cummings on the hunt for future talent at the Gold Coast Yearling Sale
Godolphin could be active at this year's sale series for the first time in at least a decade, starting at next week's Magic Millions Gold Coast Yearling Sale, as Sheikh Mohammed looks to diversify his Australian operation.
Incoming Godolphin Australia managing director Vin Cox, who is currently in charge of Magic Millions, confirmed on Thursday that the organisation would look to purchase yearlings in 2018.
The plan was initially floated by former Godolphin Australia managing director Henry Plumptre last year when James Cummings was installed as head trainer, replacing John O'Shea.
---
Read the ANZ Bloodstock News and Racing Post Bloodstock's Magic Millions Gold Coast Yearlings supplement here
---
At the time, Plumptre indicated Godolphin could buy as many as 20 yearlings this year, but Cox played down the level of investment likely to be made by the organisation.
The move follows on from Godolphin's European operation buying yearlings by Coolmore's leading stallion Galileo for the first time in 2017, a clear sign it intends to broaden the bloodlines of its breeding and racing portfolio.
Last year, Godolphin purchased yearlings in New Zealand by the country's leading stallion Savabeel but did not participate in the Australian market.
Cummings and Godolphin Australia's bloodstock manager Jason Walsh have been at the Magic Millions Gold Coast complex this week inspecting yearlings in anticipation of securing horses to complement its large team of homebreds.
Cox told ANZ Bloodstock News a strategy had been put forward to Sheikh Mohammed and Princess Haya about re-entering the Australian yearling market.
He said if Godolphin does purchase yearlings next week it would not be at the top-end of the market and would be in single figure numbers.
"Godolphin haven't bought to any sort of level for a number of years and I put a proposal in to Sheikh Mohammed and Princess Haya and to the team up in the northern hemisphere and I am just waiting to see what happens," Cox said.
"There will be something at minor level but we won't be shooting the lights out at the top-end."
Cox said Godolphin's bloodstock team had no set targets and would not rule out buying colts or fillies at the sale.
"It will be about accessing some different bloodlines but also supporting vendors who support (Darley stallions)," he said.
"Like I say, if we do something it won't be significant."
From an industry point of view, Cox said it was encouraging that Godolphin could enter the yearling market.
"Whether it is Godolphin or a ten per cent shareholder, any buyer is very welcome at Magic Millions, I can assure you," said Cox, who leaves Magic Millions after next week's sale and officially starts at Godolphin later in January.
In 2008, Sheikh Mohammed purchased the Woodlands breeding and racing empire established by Jack and Bob Ingham and has largely relied on homebred horses by stallions such as Exceed And Excel, the late Street Cry, Medaglia D'Oro, Commands and Lonhro.
This year, first-crop yearlings by Darley-based stallions Brazen Beau, Shooting To Win, Hallowed Crown and Sidestep will all be offered.
Cox said Sheikh Mohammed remained committed to his Australian operation and had shown significant interest in not only his thoroughbreds but the country as a whole during a recent meeting with the outgoing Magic Millions managing director.
Cox replaces Plumptre at the helm of Godolphin Australia after the latter resigned last year in the wake of a strangles outbreak that was not reported to Racing NSW stewards.
---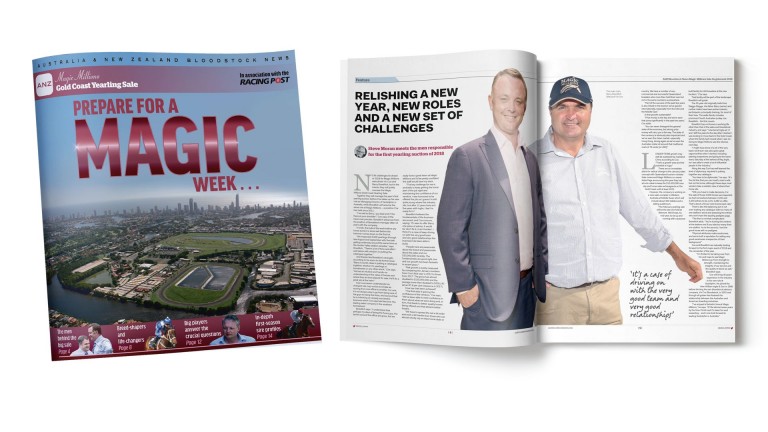 Don't miss your indispensable guide to the Magic Millions Gold Coast Yearling Sale - available to read here
For complete coverage of racing and bloodstock in Australia and New Zealand, download ANZ Bloodstock News every day
It will be about accessing some different bloodlines but also supporting vendors