'From a vendor's perspective, this year felt completely different to last'
Star Bloodstock's Matt Eves gives a seller's view on the two-year-old sales
After the 2017 breeze-up season those within the industry felt buoyed by the strength of the market and the fact that the product offered was being broadly well received. It almost seemed easy to make money.
I'm an industry outsider, so I spend most of my time advising company shareholders on realising value through selling their companies, and the signs at the top of the breeze-up market were there, similar to a peak in valuations for businesses.
In 2017 I felt like Star Bloodstock escaped with just enough capital to fight another day, but we had missed the golden opportunity given the market.
Our horses were green and we missed the clock repeatedly. We sold good horses like Abel Handy (£16,000, Goffs UK) a winner of the Group 3 Cornwallis Stakes and Wasim (38,000gns, Tattersalls Craven Sale), now rated 100 in Dubai. But in our minds we had not been paid to the level we had hoped, particularly given the exuberant market. But our horses weren't hitting the times to make the second-look lists of serious buyers.
Leaving 2018 behind many vendors will simply have that same sense of relief to still be battling on. The bubble has burst, plenty of horses have gone home unsold and there is a recognition that things are different. I have some personal perspectives on this year.
Demand has been broadly unchanged
The racecourse results for breeze-up horses continue to show the product in a good light. Big winners like Con Marnane's Bansha House graduate Teppal picking up the French 1,000 Guineas will do the image of the breeze-ups no harm.
However, in 2018 total demand has remained unchanged. The accompanying table shows that the number of horses sold at the breeze-ups this year across all the major European sales increased just four per cent.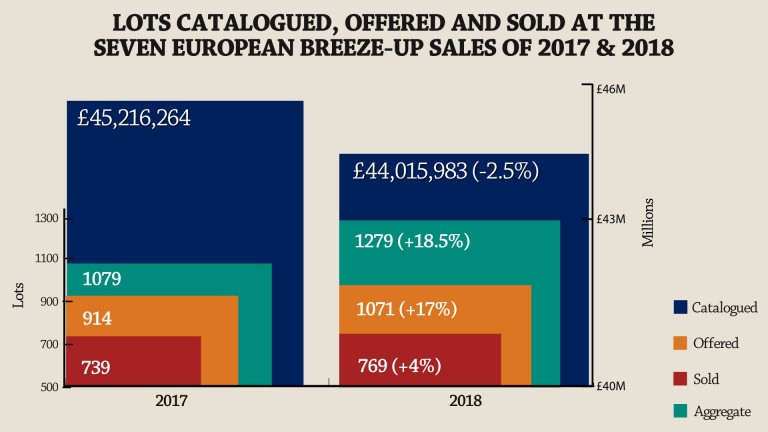 However, from a vendor's perspective, this year felt completely different to last. Lots of glum faces around the sales grounds, plenty of scrambling to get horses moved on. It seemed impossible to cover your costs.
In-costs too high
I have recorded all the pinhook data, including the cost of preparing a horse to breeze (around £10,000, depending on time of sale) and a sensible in-cost for the circa 170 lots without previous sales (£25,000, except for Arqana and Craven at £50,000).
In my opinion, this data, when studied against official sales results, suggests that over £2 million has been lost, relative to the total in-cost of getting a horse to the breeze-up sales.
This loss would be between the pinhookers and clients, and while these numbers are based on my own data, it would explain why there were so many glum faces at the sales.
Many will not have sympathy as vendors have made good profits over the last couple of years. But, clearly, things must change. Yearling vendors can't expect to be propped up by breeze-up buyers this year, with a knock-on effect in horses bought and those underbid.
At Star we've had a fair year but the returns to our investors are not at a sustainable level for the risk taken. We simply have to get our in-costs down substantially (by around 15 per cent) and the only place this can come from is the yearling vendors.
An unsold yearling is not the right type for breeze-ups
The results for unsold and vendor buyback yearlings at breeze-ups do not make pretty reading, particularly at the lower-end sales. In my mind this is down to nothing other than these horses are simply the wrong types to go to the breeze-ups.
The table below shows how many horses bought back would have increased their value by more than the cost to breeze (assuming they could have achieved the buyback price).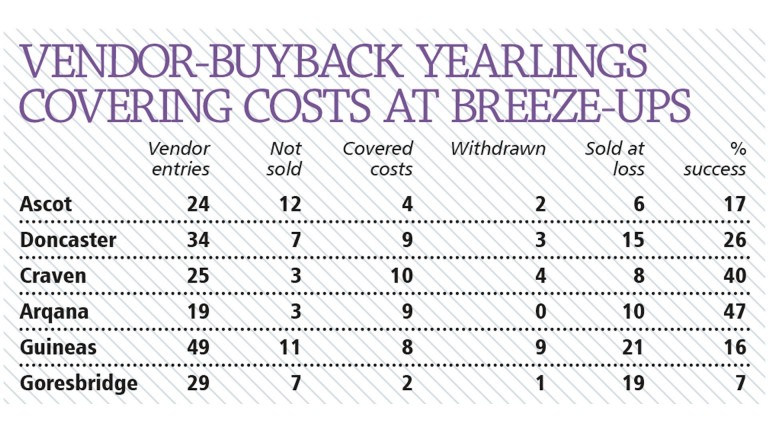 The clock matters, don't let anyone tell you otherwise
We have our own laser timing devices at the sales, so we can get a gauge on how buyers are looking at our lots. A lot of consignors and all big agents have access to times.
Time matters: breeze quick and breeze straight and your chances of selling goes up and the value of the lot increases.
Put yourself in the shoes of an agent who needs to keep clients confident. It's easy to understand why the clock gives comfort to end users as it gives you facts to rely on.
The table below illustrates the impact on the average sale price of the clock. In my opinion, the fever around Scat Daddy this year supported the Arqana and Tattersalls Craven Sale averages for slower horses.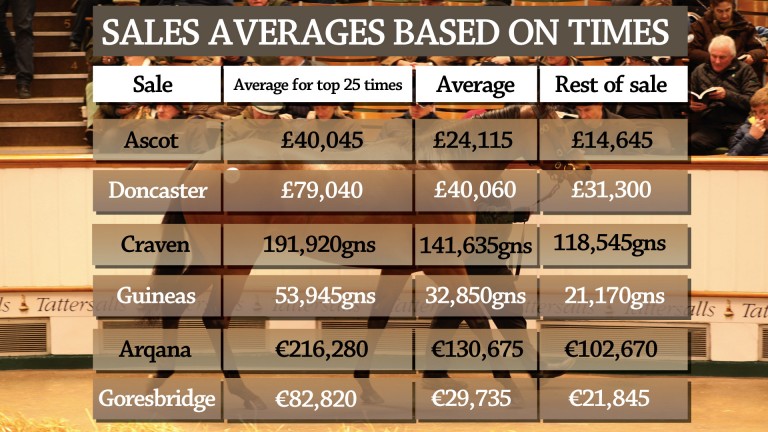 We may not be as selective as America, where times are published, but we're not far behind and are heading that way.
International buyers have a strong influence over our breeze-up market, and perhaps we should be asking whether making times more accessible may increase the depth of our buying bench.
Personally, I'm not sure I would go as far as publishing official times, as each buyer places emphasis on different elements of the breeze (overall time, the sectionals, the gallop out) - often combined with stride analysis - but it is a question worth asking nonetheless.
Physical matters more than stallion
As a team at Star we managed to repeatedly lose money on proven stallions. To get the horses by sexy sires at a price that made sense we compromised on the physical substance of the horse.
At the breeze-up sales prejudices regarding stallions can be put partially aside when your horse goes quick and it looks like it should have gone quick.
We made profits on horses by Munnings, Heeraat, Can The Man, French Fifteen, Dream Ahead, Orb, Lope De Vega, Sepoy and lost on horses by proven stallions such as More Than Ready, Kendargent and Siyouni.
It is better to get a physical that will take the work to allow it to deliver a time rather than have the sixth fastest Siyouni in a sale and lose a fortune. Next year we will try not to chase the stallions but stick to the game plan of buying horses that are built for the job.
Hitting a home run is hard
Even when you breeze fast you're not home and dry. Your horse then goes through an arduous process of being trotted up 30 to 40 times, observed for hours on end to make sure they behave, then they might be vetted five or six times or have to go back and forth for x-rays. At the end of all this you're hoping that there are at least two big hitters interested.
Hitting that home run requires you to tick all those boxes, which in turn affects how we approach the yearling sales.
We need clean x-rays and have, as a result, invested heaviest where vendors provide on-hand assessment of these risks. Last year we bought 75 per cent of our stock at sales where the vendor handed over x-rays, namely Keeneland and Arqana, and only bought three yearlings in Britain and Ireland.
We're responsible for investors' money, most of whom are not in the bloodstock game, so they want to know we have measured risk and price accordingly.
As a result, I foresee our yearling buying activities will be focussed on sales in France and the US where we have easy access to x-rays. This is something that, for me, yearling vendors in Britain and Ireland should think about as I'm sure we're not the only ones to penalise them for this.
Sales format innovation would be appreciated
I would like to see some innovation in the format of sales. Reduction in the numbers being offered is a must, but innovation in the wider format would also help.
I think the return of an all-weather breeze-up would be valuable. We've had a shocking year on the weather front, and that hit the early breeze-ups hardest, and this seems likely to happen every couple of years.
It would be a great option to have an all-weather breeze-up. I'd also consider reducing the Tattersalls Craven Sale to a single day of selling 100 horses, and maybe combine Doncaster with a big race meet to get more trainers in, possibly including a breeze-up sales race for three-year-olds to tie in with the sales.
---
If you enjoyed this story you may also be interested...
Pinhookers in clover as Scat Daddy's final crop of two-year-olds soar in value
European breeze-up season buckles under weight of increased numbers
Reality calling for Katie Walsh despite sale of record-breaking Frankel filly
The bubble has burst, plenty of horses have gone home unsold and there is a recognition that things are different