European breeze-up season buckles under weight of increased numbers
An additional 157 two-year-olds were offered across seven major sales
The final results are in for the major European breeze-up sales in 2018 and the figures will unquestionably make sobering reading for many in the industry.
The running theme of the 2018 breeze-up circuit has been the fragility of the market, particularly below the top tier, with demand failing to keep pace with a significantly increased supply.
The weakness of the market was felt first and foremost at the European breeze-up season's curtain raiser, the Tattersalls Ireland Ascot Sale, and continued to varying degrees throughout the six remaining major two-year-old auctions, namely the Goffs UK Sale, Tattersalls' Craven and Guineas Sales, Osarus, Arqana and Goresbridge.
Each sale was responsible for an expanded catalogue in 2018, meaning a total of 1,279 lots were catalogued - an 18.5 per cent year-on-year increase and a real terms gain of 200 horses.
A total of 1,071 two-year-olds ultimately came under the hammer for a 17 per cent increase on the number offered in 2017 - an additional 157 horses.
But, despite the significant increases in the number of horses catalogued and offered, the number of sold lots only increased by four per cent, with 767 juveniles changing hands compared with 738 in 2017.
In real terms that means that only 29 more two-year-olds were sold in 2018 despite an extra 157 being offered and an additional 200 being catalogued. These returns mean that 304 two-year-olds failed to find a buyer in the ring.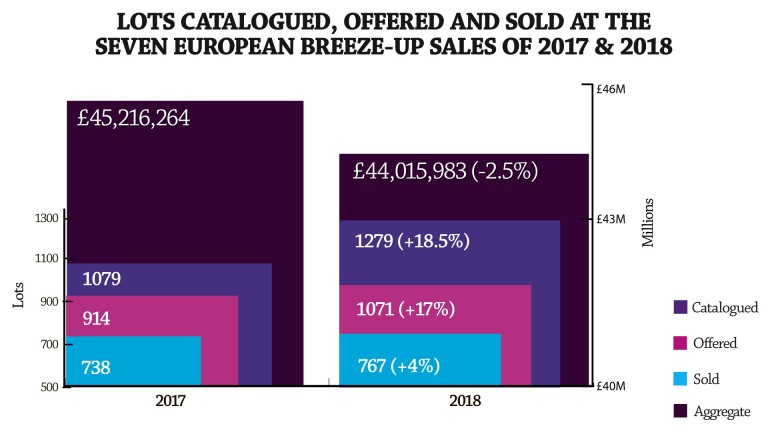 Reasons touted for the faltering health of the breeze-up market have ranged from external factors like Brexit to bloodstock issues such as overproduction.
But whatever the cause, it is clear there are some harsh lessons to be learned by almost every link in the chain, from breeders to pinhookers, vendors to sales companies, primarily that the demand does not exist for many of those horses that fall into the lower tiers of the market.
And given the cyclical nature of bloodstock, the consequences of a tough breeze-up season look certain to echo throughout the rest of the sales calendar, with the initial impact likely to be felt at the yearling sales later this year.
With pinhookers who endured a tough time at the two-year-old sales having underpinned the 2017 yearling market, there must be grave concerns about those who have had their fingers burnt at the breeze-ups being willing to reinvest quite so heavily come the autumn.
---
If you enjoyed that story you may also be interested in...
Reality calling for Katie Walsh despite sale of record-breaking Frankel filly
Pinhookers in clover as Scat Daddy's final crop of two-year-olds soar in value
Given the cyclical nature of bloodstock, the consequences of a tough breeze-up season look certain to echo throughout the rest of the sales calendar