Easter Yearling Sale saves best until last as Fastnet Rock colt makes A$2.3m
Brother to Group 1 winner Shoals is most expensive Australian yearling of 2018
Hopes were high that a brother to Group 1 winner Shoals, by Coolmore's reverse shuttler Fastnet Rock, would be popular on the final day of the Inglis Australian Easter Yearling Sale, and so it proved as the colt topped the Sydney auction at A$2.3 million (£1.3 million/$1.8 million).
It was Shoals' trainer Anthony Freedman who came out on top of a spirited bidding war in on Wednesday, seeing off Damion Flower's Jadeskye Racing to secure the most expensive yearling sold in Australia this year, during a final session that saw a further six lots make seven figures.
Consigned by Arrowfield Stud, the colt is out of The Broken Shore, a half-sister to Redoute's Choice who was herself a A$1.9 million purchase by Dean Hawthorne Bloodstock from the Teeley dispersal at the 2014 Magic Millions National Broodmare Sale.
Freedman later admitted that he had been willing to go even further to secure the colt and spoke of his delight at getting his hands on a young horse with a stallion's profile.
"I thought he was the colt of the year," said Freedman. "Knowing Shoals as well as I do, I was very confident he was the right type, much like his sister. He is a stronger version and it gave me the confidence to go to that sort of money.
"It is a lot of money, but it is the best family in this country and probably in the southern hemisphere. Colts like that are hard to get, so you know you are going to have to pay for them."
The sale helped Fastnet Rock become the leading sire by average, with three or more lots sold, with 30 yearlings sold for an average of A$554,167 across the three days.
Arrowfield Stud, meanwhile, finished the sale as the leading vendor by both aggregate and average, selling 31 yearlings for a combined A$18.3 million at an average of A$589,194.
"It's been a good week," said the stud's principal John Messara. "We brought some really nice horses here and I am pleased with the results in the end.
"Having said that, the market is still a bit picky. They pay plenty for the ones they like and discard the rest. There is no middle road at the moment and that is much the case everywhere, it is not just here."
At the conclusion of the sale on Wednesday, a jump in the aggregate spend to almost A$116.5 million meant this was the second-highest grossing sale in Inglis history, behind only the 2008 Easter sale.
There were 22 lots sold for A$1 million or more, up from 17 last year, while 71 made A$500,000 or more, up from 64 in 2017.
Overall though, the figures were not radically different to those posted 12 months ago, with the average down slightly to A$347,634 and the median also dipping to A$250,000.
"It was what we expected," said Inglis managing director Mark Webster. "The clearance rate is a healthy 83 per cent and, if you look at the gross, it overtakes last year's, so it has been a very good sale."
Addressing the perceived lack of strength in the middle of the market, Webster added: "It is an expectation thing, to be quite honest, as we are clearing 83 per cent and still averaging A$350,000.
"In the so-called middle market, the yearlings around A$200,000, they are still being sold if you look at the results, but for some vendors who may have expected A$400,000, then maybe they need to reconsider their expectations.
"The market has determined what that yearling is worth and there are buyers for those horses because they have been sold."
Statistics
Catalogued 450
Offered 397
Sold 335
Aggregate A$116,457,500 (+6.5%)
Average A$347,634 (-2%)
Median A$250,000 (-3.8%)
---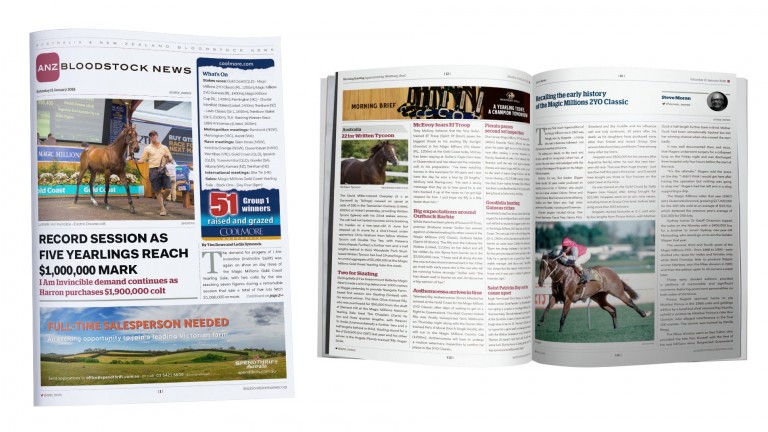 For complete coverage of racing and bloodstock in Australia and New Zealand, download ANZ Bloodstock News every day
It is a lot of money, but it is the best family in this country and probably in the southern hemisphere