Drought starting to bite as racing faces 'biggest crisis since EI'
Assistance package welcomed as feed prices soar amid supply shortage
Long-time studmaster Harry Mitchell believes the drought ravaging New South Wales is the worst he has witnessed and the state's trainers association chief executive says the scarcity of feed and water is the biggest crisis facing in the industry since equine influenza (EI) in 2007.
NSW Trainers' Association (NSWTA) chief executive Glenn Burge said yesterday that skyrocketing feed prices are crippling stables, with the representative body set to recommend its members impose a drought levy on owners in a bid to help offset the spiralling costs.
Racing NSW has allocated $1 million in emergency funding to help industry participants struggling to meet their immediate commitment, with the package made public at the weekend.
"It is fantastic that they have been able to come up with what I would say is the first $1 million because the way this is heading, this is the biggest crisis the racing industry if facing since equine influenza in late 2007," Burge told ANZ Bloodstock News on Sunday.
"I feel more so that way after the past week ringing around."
Yarraman Park Stud principal Mitchell, whose family has owned the Scone property since 1968, said feed was becoming harder to source and feels conditions could worsen across the state if it does not rain soon.
"It is certainly the worst drought I have ever seen and I have seen a few. The biggest problem is it is going to be a long time until it recovers," Mitchell told ANZ Bloodstock News yesterday.
"Even when it breaks, we have a long road ahead. The whole state is in drought and getting feed and everything going forward is going to be difficult."
Burge, on behalf of the NSWTA, has been consulting feed suppliers and grain merchants to ascertain the true extent of the feed shortage, triggered by the drought which has been officially declared for 100 per cent of the state.
"It is a lot worse than even I thought it would be in terms of the prices that have gone up. For example, in tonnage, barley and oats have gone up from about $100-$120 a tonne to $500-$600 a tonne," he said.
"That is talking to manufacturers, so their input costs have gone up. They have absorbed margins as much as they can but the reality is that they have a highly unexpected situation.
"Rhodes hay, which is paddock agistment type stuff, has gone up substantially to $16-$17 a bale."
He said premixed feed such as Mitavite had also been hit by feed shortages, with 20kg bags of its Formula 3 and Athlete Plus products increasing by about $2.50.
The dollar figure of the NSWTA's proposed drought levy is yet to be finalised, with Burge tallying numbers in order to provide an accurate recommendation
Mitchell said Yarraman Park Stud was well-placed to cope with the impact of the drought, but he warned livestock producers across the state could find it even more difficult to buy feed in the coming months, with thoroughbred breeders and trainers among those hit hard by the long dry spell.
"We don't grow our own hay but we have been getting it from the same people for a long time and they have been very, very good," Mitchell said.
"We have got hay stored and things going forward, but if the drought continues not to break who knows what is going to happen in three to four months' time?
"We are certainly going to need some rain well before Christmas. It is going to make it a very tough time and a lot of people are going to be washed up if it doesn't rain before then."
Yarraman Park Stud has enjoyed its most successful yearling sale series in 2018 on the back of its resident sire I Am Invincible (Invincible Spirit) but Mitchell said the drought was a harsh reminder of rural life in Australia.
"There was a bad drought in '82 and the last one was pretty bad too in 2006," Mitchell said.
"We are lucky because we do have stallions and we can sell yearlings and we can pass on some of those costs to our clients but the poor old farmer doesn't have that luxury."
He said grain and hay grown interstate would increasingly be relied upon to meet feeding regimes, with smaller breeders likely to be hardest hit.
"It is nearly impossible for some people as buying small amounts of feed is very difficult," Mitchell said.
"It is basically coming out of South Australia, Victoria and now Western Australia. Hopefully we have some decent hay coming online in a couple of months and that is going to help to hay situation, but I am not sure about the grain situation.
"I imagine the grains and things will all have to come from Western Australia and South Australia and parts of Victoria.
"I think there are very few crops that are any good anyway. I am not sure many people even put crops in it was so dry."
Mitchell also revealed the Hunter Valley town of Murrurundi, near rival stud Aquis Farm's New South Wales base, was running out of water.
"It can't really get any worse, but the biggest problem, other than feed, is water. A town like Murrurundi is just about out of water," he said.
"The drought package, and I haven't read the finer details, is designed to help small trainers and things and any assistance is welcome, really.
"The drought is really going to change the landscape, so to speak."
After the announcement on Saturday, Racing NSW chief executive Peter V'Landys said the governing body had already assisted some struggling participants, particularly in the Hunter and North West region, who were battling to meet their financial commitments due to the effects of the drought.
Racing NSW has already donated $135,000 to the Aussie Helpers' Buy A Bale programme which is helping drought-affected farmers across the country.
---
Download Monday's issue here and subscribe to make sure you never miss all the updates from Australia, New Zealand and beyond and to have ANZ Bloodstock News delivered to your inbox every day.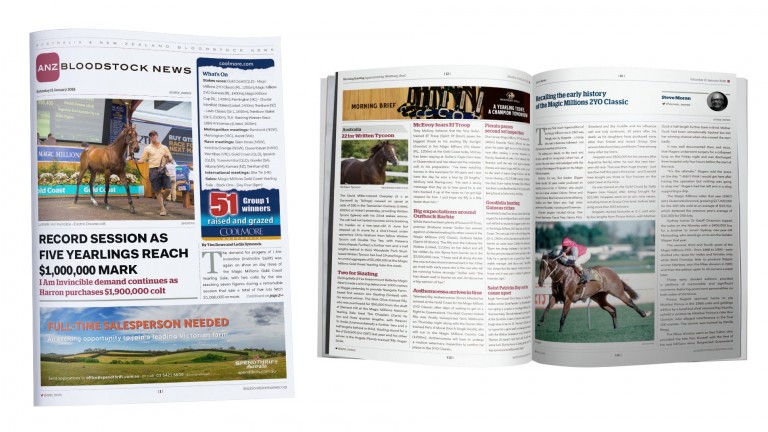 It is certainly the worst drought I have ever seen and I have seen a few. The biggest problem is it is going to be a long time until it recovers