Deja vu as Shamalgan sold for the sixth time
Simon Springer buys stallion for €135,000 to stand at Grandcamp
Group 1 winner and sire Shamalgan was one of four stallions to be sold on the final day of the Arqana December Breeding-Stock Sale, which focused on National Hunt breeding stock.
After a globe-trotting career, the son of Footstepsinthesand was retired to stand at Haras du Lion in France in 2014, where he stood at a fee of €1,800.
He then went back into training for his Czech owner in 2016, running six times, before retiring for a second time to Strelice Stud in the Czech Republic.
Shamalgan was passing through the Arqana sales ring for the sixth time and was bought for €135,000 by owner-breeder Simon Springer. He will go to join Springer's other stallion Dabirsim at Haras de Grandcamp in Normandy for the 2018 season.
"Mr Springer has been following the stallion for the last two years and was impressed by his first two-year-olds on the track," said racing manager Daniel Haeser, signing on behalf of Springer.
"We are delighted to have bought him. We will support him with our own mares and promote him to other breeders."
From a limited first crop of just 31 foals, Shamaglan has produced the dual winner and Listed-placed Anima Rock, who has since been sold to Qatar, and the dual winner Aiyana Rose, who raced in the colours of Theresa Marnane.
Choice mare
David and Juliet Minton of Highflyer Bloodstock went to €140,000 to secure a mare in foal to Saint Des Saints from the famous Berlais breeding operation.
"She has been bought for John Lightfoot, and will hopefully be covered by Martaline," explained Juliet Minton.
"She was a lovely mare. She'll stay in France at Haras du Lieu des Champs."
Named Shanon Du Berlais, she was a smart performer winning the Listed Prix Renaud du Vivier over hurdles at Pau.
The Turgeon mare is from a quality family and is a half-sister to multiple Graded winners in England and France including Madison Du Berlais, Hilton Du Berlais and Jameson Du Berlais.
Consolation prize
Guy Petit had attempted to secure the mare but had to settle as underbidder. He quickly found consolation in the form of her sister Boston Du Berlais, who was the next lot through the ring. She made €52,000 in foal to Masked Marvel.
She was sold by Hamel Stud, who bought her at this sale five years ago, and is already the dam of two winners over jumps.
Rock-solid pedigree
The Papot family have had a excellent start to the National Hunt season in France, finishing the first part of the season as leading owner thanks to performances such as that of Galop Marin, winner of the Grade 2 hurdle at Auteuil.
They went to €80,000 to secure Ladies Wish, the nine-year-old sister to stakes winners Ladies Choice and Ladytown, alongside Herve Bunel of Agence FIPS.
She was sold by her breeders, Henri and Antonia Devin's Haras du Mensil. The mare has produced four previous foals, but is yet to have a winner, however, she has a three-year-old Saint Des Saints filly and a Dream Well yearling colt still to come. She is carrying to Doctor Dino, who stands at Haras du Mensil, as does her sire.
This mare is from the family of the extraordinary Shannon Rock, who has just retired at the age of 11, having earned just under €1.9 million in prize money. He finished second in the Group 1 Grand Prix de Paris an unprecedented four times.
Hot to trot
Remi Boucret, who has owned and trotting horses for many years, has also had a runner in the Prix de l'Arc de Triomphe with Very Nice Name, winner of three Group 1s in Qatar.
In recent years, he has decided to focus on breeding, for both trotting and National Hunt, breeding his first thoroughbred in 2005. He is aided in this venture by Arnaud Leraitre.
He paid €55,000 for Nickelle from Coulonces Sales, a Listed- and Group-placed mare on the Flat and over fences, in foal to Montmartre. She is the dam of a winner, and has a Dalakhani yearling filly and a Saint Des Saints colt foal. She is a half-sister to Listed winner over hurdles N'Oublie Jamais, out of the Grade 1 Prix Alain du Breil winner N'Avoue Jamais.
Montmartre, a son of Montjeu, has had a excellent beginning at stud with his National Hunt progeny. He is the sire of Supreme Novices' Hurdle winner Labaik and the classy filly Titi De Montmartre, a Grade 3 winner over hurdles in France. He will stand at Haras de Hoguenet at a fee of €6,500 in 2018.
Records tumble
Arqana ends the year on a high, with total turnover for the sale surpassing last year's by almost €9 million, an increase of 36 per cent. The aggregate figure and the improved clearance rate of 79 per cent, up from 74 per cent, were testament to not only the increased demand for stock, but also to the improved quality of the catalogue.
Each day showed significant rises across the board, and the clientele has become increasingly international, providing significant depth to the market. The overall average climbed 22 per cent to just over €45,000 with the median rising from €16,000 to €19,000.
The sale ended with a round of applause for the man showing the final lot into the ring, Pierre Drefuveille, who was retiring after 43 years with Arqana.
Eric Hoyeau, president of Arqana, then gave his closing statement.
"It was very solid trade today," he said. "The French breeders were reinvesting strongly in the pedigrees, as well as international buyers.
"The French National Hunt stallions were very popular, as they are having so much success on the track. These are very current families.
"There were new record breaking figures across the board, and an excellent clearance rate of 80 per cent reflected the overall improvement in the quality of the catalogue and the high demand at every level of the market.
"The foal market has been much stronger, which is very important for us as there is not the same volume of foals in France and is therefore far more selective."
---
Catch up on all the action from Arqana...
Bargains to be found at third session of Breeding-Stock Sale
'Special' Starspangled foal pinhooked by Morgan at €165,000
Wertheimer brothers snap up classy filly Haggle for €1.3m
---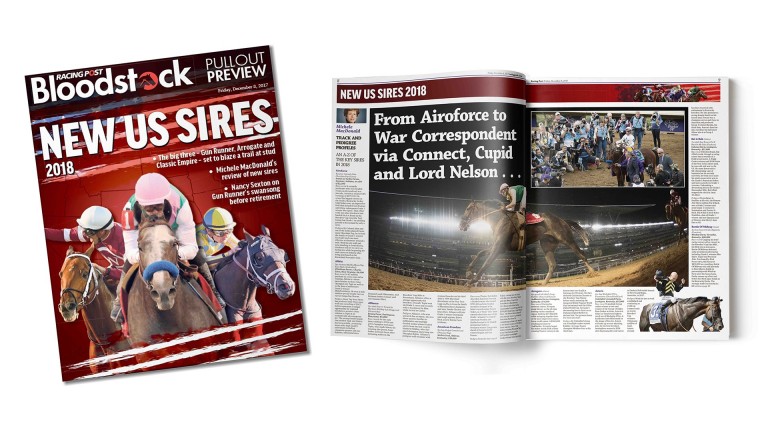 Download our special 16-page guide to the new US sires for 2018, headed by Arrogate, Classic Empire and Gun Runner
The French breeders were reinvesting strongly in the pedigrees, as well as international buyers