Cox relishing task after Godolphin's re-entry into yearling market
The purchase of 20 yearlings for approximately A$6.5 million (£3.62m/€4.1m) was the sum of Godolphin's highly significant and welcome re-entry into the Australian yearling sales market this year.
It was borne of a proposal put to Sheikh Mohammed last December by Vin Cox - about a month before he left Magic Millions to become managing director of Godolphin Australia.
Cox flew to Dubai to meet Sheikh Mohammed and Princess Haya as well as several other key Godolphin personnel and his proposal, which included a budget, was supported across the board.
"The basic push was to implement a plan to return to the yearling sales market for the first time in the best part of ten years and, by doing so, demonstrate support for our clients, our stallions and breeders generally," Cox said.
"The intention was to operate at the mid-level of the market but how much we were in the market was reflected in the fact that we were actively bidding on some 80 horses. Loosely we bought half by Darley sires and half by non-Darley sires so, all that considered, we'd like to think we had a positive impact across the board."
After a month's break post-sales, the yearlings enter the Godolphin system with their further physical development, education and breaking in all done in-house.
"They all come into Crown Lodge, initially, for a couple of weeks and James (Cummings) will assess them before they're grouped on the basis of pedigree, maturity and precocity before heading off in various directions," he said.
Cox, Cummings and Jason Walsh - the racing and bloodstock manager - consulted on yearling selection.
"You wouldn't want a buying committee any larger than that but we found we saw things quite similarly and the process went smoothly," said Cox, before adding that he was hopeful that the team would be active again at next year's sales.
Cox says the team is performance focused despite the obvious financial underwriting from the ruler of Dubai.
"There are a number of in-house indicators we works toward and while His Highness obviously has his passion for his horses, he is also passionate about his people and the industry at large and is motivated by supporting the industry," Cox said.
"He's also focused on the sustainability and longevity of the operation and the legacy it will leave."
Cox, despite his long term roles in the industry, had not met Sheikh Mohammed before the December meeting. "It was a little daunting I suppose. After all, he is the ruler of a country but it was also a great privilege as we sat down to lunch for a couple of hours and I'd say the majority of the conversation was about Australia in which he's very interested and, of course, Princess Haya competed here at the Sydney Olympics," Cox said.
As to the new role, Cox concedes that could also be considered daunting by its size. "It's obviously very different (from Magic Millions) but I'm enjoying it. The sheer enormity of it takes time to sink in given the number of horses, the number of people and the various locations," he said.
Asked to name a standout yearling purchase this year, Cox's immediate response was the Shooting To Win filly secured at the Inglis Classic sale. She made a relatively affordable A$170,000. "Oh and the two Snitzel fillies from the Gold Coast," he added. No surprise, that. We might revisit the selections in 12 months' time or so.
---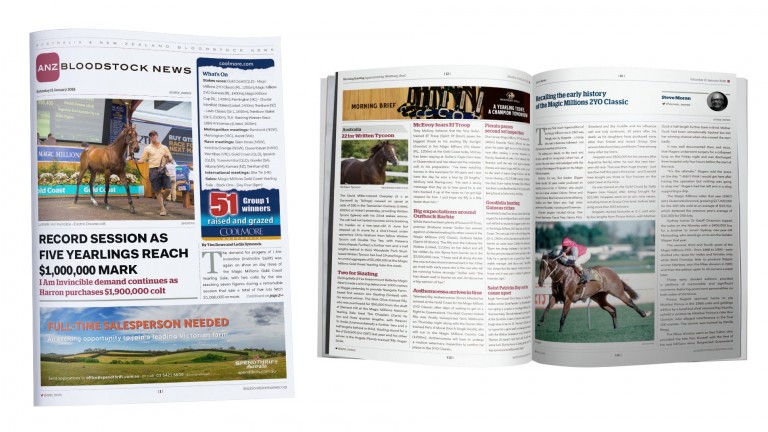 For complete coverage of racing and bloodstock in Australia and New Zealand, download ANZ Bloodstock News every day
Sheikh Mohammed is also focused on the sustainability and longevity of the operation and the legacy it will leave