Changes to Inglis Easter Sale as broodmare and weanling auction delayed
Inglis will condense the catalogue for its flagship Sydney yearling sale by axing the book two session and pushing back its Australian Broodmare and Weanling Sale by three weeks next year among a raft of changes made ahead of the 2019 auction series.
Outgoing Inglis managing director Mark Webster yesterday revealed the company's three-day Australian Easter Yearling Sale, to be held from April 8 to 10, will be made up solely with a book one session.
This year, the Inglis Australian Easter Yearling Sale book one sale averaged $356,728 but the smaller book two averaged significantly less at $115,455.
"Next year we are looking to make some changes with our sales and one of them is that we are putting Easter One and Easter Two together, so at Easter there will be one book," Webster told ANZ Bloodstock News yesterday.
"We are also going to conduct the broodmare sale in early May, so not straight after the Easter sale."
---
For complete coverage of racing and bloodstock in Australia and New Zealand, download ANZ Bloodstock News every day
---
This year, The Chairman's Sale for breeding prospects followed a day after the Australian Easter Yearling Sale, with the three-day Australian Broodmare and Weanling Sale taking place soon after, leading some to claim vendor and buyer fatigue led to lacklustre results.
Webster said he and fellow Inglis staff had been consulting with vendors and its buying bench in recent weeks in an attempt to overhaul the flow of the sales and avoid a repeat of this year's results achieved in the middle-to-lower end of the market.
"The Chairman's Sale will also continue, but it will actually kick off the broodmare sale and it won't follow the yearling sale next year," he said.
"We will have three days of yearlings during that Easter week between The Championships and the broodmares and weanlings will be in early May with dates to be announced soon.
"We will sell the elite race fillies and mares first and then head into the rest of the broodmare sale. It will be the better part of a three-week break for vendors."
Webster believes the changes will also boost the depth of its weanling sale, which will be held just weeks prior to the Magic Millions Gold Coast National Weanling Sale.
"The feedback is that 99 per cent of the breeders want to have a break after the Easter sale and we can accommodate that with these changes," he said.
"It will also allow more foals to be prepared and sold in Sydney as well and we can also capture more of the race fillies who are competing over the Sydney carnival who will be able to enter that sale."
Webster also revealed the Inglis bloodstock team had already conducted a number of inspections ahead of the 2019 sales series in a bid to gauge the quality of yearlings set to be offered to the market next year.
"We knew we would get a lot more entries for Classic next year, so we have started (inspections) early to give breeders a very early indication of where those would be best-placed in our sales series," Webster said while visiting stallion parades in the Hunter Valley yesterday.
"Whether that is Classic, our Melbourne sale or at Easter, the entries look great and there are a lot of new stallions coming through, but we have got a lot of diversity with our proven (stallion) ranks, which is great.
"Everything from Snitzel, Fastnet Rock, I Am Invincible and Redoute's, of course, are all in hot demand, so Easter is also shaping up well."
In May, Webster announced he was stepping down as managing director after ten years in the role with recruitment firm Russell Reynolds appointed to assist with the appointment of his replacement.
He said a number of candidates from Australia and overseas had applied or been approached about taking on the role, with a shortlist currently being evaluated by the Inglis board and a decision expected within the next two months.
"I am in the role until mid-December and if there are any delays in finding somebody or somebody starting I'll still be there to assist," he said.
Inglis' next Sydney-based sale will be the Ready2Race Sale for two-year-olds in October and Webster said further changes had been made to their $140 million Riverside Stables at Warwick Farm, which opened in early 2018.
"Based on feedback we have made some changes, mainly to the back parade ring. We have removed a lot of metal and replaced it with timber bumper rails as well as a lot of padding that has gone on to the railing," he said.
"We have also opened the throat and the exit of the ring on the stage, just to make it easier for horses to get around that area.
"We always knew there were going to be some changes that needed to be made and those are now in place."
---
Download Friday's issue here and subscribe to make sure you never miss all the updates from Australia, New Zealand and beyond and to have ANZ Bloodstock News delivered to your inbox every day.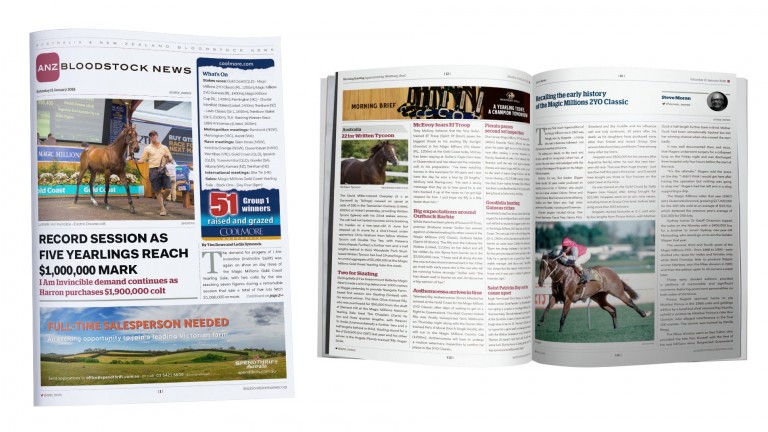 The feedback is that 99 per cent of the breeders want to have a break after the Easter sale and we can accommodate that with these changes