More on an important sale story overtaken by wider world events
Martin Stevens on the sale of Desert Crown's dam at the Tattersalls Mares Sale
Good Morning Bloodstock is Martin Stevens' daily morning email and presented online as a sample.
Here he focuses on a unique opportunity for buyers at the Tattersalls December Mares Sale - subscribers can get more great insight from Martin every Monday to Friday.
All you need do is click on the link above, sign up and then read at your leisure each weekday morning from 7am.
---
You have to feel for the Tattersalls marketing department. The company announced last Thursday afternoon that it would be offering Derby hero Desert Crown's dam Desert Berry during the inaugural Sceptre sessions at this year's December Mares Sale, only for the news of Queen Elizabeth II's death to emerge a few hours later, rendering all other racing stories that day obsolete.
It couldn't be helped, of course, but the unfortunate timing did mean that such an important broodmare sale entrant – in foal to Nathaniel, and so carrying a full-sibling to her unbeaten Classic winner, as well – didn't receive the airing it deserved.
Desert Crown's breeder Gary Robinson, the present owner of the 13-year-old Green Desert mare Desert Berry, is philosophical about the clash but grateful for the chance to remind people of her impending date with the auctioneer.
"These things happen," he says. "The Queen loved following great horses so I'm sure she would've loved Desert Crown, and it helped that he has the right name and is with one of her trainers. Perhaps she had the inside line on him and always knew how highly thought of he was! It's a shame he hasn't run since Epsom but I gather connections are still very confident about him for next year.
"Yes, the Queen knew her stuff didn't she? She knew horses. They say she would have made a great trainer, but I think she'd have made a good stud manager, too. She just had that eye."
Robinson knows horses too. I'm well aware from previous chats with the mechanical engineer, who made his fortune developing a bombproof breezeblock building material, that he enjoys a special bond with the equine occupants of his Strawberry Fields Stud near Cambridge, and so I was a little surprised to hear that he was prepared to say goodbye to one of his most cherished mares.
"It's all about the future," he explains. "I've got one daughter, Rose Berry, at the stud, and she has a Nathaniel filly foal inside her, and another daughter, a two-year-old by Al Kazeem, ready to go into training, so I'll end up with three female descendants of Desert Berry, which should secure the line for me. That's the hope, anyway.
"I'm really excited about Rose Berry, as she's a winning full-sister to Hong Kong Grade 3 winner Flying Thunder by a sire I loved in Archipenko, and that means she should have an even better affinity with Nathaniel than Desert Berry. The progeny should be suited to slightly shorter trips than Desert Crown, maybe a mile or mile-two.
"I also know full well that it's an opportunity to get the funding to keep the stud going. It's all about that nowadays – we're not going to earn it from racing. People think breeders make money from winning the Derby but you don't win anything until the next foals out of the mare are sold. It's also a great opportunity for another breeder to keep going with a ready-made dam of a Classic winner, of course."
Because Robinson gets to know his horses well, spending so much time with them for valuable R&R, he is well placed to comment on Desert Berry's character, and he has one particularly interesting insight into her mothering technique.
"She's a beautiful mare, and she's got that ability to look at her foal and just push it away enough so that it becomes an individual," he says. "She allows her foal to lie down on its own somewhere else in the paddock, she knows exactly where it is, but they come together only when required. They aren't hand in hand all day and I like that.
"You see it sometimes that the lovey-dovey mares won't let their foals go anywhere without them, and they become lovey-dovey horses. They end up as mummy's boys and girls, and often run like it, to be frank."
Now that Robinson has fulfilled his long-held ambition of breeding a Derby winner (less than 20 years after first entering racehorse ownership – not bad going) he has a new target in his sights.
"Breeding and training a Derby winner at Strawberry Fields Stud: that's the next challenge," he says. Don't think he's joking. He has recently put the finishing touches to a small training yard over the road from the farm, and expects it to be open for business on October 1, with horses running under Chris Dwyer's name.
"We've spent a lot of money and put in a lot of work making it come together, and from next month we'll get to see if we know what we're doing," continues Robinson. "The Al Kazeem filly out of Desert Berry will be one we train from Strawberry Fields, and I've got to be careful what I say here as he's in Book 1 and we obviously hope he sells well, but if the mare's Study Of Man colt doesn't get the right price I'd gladly race him myself from here too."
Robinson might be harbouring dreams of invoking the spirit of Arthur Budgett by breeding, owning and training a Derby winner, but he is keen to stress the undertaking is for the purposes of pleasure rather than business.
"We're under no pressure, we're going to pick and choose our horses," he says. "We might only have eight horses in training here but they'll be eight quality horses. It'll all be about waking up, having a cup of tea and enjoying the whole package of breeding and training."
Desert Berry's sale engagement might have been overshadowed by current events, but if she were to receive a significant pedigree update from her Al Kazeem two-year-old filly being sent out from Strawberry Fields Stud to success on the track, that would surely make headline news in the bloodstock pages.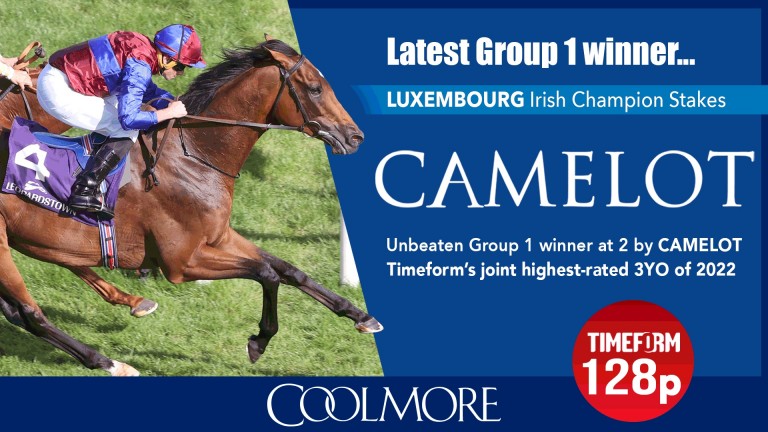 Looking for more Bloodstock insights?
Subscribe to Racing Post Members' Club to unlock access to premium Bloodstock content and the fullest 30-year database of jockeys, owners, sires and first-crop performers.
There's also early access to the Racing Post digital newspaper, replays from all UK and Irish racecourses and more.
Learn more about a subscription here and as a reader of Good Morning Bloodstock you can currently get 50% off your first three months.
What do you think?
Share your thoughts with other Good Morning Bloodstock readers by emailing gmb@racingpost.com
Must-read story
"All the ups and downs of being a champion jockey are laid bare on Horsepower, this is where I tell my story," says Oisin Murphy as details of Amazon Prime's new documentary are unveiled.
Pedigree pick
Ballydoyle newcomer Beginnings, who contests the six-furlong fillies' maiden at Naas on Thursday (2.00), has a fascinating pedigree.
Not only is she the second foal out of dual 1,000 Guineas heroine Winter (the first being Only, who won a Leopardstown maiden last month but appeared to be overfaced in the Blandford Stakes on Sunday) but she is also a rare runner in Europe by Japanese supersire Lord Kanaloa, a world champion sprinter in his racing pomp and the source of seven Group/Grade 1 winners including the great Almond Eye at stud.
Got a friend that will like Good Morning Bloodstock?
Send them the link racingpost.com/goodmorningbloodstock and they can sign themselves up to receive it each weekday morning!
Don't miss ANZ Bloodstock News
Subscribe for free for the latest bloodstock news from Australia, New Zealand and beyond.
Make sure to read this week's Asia Bloodstock News
Sign up for free to our weekly Asia Bloodstock News publication to receive news and features from all things racing and bloodstock across Mainland China, Japan, Hong Kong, Singapore and beyond.
---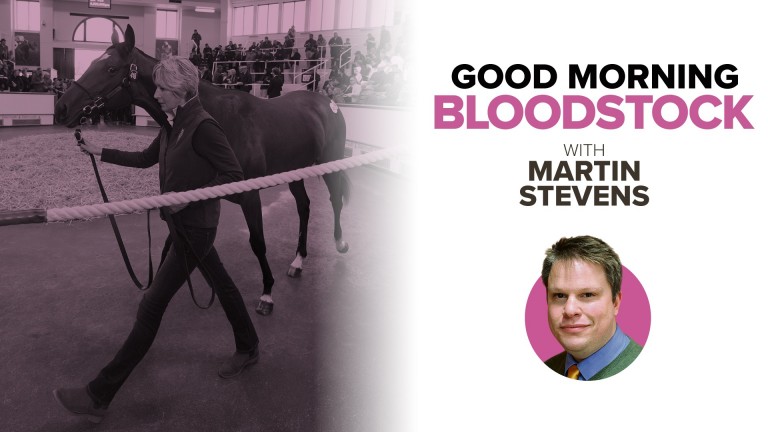 Good Morning Bloodstock is our latest email newsletter. Martin Stevens, a doyen among bloodstock journalists, provides his take and insight on the biggest stories every morning from Monday to Friday
People think breeders make money from winning the Derby but you don't win anything until the next foals out of the mare are sold