Luck always a factor but the Johnson Houghtons must be some judges of stallions
Martin Stevens pays homage to a shrewd racing family in Good Morning Bloodstock
Good Morning Bloodstock is Martin Stevens' daily morning email and presented here online as a sample.
Here he focuses on the Johnson Houghton approach to breeding and points out that others will next week have a chance to buy into it at Tatteralls - subscribers can get more great insight from Martin every Monday to Friday.
All you need do is click on the link above, sign up and then read at your leisure each weekday morning from 7am.
---
Those in the bloodstock industry will be well acquainted with the butterfly effect, in which one seemingly insignificant decision can cause a chain reaction that alters the course of history.
If only that yearling that turned out to be a Group winner hadn't been crossed off the shortlist at the sales, or that sire that turned out to be a dud wasn't chosen for the mare...
Gaie Johnson Houghton has cause to thank her lucky stars that she chose to keep the 1989-foaled Hotfoot filly Shall We Run, the 12th foal of her and husband Fulke's foundation mare Sirnelta, when they usually kept their charges' first female offspring and sold the rest.
The earliest daughters of Sirnelta, from whom the Johnson Houghtons bred eight winners including Cheveley Park Stakes heroine Dead Certain, were relatively undistinguished, but Shall We Run proved to be the most wonderful matriarch.
She produced seven winners, led by Gimcrack Stakes scorer Bannister, while Runway Dancer, her unraced daughter by Dansili, produced Middle Park Stakes hero Astaire for John O'Connor.
The Johnson Houghtons managed to keep hold of the best strand of this family again, though, by retaining Roo, a daughter of Rudimentary and Shall We Run who was trained by Fulke to win two races and to finish second in the Firth of Clyde Stakes.
They bred three winners from Roo, including the stakes-placed Averoo and Roodeye, before the mare was sold and produced another seven winners and three more black-type performers – Gallagher, Quick Wit and New Day Dawn – for her new connections.
Several of Roo's daughters have produced good horses for other breeders. Britannia Stakes winner Perotto was bred by China Horse Club out of Tschierschen, her winning daughter by Acclamation; the 101-rated Imperial Yellow was bred by the same operation out of Tschierschen's placed sister Soteria; and Listed runner-up Lambeth Walk was bred by The Kathryn Stud out of Cockney Dancer, a three-time winner by Cockney Rebel out of Roo.
But the Johnson Houghtons once again kept hold of the strongest thread of this family. Roodeye, by Inchinor, has produced eight winners for them, including Sussex Stakes victor and Nunnery Stud stallion Mohaather and his dual Grade 2-winning sister Prize Exhibit.
The esteem in which this family is held is shown by the fact that Prize Exhibit was sold to Barronstown Stud for 775,000gns at the Tattersalls December Mares' Sale four years ago, and her first foal, a Galileo filly, sold to Coolmore for 2,800,000gns at Book 1 of the October Yearling Sale last year. Now named History, she was the impressive winner of a Gowran Park maiden for Aidan O'Brien in September.
Again, though, the Johnson Houghtons still have Roodeye's most accomplished broodmare daughter to date, in the shape of Roodle, her dual winner by Xaar.
Roodle has produced Accidental Agent, trained by their daughter Eve to win the Queen Anne Stakes, and Madame Tantzy, who sprang an 80-1 shock by winning the Listed Hyde Stakes at Kempton on Wednesday for the same connections.
The irony being that the Johnson Houghtons are in the fortunate position of breeding from the productive Roodle because she was retained as Roodeye's first female foal – the policy that they went against all those decades ago when they kept Shall We Run despite her being a later daughter of Sirnelta.
It's not all down to luck, though, and it's notable just how many stars have been bred by the Johnson Houghtons by sending members of this family to inexpensive sires, with Accidental Agent by Delegator and Prize Exhibit by Showcasing for example, both of whom stood at £5,000 in the season those horses were conceived. So they must be some judge of stallions.
There are several chances of getting into this outstanding pedigree nurtured by the Johnson Houghtons at the Tattersalls December Mares' Sale next week.
Lambeth Walk, a Ripon Champion Two-Year-Old Trophy runner-up by Charm Spirit out of Roodeye's half-sister Cockney Dancer, is being presented by Tweenhills in foal to Make Believe as Lot 1,479, while Luminesce, a winner by Muhaarar out of Must Be Me, a half-sister to Mohaather and Prize Exhibit, will be consigned by Castlebridge as Lot 1,557.
Get involved!
What do you think? Share your thoughts with other Good Morning Bloodstock readers by emailing gmb@racingpost.com
Must-read story
"Just 11 days after Lalor's return to form for Paul Nicholls in the Paddy Power Chase at Cheltenham, his full-brother shed his maiden tag in style when winning the concluding bumper at Hereford by five lengths."
Find out why Lallygag might be a name to follow.
Pedigree pick
Chicago Lightening has it all to do on debut against the three-times placed Brostaigh in the 6f fillies' maiden at Dundalk today (6.30), but she makes some appeal on paper.
The Johnny Murtagh-trained filly is by exciting young sire Night Of Thunder out of Cape Rising, a dual-winning Cape Cross sister to Oaks runner-up Rising Cross.
She must be an attractive individual as she commanded a price of 100,000gns at Book 2 of the Tattersalls October Yearling Sale.
Don't miss ANZ Bloodstock News
Download the latest issue for all the latest bloodstock news from Australia, New Zealand and beyond, and don't forget to subscribe to have the newsletter delivered direct to your inbox every day for free.
Make sure to read this week's Asia Bloodstock News
Sign up for free to our weekly Asia Bloodstock News publication to receive news and features from all things racing and bloodstock across Mainland China, Japan, Hong Kong, Singapore and beyond.
In this week's edition, after Golden Sixty return's triumphant, he's set to face a sterner overseas challenge when he defends his Hong Kong Mile crown next month.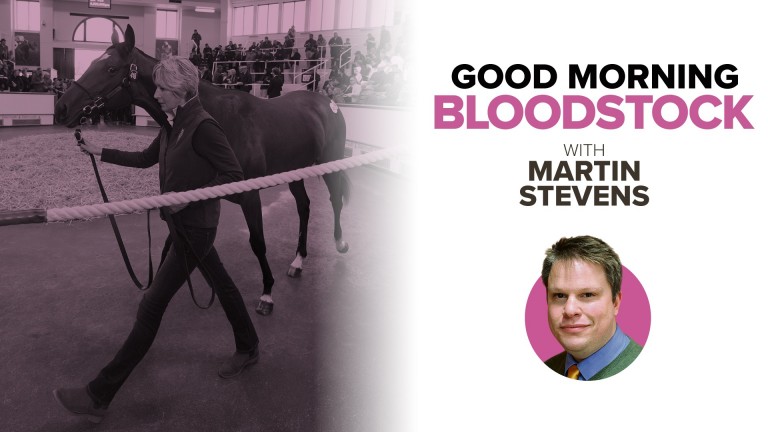 Good Morning Bloodstock is our latest email newsletter. Martin Stevens, a doyen among bloodstock journalists, provides his take and insight on the biggest stories every morning from Monday to Friday
The Johnson Houghtons still have Roodeye's most accomplished broodmare daughter to date, in the shape of Roodle, her dual winner by Xaar