Honouring the Racing Post's own inimitable Deauville restaurant reviewer
Martin Stevens on the late Desmond Stoneham's famous culinary advice and gossip
Good Morning Bloodstock is Martin Stevens' daily morning email and presented online as a sample.
Here he reminisces about the late Desmond Stoneham's amusing but invaluable Deauville musings - subscribers can get more great insight from Martin every Monday to Friday.
All you need do is click on the link above, sign up and then read at your leisure each weekday morning from 7am.
---
I really don't miss my former role of editing the bloodstock pages in the Racing Post at this time of year. It was always around now that the summer yearling sales supplement was put together in a tumult of researching, writing, producing pinhooking tables and catalogue updates and then proof-reading the lot of it.
I much prefer merely being a contributor to the publication these days, and I've cast my eye over the first-crop sires and spoken to some of the key figures in the Arqana August, Goffs UK Premier and BBAG auctions for this year's edition, which is out on Thursday.
One thing I do miss about the process, though, was looking forward to Desmond Stoneham sending in his legendary musings on the gastronomic scene in Deauville, which he kindly continued to supply after his retirement from regularly reporting on French racing.
His write-ups were always informative, often rather colourful and sometimes downright eccentric. But the one thing you could guarantee was that they were thoroughly researched.
Since Desmond passed away in the spring, I thought I'd pay tribute to the man known as 'Mr French Racing' by revisiting some of the best lines from his reviews. His inimitable words should whet the appetite for those readers heading to Deauville this week, and inspire the next trip to this special seaside town for those who aren't.
Desmond was a good friend of Hervé Van Colen, who used to own several eating places and watering holes around Deauville and next-door Trouville, including his much-missed eponymous restaurant near Deauville's market square.
There was big news in 2008. "The 'patron' is back in the kitchen, together with his long-suffering wife, Babette," writes Desmond eagerly, before quoting Hervé as saying: "It's been impossible to find a chef, so I'm doing the job for which I was trained.
"I make the best mint sauce in France to go with the 'carre d'agneau' rack of lamb. It would go well with my new Chinon, Domaine de la Noblaie."
Lord only knows what happened in the kitchen between Hervé and Babette, but in the following year's review the restaurateur tells Desmond: "We have a new chef called Mehdi. Veal liver and kidneys seem popular at the moment."
Four years later, and Hervé appears to have grown sick and tired of indulging his overseas customers' unsophisticated palates, as Desmond records him as despairing of serving his Normandy rack of lamb "with a lamentable mint sauce for the British."
The formidable hauteur of the French restaurant owner is on display again in 2008 as Desmond writes: "The main gastronomic news in Deauville is that Jacques [Aviegne] is back at Chez Miocque. For 27 years he ran this famous establishment before deciding to call it a day.
"Unfortunately, the place went downhill under new ownership, so popular demand forced Jacques to come out of retirement. He says: 'The person who took over was not up to the task, so I decided to make a comeback. So many people are pleased that I am back.'"
Anyone who has been in Chez Miocque's neighbour Le Drakkar, the popular rendezvous point for British and Irish visitors, when its bar and exterior are still crammed full of drinkers at 4am must have spared a thought for the poor staff at some point, and Desmond had reassuring words on that score in 2011.
He writes: "One of the managers, Cyril Tribhou, disclosed to me that 'the waiters are totally prepared, which is important as we fully expect to remain open all night during the sales. Our staff work rather more than 35 hours in this one week, but they get the time back later.'"
Desmond pondered the relative merits of Deauville and Trouville in 2010.
"The former is a smart extension of Paris and often called the 21st arrondissement, while Trouville is a port that functions all the year round and not just during the long French holidays," he writes. The Deauvillais consider Trouville to be working class and the Trouvillais believe Deauville to be bourgeois and a dormitory town."
It's not difficult to guess which was our scribe's favourite of the two resorts split by the river Touques, as he continues: "Trouville has a lot of charm and the only drawbacks are a lack of parking and the Notre Dame des Victoires church. It must have the loudest bells in Europe and they toll before every mass and before and after every funeral."
That same year he had a scoop from the racecourse.
"On August 1, the first race at the 'Hippodrome de la Touques' was won by a Toyota driven by a mysterious lady," he writes. "She had been looking for the polo grounds but took a wrong turn and ended up on the all-weather track, and proceeded to do a circuit. It's said that the stewards are looking for the driver and will throw the rule book at her."
No one could ever have accused Desmond of not keeping up with cultural trends, either. Back in 1998 he had news of a new stiff drink being served at Philip Ciavatta's Brok Café.
"Philip was always an expert with a cocktail-shaker and his bar has an extensive list of rum-based boosters," he documents. "Never one to miss a trick, he has invented Viagra Punch, which is guaranteed to enliven."
Fourteen years later and our intrepid scribe joined the in-crowd in venturing along the coast to Les Ammonites in Benerville-sur-Mer, to see what all the fuss was about.
"This place is truly 'branche', or trendy, and cocktails are very much in fashion," he writes. "On an evening when the sun glides slowly into the sea, the place is crammed with glamorous, tanned young ladies and the odd cougar.
"One of the most popular drinks is a 'Piscine' – large glasses filled with ice and topped with champagne, rosé or even pastis."
I must say, all this talk of the culinary delights of Deauville is making me regret having to miss the industry's annual pilgrimage to Normandy this year. I'm scheduled to be elsewhere in Europe on an exciting mission for Good Morning Bloodstock – more of which soon.
Hopefully those who are fortunate enough to be in Deauville this week and fondly recall Desmond's one-of-a-kind restaurant reviews – not to mention his kindness, warmth and scrupulous reporting of all things French racing-related – will raise a glass of rosé, his favourite tipple, to his memory.
What do you think?
Share your thoughts with other Good Morning Bloodstock readers by emailing gmb@racingpost.com
Must-read story
"I've been coming to Deauville since I was a teenager, so to come and have a Group 1 winner here on a lovely day with that crowd and everything – what more can you want?" says former Channel 4 Racing boss John Fairley as he celebrates breeding and owning Sunday's Prix Maurice de Gheest heroine Highfield Princess.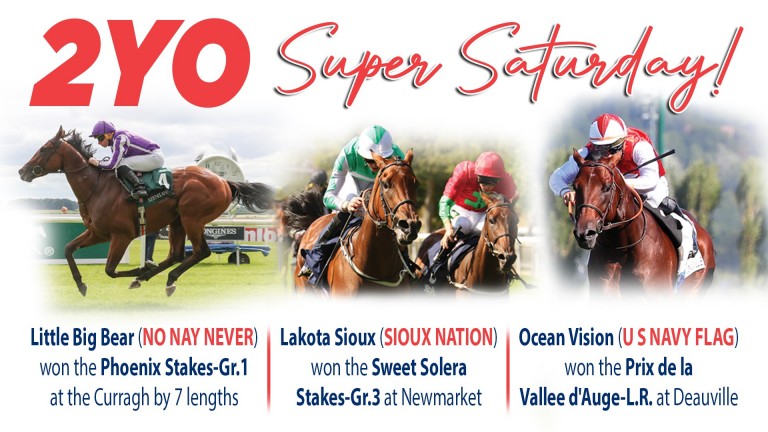 https://coolmore.com/farms/ireland
Pedigree pick
Martini Nights, a newcomer in the six-furlong fillies' maiden at Carlisle on Tuesday (5.40), has a lot going for her on pedigree.
She is by two-year-old sire par excellence No Nay Never – source of this season's juvenile black-type winners Blackbeard, Little Big Bear, Meditate and Trillium – and is the first produce of Broderie Anglaise, a Galileo sibling to stakes scorers Dirgam, Fermion, Hearthstead Maison, Rave Reviews and Spin, as well as 1,000 Guineas third Moth.
Martini Nights is trained by James Horton for John and Jess Dance, having been bought for 140,000gns from Book 1 of the Tattersalls October Yearling Sale.
Don't miss ANZ Bloodstock News
Subscribe for the latest bloodstock news from Australia, New Zealand and beyond.
Make sure to read this week's Asia Bloodstock News
Sign up to our weekly Asia Bloodstock News publication to receive news and features from all things racing and bloodstock across Mainland China, Japan, Hong Kong, Singapore and beyond.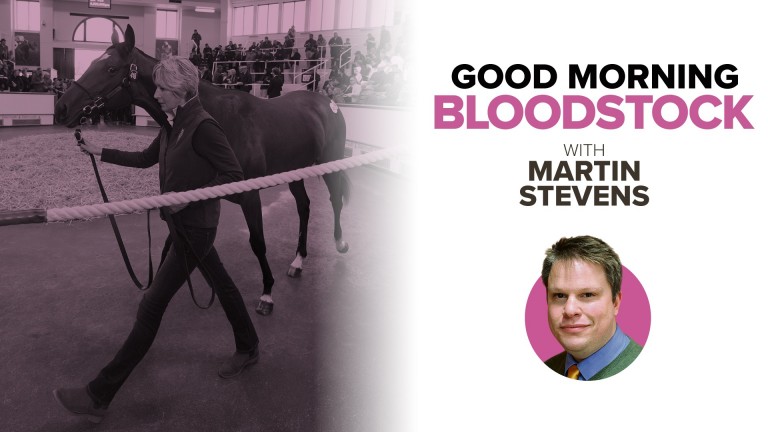 Good Morning Bloodstock is our latest email newsletter. Martin Stevens, a doyen among bloodstock journalists, provides his take and insight on the biggest stories every morning from Monday to Friday
One of the most popular drinks is a 'Piscine' – large glasses filled with ice and topped with champagne, rosé or even pastis