Hmm, what to make of this year's confusing class of second-season sires . . .
Martin Stevens examines the freshmen of 2021 and their results so far this term
Good Morning Bloodstock is Martin Stevens' daily morning email and presented online as a sample.
Here he looks at how well, or not that well as the case may be, this year's second-season sires are getting on - subscribers can get more great insight from Martin every Monday to Friday.
All you need do is click on the link above, sign up and then read at your leisure each weekday morning from 7am.
---
I don't know about you, but I'm struggling to make head or tail of the current crop of second-season sires in Europe. None has set himself apart from his rivals by doing something truly special this year, and a few have undergone reversals of fortune since last season.
Aclaim, one of the less heralded freshmen of 2021, leads the sophomore table by progeny earnings, on £665,726 up to Sunday, but his flagship performer, 1,000 Guineas winner and Poule d'Essai des Pouliches runner-up Cachet, has amassed nearly two-thirds of that total on her own.
The National Stud-based son of Acclamation does, however, boast a highly creditable winners-to-runners strike-rate of 42 per cent.
Coolmore pair Caravaggio and Churchill are in second and third position by prize-money, on £431,243 and £427,781, but both could arguably do with a big-name winner in Britain or Ireland in the near future.
Caravaggio's two standout two-year-olds, Tenebrism and Agartha, have failed to land a blow in their respective 1,000 Guineas contests on either side of the Irish Sea, leaving German 2,000 Guineas victor Maljoom and Newbury Listed scorer Tiber Flow as his sole stakes winners of 2022.
Churchill also has a pair of black-type winners to his name this year, and both have come in mainland Europe: Vadeni in the Prix de Guiche and Il Grande Gatsby in an Italian Listed race. His best horse on these shores by RPRs is Goodwood conditions stakes winner Dawn Of Liberation.
Caravaggio and Churchill's percentages of winners-to-runners in Europe this year currently clock in at 24 and 29 per cent.
Ribchester is continuing to make up for a somewhat tardy start with his first two-year-olds, with £301,745 in progeny earnings and a 27 per cent winners-to-runners strike-rate, but he is still yet to put a black type-winner on the board in 2022. He came agonisingly close to doing so on Saturday, when Flaming Rib got to within a neck of beating El Caballo in the Sandy Lane Stakes at Haydock.
Cotai Glory led his peers by number of winners and prize-money last year, and is holding his own this season with £290,961 in earnings and 24 winners achieved at a clip of 29 per cent, but is yet another who could do with a headline horse. He hasn't managed a stakes winner in 2022, although Pearl Glory was a fine second in the Chartwell Fillies' Stakes.
Profitable has 16 winners from 83 runners (19 per cent) and earnings of £278,035, with Prix Sigy winner Miramar his sole stakes scorer this year; Galileo Gold has 12 winners from 56 runners (21 per cent) and earnings of £180,010, with no stakes winners in 2022 yet; and Ardad has nine winners from 61 runners (15 per cent) and earnings of £153,114, with Greenham Stakes winner Perfect Power his one stakes winner this season.
Among those who really need to pull their socks up are Time Test, who has only four winners from 41 runners (ten per cent) and earnings of £92,593, and Postponed, who has four winners from 37 runners for earnings of £91,490. Neither has a stakes winner this year.
To sum up the somewhat surprising state of the sophomore ranks, only the less expensive continental Europe-based sires Counterattack and The Grey Gatsby have matched Caravaggio and Churchill's feat of supplying as many as two stakes winners in 2022.
Perhaps the Racing Post's table of sires ordered by percentage of horses with Racing Post Ratings of more than 80, more than 100 and more than 115 can bring some much needed clarity to the confusing class of 2018 retirees.
Churchill comes out best by this measure of quality, with a strike-rate of 45 per cent RPR 80+ horses this year, ahead of Caravaggio on 44 per cent, Almanzor on 38 per cent, Ulysses on 34 per cent, Aclaim on 31 per cent and Ardad, Cotai Glory and Ribchester all on 24 per cent.
Among the second-season sires who are returning a less than 15 per cent runners rated 80 or higher so far this year are El Kabeir, Highland Reel, Postponed and Time Test – the last named being one of the darlings of last season's freshman table, in whom breeding rights were changing hands for six-figure sums over the winter.
There's still a long way to go, of course, and Royal Ascot and the middle-distance Classics will no doubt create more twists and turns in the progress of this unusually open field of stallions. It will be especially interesting to see if Piz Badile, a fancied runner in the Derby, can propel his sire Ulysses further up the charts.
The fluctuating fortunes of this cohort does mean, though, that there could be even more severely burnt fingers – and also some striking speculative bargain buys – resulting from investments that were based on the information contained within the first-season sire tables.
What do you think?
Share your thoughts with other Good Morning Bloodstock readers by emailing gmb@racingpost.com
Must-read story
"This colt has a lot of ability and I feel really confident about his future," says Leandro Mora, assistant to Doug O'Neill, who sent out Tahoma to become a first winner for Triple Crown hero Justify.
Pedigree pick
Moonlight Cloud was an exceptional racemare, winning three consecutive renewals of the Prix Maurice de Gheest as well as the Prix du Moulin, Prix Jacques le Marois and Prix de la Foret, but she hasn't enjoyed much success as a broodmare yet, with all three of her first four foals to have made the track having failed to get into a winner's enclosure.
Perhaps her fifth foal, the Dubawi colt Moon Watch, can change his dam's fortunes when he makes his debut in the 7½f novice stakes at Beverley today (3.40). The three-year-old colt is trained by John and Thady Gosden for Moonlight Cloud's owner-breeder George Strawbridge.
Don't miss ANZ Bloodstock News
Subscribe for free for the latest bloodstock news from Australia, New Zealand and beyond.
Make sure to read this week's Asia Bloodstock News
Sign up to our free weekly Asia Bloodstock News publication to receive news and features from all things racing and bloodstock across Mainland China, Japan, Hong Kong, Singapore and beyond.
---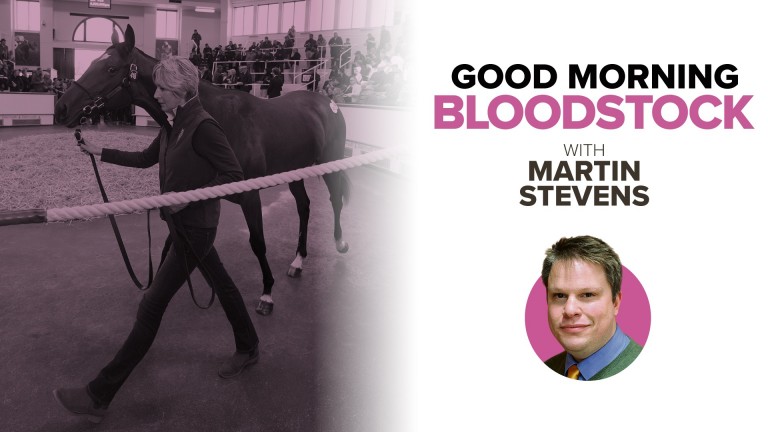 Good Morning Bloodstock is our latest email newsletter. Martin Stevens, a doyen among bloodstock journalists, provides his take and insight on the biggest stories every morning from Monday to Friday
Both could arguably do with a big-name winner in Britain or Ireland in the near future