Galway's only breeze-up consignor hoping for more acclaim at Goffs UK
Martin Stevens speaks to Hardwood Stud's Michael Murray about his draft
One of the greatest feats of pinhooking achieved at the sales last year originated from the only breeze-up operation west of the River Shannon in Ireland.
Michael Murray, who runs Hardwood Stud near Ballinasloe in County Galway, was paid £130,000 by Blandford Bloodstock at Doncaster for a son of Acclamation and Tonle Sap, a placed Manduro half-sister to classy performers Dunelight, Interception and Sperry, having paid just 4,500gns for him as a yearling.
Perfect Focus, as the rags to riches colt was named, has finished placed in both starts for Simon and Ed Crisford. He finished third to the progressive Meraas at Kempton on his last start this month, so there should be more to come from him.
Murray does not profess to any great genius when relating the story of how he unearthed the bargain yearling.
"He was just a nice horse," he says. "He's a May foal, so was still a little bit weak at the time of the sale, but he improved for breezing and impressed at the sale. I hope he fulfils his connections' high opinion of him."
Eye-catchingly, his draft at this year's Goffs UK Breeze-Up Sale – which takes place in Doncaster on Wednesday, along with Arqana's two-year-old fixture – includes another Acclamation colt.
Lot 165, bought for €40,000 from the Goffs Orby Yearling Sale, is out of Sweet Coconut, an unraced Bahamian Bounty sibling to stakes-winning two-year-olds Blaine and Bogart.
"I don't like talking up the horses, I prefer them to do the talking during the breeze," says the reluctant publicist Murray.
But as we are speaking before the horses were put under their paces at Town Moor on Sunday he is coerced into remarking of the son of Acclamation: "He has an extremely fast pedigree and moves very well, so I'm expecting a good breeze from him."
Hardwood Stud's second lot at Goffs UK is lot 40, a colt by first-season sire Territories out of Bounty Star, a Fasliyev half-sister to Prix de l'Opera heroine and influential matriarch Kinnaird.
"He's shown me he's quick and he's very straightforward," says Murray.
He has yet another Acclamation colt due to sell at the Tattersalls Guineas Breeze-Up Sale on July 8, along with a son of Pearl Secret.
It is not just last year's blockbuster pinhooking result that has made Murray a fully paid-up member of the Acclamation fan club. The sire is also responsible for one of the best Hardwood Stud graduates, the smart sprinter Stone Of Destiny, who was last seen running a close sixth in the Wokingham Handicap at Royal Ascot.
"The Acclamations are lovely horses, very easy to put to work – they breeze for you and don't hide their ability or keep anything back for themselves," Murray says of the Rathbarry Stud stalwart.
"Trainers like them so they're an easy sell. Acclamation will always be fashionable."
More generally, a grounding in raising and selling half-breds in a part of Ireland renowned for equine trading – Ballinasloe is the home of Europe's oldest and largest horse fair, after all – and around 12 years' experience in pinhooking thoroughbred foals has instilled in Murray a keen eye for raw material.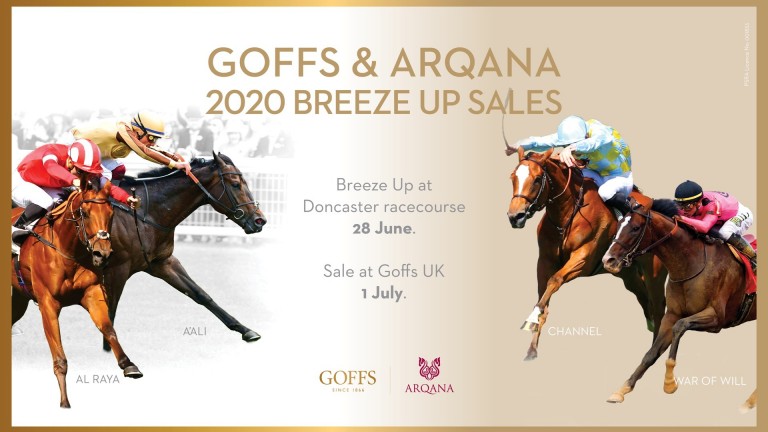 "I don't compromise on physical or walk, the horse has to be a nice individual," he says. "I prefer them to be by a sire acceptable to the market, or by a first-season sire who you hope will have winners on the board by the time of the sale, with pages that allow some hope that the pedigree will improve.
"But above all else, the horse has to be affordable."
The stockman's wisdom extends to how his investments are nurtured before they are sent to the racecourse to advertise their talent to buyers. Murray rides all the horses himself in their sales preparation, describing himself as "a sole trader".
"I have a grounding in showjumping, which is advantageous to the breeze-up prep," he adds. "So for example I have them riding on the correct leg at all times; that helps develop their top lines. I work hard to make sure they gallop from behind, too. They shouldn't be doing it from their forehand."
Murray is taking all his pinhooks to public auction this year, having resisted the temptation of striking private deals to sell them after the breeze-up sale season suffered a long delay due to the coronavirus pandemic.
"I don't blame anyone for having done so in the circumstances, especially with precocious horses," he says. "But I just felt if I rang people it might smell of desperation, and then if I sold one privately that people might question the quality of the ones I was taking to the open market.
"It was great to see Johnny Collins get well rewarded for his Night of Thunder colt at Tattersalls last week [sold for 575,000gns] having turned down lots of private offers for him.
"I'm very impressed by the sales companies and grateful to them for having done everything to make the breeze-ups happen, it's great to see them working together for the common good."
Not long after his sojourn to the breeze-ups in Britain, Murray will be heading east in Ireland to present a Kayf Tara colt out of dual winner Shady Lane at the Tattersalls Ireland Derby Sale on July 14.
Once again, the vendor is sticking with a sire he has enjoyed significant success with in the past. Seven years ago he sold dual Grade 1-winning hurdler Identity Thief for €40,000 at Fairyhouse.
The hours spent on the road are the only small disadvantage to being based in Galway, and an insignificant one far outweighed by the benefits of the land, Murray says.
"It can be a bit difficult as I have to travel the breeze-up horses a lot to give them serious work, either to the Curragh or Willie Browne's in Fethard - it's a fair trek," he explains.
"But overall we have fantastic limestone land which is very good for bone density. The horses thrive here."
---
More to read...
Yet another Irish Derby for O'Brien but this one has an offbeat pedigree
National Stud graduates in UK and Ireland graduate in special lockdown ceremonies
Former world champion and smart sire Manduro suffers fatal heart attack
I have them riding on the correct leg at all times; that helps develop their top lines. I work hard to make sure they gallop from behind, too