British and Irish foal crop shows a five per cent year-on-year decline
Figures in the Weatherbys Return of Mares highlight the downward trend
The number of foals born in Britain and Ireland has dropped by five per cent to 12,778 in 2020, down by 665 on the 13,443 foals bred last year.
Figures available in the newly published Weatherbys Return of Mares show that 4,236 foals were born in Britain in 2020, down by nine per cent, and 8,542 in Ireland, down by three per cent. The combined foal crop comprises 50.73 per cent colts and 49.27 per cent fillies.
The decline is, in part, due to slower registrations in 2020, though is in line with the trend seen across the global thoroughbred foal crop over the last 15 years, which has fallen from a peak of 123,000 in 2005 to 88,000 last year, a drop of 35,000 foals (28 per cent).
The total number of broodmares reported at stud in Britain and Ireland in 2020 is 22,362, a fall of 557 from the 22,919 registered in 2019 (down by two per cent). Of these, 2,667 (12 per cent) were not covered (1,160 in Britain and 1,507 in Ireland) and 313 (one per cent) were barren.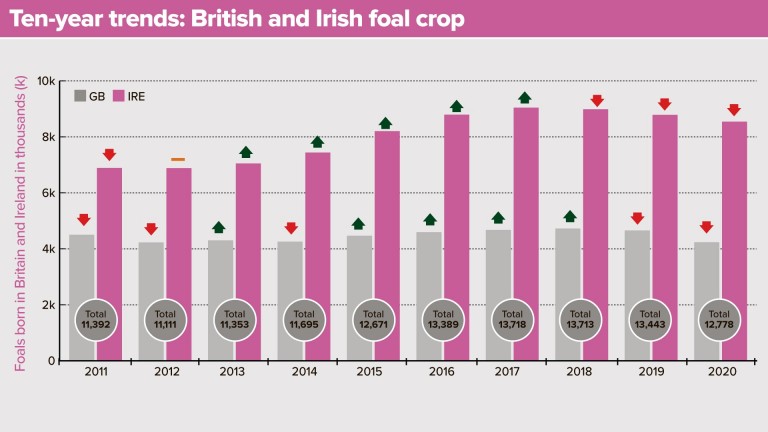 Of those 22,362 mares, 19,691 were covered by registered stallions and 13,235 conceived (5,117 in Britain and 8,118 in Ireland), an overall conception rate of 67 per cent after deducting the 191 mares which were exported or died.
The number of active stallions in Ireland dropped by 20 to 232, and by three for a total of 149 in Britain. In total 17 sires across Britain and Ireland covered 200 or more mares in 2020, down slightly from 19 in 2019.
Maxios, who stood his first season at Coolmore's Castlehyde Stud, proved the most popular with 298 mares, a tally that ended Soldier Of Fortune's four-year stint as the most in-demand stallion around.
Another Coolmore National Hunt recruit in Crystal Ocean, who stands at Beeches Stud, was the most popular among the new retirees to stud with 280 mares.
Weatherbys' data shows that more foals were born earlier in the season in 2020, with 585 arriving in January (up from 564 in 2019) and 2,268 in February (up from 2,183 in 2019).
March and April remain the busiest months for foaling, albeit the uptick seen earlier in the season means numbers for those months fell year-on-year.
Some 3,320 foals were born in March (down from 3,539 in 2019) and 3,982 in April (down from 4,240). May and June also saw declines, the former at 2,240 (down from 2,392) and the latter at 358 (down from 472).
---
More news:
A perfect storm sees English King fetch 925,000gns at Tattersalls Autumn Horses in Training Sale
High-class sprint sire Equiano to relocate to Irish National Stud
Ted Durcan secures 165,000gns top lot at Autumn Horses in Training opener
Maxios, who stood his first season at Coolmore's Castlehyde Stud, proved the most popular with 298 mares