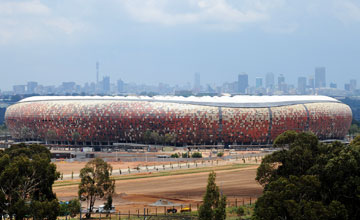 Johannesburg's Soccer City Stadium will host eight World Cup matches
PICTURE:
GETTY IMAGES
Quick guide to the ten World Cup grounds
CAPE TOWN STADIUM
Altitude sea level
Capacity 69,070
Total games eight
A skyline-changer of a stadium that replaced an 18,000-seater three years ago. Looks stunning and the spectators are right on top of the pitch to create some real noise and colour.
---
ELLIS PARK, JOHANNESBURG
Altitude 1,753m
Capacity 65,000
Total games seven
South African rugby's spiritual home, having staged the 1995 Rugby World Cup final. Reopened after a £45m facelift in June 2008 and hosted the final of last year's Confederations Cup.
---
VODACOM PARK, BLOEMFONTEIN
Altitude 1,400m
Capacity 48,000
Total games six
The pitch takes a battering from rugby, but organisers insist that won't be a factor. The locals are among the most fanatical in South Africam sport so should help generate a decent atmosphere.
---
LOFTUS VERSFELD STADIUM, PRETORIA
Altitude 1,214m
Capacity 51,762
Total games six
One of the oldest grounds in the country having been built in 1906. Not as modern as others and another pitch that suffers from too much rugby.
---
MBOMBELA STADIUM, NELSPRUIT
Altitude 660m
Capacity 43,500
Total games four
Thesignature feature of this new-build is the black and white seating to mimic a zebra's stripes. Drainage issues forced the pitch to be relaid but, unlike Wembley, the word is they've got it right.
---
MOSES MABHIDA STADIUM, DURBAN
Altitude sea level
Capacity 70,000
Total games seven
Its signature feature is the 'Arch of Triumph' but the whole stadium is beautifully designed. The pitch, we're told, is 'immaculate', which would be in keeping with the surroundings.
---
NELSON MANDELLA BAY STADIUM, PORT ELIZABETH
Altitude sea level
Capacity 48,459
Total games eight
A lakeside arena built for the competition which opened 11 months ago. It is faultless to look at with another eye-catching roof structure and the pitch has got the nod from people who have played on it.
---
PETER MOKABA STADIUM, POLOKWANE
Altitude 1,310m
Capacity 46,000
Total games four
Newly-built for theWorld Cup with fans towering over the pitch. It has a superb playing surface, but has been hosting matches for only a few months and because Polokwane is the smallest of the World Cup cities it gets just four matches.
---
ROYAL BAFOKENG STADIUM, RUSTENBURG
Altitude 1,500m
Capacity 44,530
Total games six
Well maintained and it's commonly accepted that this ground will have the best and truest playing surface of the ten. It's the only ground with an athletics track and there's not much cover, so the atmosphere may not be great.
---
SOCCER CITY STADIUM, JOHANNESBURG
Altitude 1,753
Capacity 94,700
Total games eight
Built in 1987 and staged the 1996 African Nations Cup final. It took a £300m upgrade to turn it into arguably the swishest stadium in Africa. "One of the most beautiful in the world" according to Diego Maradona.
Click to buy RPSPORT in PDF format
Open an account and receive free bets
---