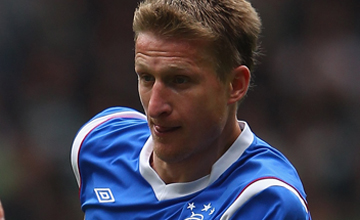 Dorin Goian would have played in the Scottish First DivisionPICTURE: Getty Images
Defender Goian joins Rangers exodus
ROMANIAN international defender Dorin Goian has become the latest player to announce his intention to leave Rangers after Friday's decision by the SFL clubs to send the Glasgow giants into Scottish Division Three.
Goian had announced his intention to stay on at the club if they were admitted to the Scottish Division One but he considered a three-tier drop to be too much.
He said: "My agent has already spoken with other teams but nothing has been agreed yet.
"I would have stayed if it was the First Division - but not this."
Mick McCarthy continues to atract significant backing in the next Nottingham Forest manager market and was a best-priced 8-11 for the job last night.
The club's owners - the Al'Hasawi family - confirmed yesterday they are speaking to 'four or five figures' about the position but that did not stop the McCarthy bandwagon.
Abdulaziz Al Hasawi also revealed that the club have not spoken to Glenn Hoddle but the former Tottenham manager is still considered by punters to be the most likely alternative to McCarthy and was no bigger than 2-1 last night.
Fabio Borini has completed a switch from Roma to Liverpool for a reported £11m fee - perhaps increasing the possibility that Andy Carroll may be allowed to leave the club this summer.
Reds manager Brendan Rodgers has not ruled out a summer move for Carroll, who has been linked with a loan switch to West Ham.
It has been reported that Tottenham are willing to sell Jermain Defoe this summer for a fee in the region in £8m.
Reading and QPR have been mentioned as possible destinations for the 29-year-old England striker, who made one substitute appearance at Euro 2012.