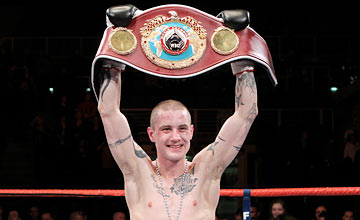 WBO super-featherweight champion Ricky Burns
PICTURE:
GETTY
Bookies suspend betting after suspicious gamble on Burns
Most bookmakers have suspended round betting on the WBO
super-featherweight title fight between Ricky Burns and Nicky Cook after seeing suspicious activity in shops in East London.
Burns to win in round three had been available at 25-1 on Friday but punters continued to back it despite layers slashing the odds, setting alarm-bells ringing.
A gamble on Burns to win in round three seems especially strange as the Scottish champion is not known for his knockout power – he has stopped only eight of 31 opponents (24 per cent) and four of his last five fights have gone the distance.
"We saw lots of activity in and around East London shops on Friday evening and deliberately cut our price for Burns to win in round three to the shortest available at the time [10-1] but continued to lay it," said Hills spokesman Graham Sharpe.
"We were never bigger than 14-1, which is what initially sparked ourconcern, as we began to see more than expected bets for a price which apparently was readily available at longer odds elsewhere. As we'd heard other bookies were seeing the same pattern we decided to suspend the round-by-round market and reported it to the Gambling Comission."
Ladbrokes' David Williams said: "We started laying the bets in our East London shops. It's increasingly frequent with so much inflated talk around in pre-match build-ups and many of these gambles have gone astray – but we'll be watching this one like hawks now."