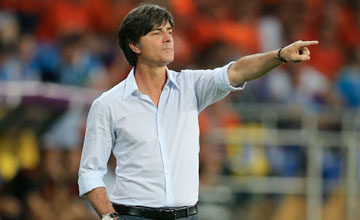 Joachim Loew is unlikely to order his troops to play for a draw PICTURE: Getty Images
Why I don't think a carve-up is on the cards
I KNOW there is no love lost between Germany and Holland but I am not having some kind of stitch-up which sees Joachim Low's men deliberately drawing with Denmark to get the Dutch out of the Euros.
Obviously there are some occasions when it comes to mutually beneficial draws in Italian football - they even have a name for it over there and refer to it as a biscuit - although I have no idea what a Jammy Dodger has got to do with two teams setting out for a goalless draw.
I have a different conspiracy theory that points to a great bet on Germany. Which team will the Germans fear in this competition? The answer is Spain and it will be much better for Low's side to take care of their own business, eliminate the not-so-great Danes and then hope Portugal or Holland can take care of the European and world champions in a potential semi-final.
Of course I may be looking way too far ahead but as I have said from the start I am oozing confidence with regards to the Germans and nothing so far puts me off suggesting Low will be on a high come the final in Kiev.
Plus, when have you ever seen a Germany team go out with any intention other than trying to smash the opposition? With them you always get 100 per cent effort, you always get 100 per cent efficiency and now you always get 100 per cent quality as well.
I have them down as bankers to beat Denmark and any suggestion of skulduggery is simply taking the biscuit.