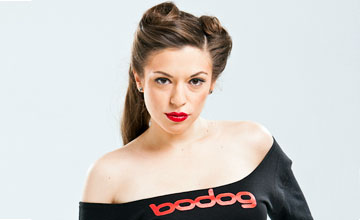 At tight weak tables, I'll be very aggressive, opening a ton of pots
I don't believe in the idea of running bad
Online specialist Amanda Musumeci has just joined Bodog. Recent cashes include a runner-up spot ina PokerStars $100,000 Guaranteed and a third place finish in the Full Tilt Poker $150,000 Guaranteed. Now she takes on the Turbo Interview.

Age: 25

What is you nickname: Mander, Manda, Manderbutt, Butt, Mrs. Butt, and Lady Butt - self explanatory really, except the 'butt' part I guess!

Where are you based: I'm based out of Las Vegas, NV. I'm initially from Philly PA

How long have you been playing poker? I started playing poker in August of 2007 on Bodog so relatively new but I devoured all the teaching material.

What is your biggest win? Biggest score online so far is for £27k. Biggest straight-up win was in a $200 turbo for $20k.

What is your local/favourite casino? Venetian. Why? Just go there.

Describe your game style: Tight/standard early usually. My late game varies depending on the texture of my table, and how the playersare playing at me. At tight weak tables, I'll be very aggressive, opening a ton of pots, and putting shorter stacks to the test. At more aggro tables late in tournies, I'll play more tight-aggressive style and try to implement a more tricky, and creative strategy.

What is your preferred format? I like online better than live. As far as types of tournies, I like rebuy tournies a lot. The weak players usually don't have very large stacks by break, but the people who gamble a lot during rebuy hour can get massive stacks and coast the field to get pretty deep.

What triggered your interest in poker? I've always loved strategy games, and was introduced to Texas Hold'em poker in college. I got money onto Bodog, and my friend helped me learn the basics.

What would you do if you weren't a poker professional? I'd probably be working a job in my fields of interest such as public relations, marketing/research, lobbying in D.C.

What's your table image? I think most players think I'm pretty tight. It works well to be tight earlier and save your image for later in tournies. People run stats on programs on the internet which record your game play style. By being tight early, it throws their stats off track. When I get aggro later in the tourney, they prob give mefar too much credit due to my earlier image.

Favorite poker slang or jargon? yik but meh; absurdities; I also wanted to pull this move out in live poker where I check with intention of raising, and I verbalize it to my opponent. Like, I'll check, he'll bet, and I'll then verbalize, "well sir, I thikn I'm going to check-raise ya here to be honest" .

What's the best bit of poker advice given or receive? I don't believe in the idea of running bad. Realize that losing flips when the chips are all in pre flop is something which occurs usually because you've gotten too short-stacked that your only play to make is all in pre flop.
We should realize that there are things that we can do along the way in a tourney, there are hands that happened early in the tourney where, if we'd played them more optimally, we may not have even been in the same situation where we had to shove our whole stack for a flip in some later stage.

Recommend a poker book or film: Pokerxfactor along with the other poker training sites areextremely useful. They are easy to watch and follow, and you can interact with the pros and ask questions if there is something you don't understand.

Name an up and coming poker player: Myself :D and also, michael rocco aka rock3656/anfo500/mindalterer online. He's a total and complete beast. He'll be known as soon as he hits 21. I'm confident!
A month ago, I woulda said DJK123 (Dan Kelly - my backer), but he's now made his mark in the live arena in his first WSOP this year, winning the 25k WSOP event.

What do you do in your downtime? A lot of studying, trying to be restful, love to cook, outdoors activites with friends and travel.