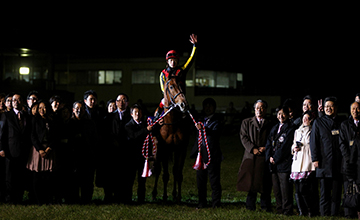 Over 60,000 remained after sunset to bid farewell to Orfevre
PICTURE:
Masakazu Takahashi
Picture: ORFEVRE'S retirement ceremony drew a huge crowd at Nakayama, with over 60,000 fans staying after racing had finished and the sun had set to pay tribute to the six-time Group 1 winner.
The number that showed up to watch him race for the last time was double that, and he didn't disappoint, coming home eight lengths clear under Kenichi Ikezoe for his trainer Yasutoshi Ikee in the Arima Kinen.
Ikee said: "I want to say thank you for Orfevre. I don't have any other words. I worried his condition was not quite good, but I have experienced his moods - good ones and bad ones.
"I am happy that today's was a good one. I want to say thank you for fans cheering him on for a long time. Today's race was his best performance.
"I would like his children to compete in the Arc some day. I will train them to run straight and want to win it."