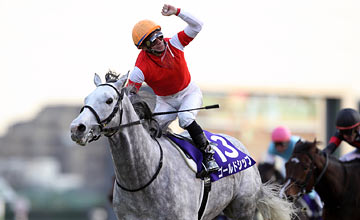 Gold Ship: a legitimate contender for next year's Prix de l'Arc de Triomphe
PICTURE:
Masakazu Takahashi
Gold Ship sails to top of three-year-old rankings
WORLD CLASS: an analysis of the international scene according to Racing Post Ratings
CHRISTMAS is a time for redemption. Whatever went before can be resolved with a rich gesture, kindly act or even a prize turkey.
In Flat racing the Arima Kinen traditionally plays the festive last chance saloon, offering one last shot at recognition, one last chance to tie-up loose form lines and one final opportunity to set the record straight.
This year the redemption came right on cue - only in 2012 it was the prize turkeys of the Classic generation who needed their wrongs righting.
For 12 months the three-year-olds of the world were a disappointment; against the older generation successes were rare. Their collective in-running comment might have read: slowly away, always in rear.
But on Sunday, in the final strides of the final major race in the calendar, the three-year-olds finally came good.
Gold Ship ran the Arima Kinen as his contemporaries had contested the entire season. He too was slowly away and he too was held up in rear, a long way off the early pace.
Jockey Hiroyuki Uchida had said he would ride with confidence, but even he may have thought he'd overdone it turning into the short straight, where he could be spotted six wide in tenth, chasing his mount like a fanatical oarsman.
As they straightened up with just over a furlong to go the galloping grey started to make ground. The big race favourite was on his way and the seldom containable Japanese crowd erupted.
It was going to be tight, but they knew he was going to get there and they knew what that meant. He swept the field to a rapturous reception, reaching the front with two seconds to spare to win a shade cosily by a length-and-a-half.
Timed to perfection; a healthy blend of right result with lashings of exhilaration. There's something quite exquisite about timing the run just so.
Two seconds later and the entire crop might have been written off. Instead they welcomed a new champion and a fresh standard bearer for the 2013 campaign.
The Arima Kinen is a gateway race for the best Japanese three-year-olds. Two months after the final leg of the triple crown, it is their last chance to run against the older generation before becoming the older generation.
Orfevre won last year's race as a three-year-old before being pointed at the Arc and Deep Impact was second in the race in 2005 before he took a similar path to Longchamp.
Orferve and Deep Impact both came into the race on the back of a triple crown success and Gold Ship was a little unlucky not to have joined that pair in securing all three Classics.
He was a cosy winner of the first and last legs, but was undone by a slow pace in the Tokyo Yushun, where he stayed on from the rear for a close fifth.
He looked the best horse in the Yushun and was clearly the best in the other Classics, but this year, more than most, it was only against the older horses that true worth could be established.
Frankel's generation were winning everything in the open arena, leaving very little to the youngsters. Gentildonna provided a rare highlight when nosing out Orfevre to win the Japan Cup, while there was almost nothing of note amongst the sophomores in Europe.
But on Sunday, Gold Ship delivered what the three-year-olds sorely needed. He ran out a comfortable winner of an all-age championship race, marking himself as king of his generation.
An RPR of 128+ for Sunday's success makes Gold Ship the highest rated three-year-old on the planet, usurping Dullahan, Camelot and I'll Have Another who had shared top spot on a mark of 127.
It was the best performance from the best three-year-old and he is a very deserving champion. There was a championship field, a decent pace and the form stacks up nicely.
Third place Rulership finished a length and three-quarters behind the winner, giving a good line on Gentildonna and Orfevre, while Tenno Sho (Autumn) winner Eishin Flash finished fourth and championship stalwart Dark Shadow was back in sixth.
A winning rating of 128 matches the level achieved by Orfevre in last year's race and gives Japan another horse with a fantastic shot at the Arc next October.
Orfevre should have won the Arc this year but for his wayward tendencies and he will be gunning for Longchamp again in 2013, along with his Japan Cup conqueror Gentildonna. Throw in Gold Ship and it's starting to look like Japan's race to lose.
The Japanese have a long history of underachievement and near misses in Europe's flagship race, but in recent years the tide has turned in their favour.
They now provide the quality to the global middle-distance division. Orfevre almost proved it this year and next year one of these stars should get the job done.
That Arc win will come to Japan. And when it finally does it will be the beginning, not the end of the story.
TOP OF THE CLASS: Gold Ship, 128 Naosuke Sugai (Jap) (Arima Kinen, Nakayama, 1m4f110y, 23 December)
TOP LIST
| | | | |
| --- | --- | --- | --- |
| | Name (country trained) | Race | Rating |
| 1 | Frankel (GB) | Queen Anne/International | 143T |
| 2 | Cirrus Des Aigles (Fr) | Prix Dollar/Champion Stakes | 132T |
| 3 | Excelebration (Ire) | Queen Elizabeth II | 131T |
| 4 | Black Caviar (Aus) | Lightning Stakes | 130T |
| 5 | Hay List (Aus) | Newmarket Handicap | 129T |
| | Orfevre (Jap) | Takarazuka Kinen/Japan Cup | 129T |
| 7 | Fort Larned (US) | Breeders' Cup Classic | 128D |
| | Gold Ship (Jap) | Arima Kinen | 128T |
| | Wise Dan (US) | Ben Ali/Stephen Foster | 128A/D |
| 10 | Camelot (Ire) | Derby | 127T |
| | I'll Have Another (US) | Preakness Stakes | 127D |
| | So You Think (Ire) | Tattersalls Gold Cup | 127T |
| | Nathaniel (GB) | Eclipse/King George | 127T |
| | Moonlight Cloud (Fr) | Prix Maurice de Gheest | 127T |
| | Dullahan (US) | Pacific Classic | 127A |
| | Mucho Macho Man (US) | Breeders' Cup Classic | 127D |
TOP TURF PERFORMERS
| | | | |
| --- | --- | --- | --- |
| | Name (country trained) | Race | Rating |
| 1 | Frankel (GB) | Queen Anne/International | 143 |
| 2 | Cirrus Des Aigles (Fr) | Prix Dollar/Champion Stakes | 132 |
| 3 | Excelebration (Ire) | Queen Elizabeth II | 131 |
| 4 | Black Caviar (Aus) | Lightning Stakes | 130 |
| 5 | Hay List (Aus) | Newmarket Handicap | 129 |
| | Orfevre (Jap) | Takarazuka Kinen/Japan Cup | 129 |
| 7 | Wise Dan (US) | Woodbine Mile | 128 |
| | Gold Ship (Jap) | Arima Kinen | 128 |
| 9 | So You Think (Ire) | Tattersalls Gold Cup | 127 |
| | Moonlight Cloud (Fr) | Prix Maurice de Gheest | 127 |
| | Nathaniel (GB) | Eclipse/King George | 127 |
| | Camelot (Ire) | Derby | 127 |
TOP DIRT PERFORMERS
| | | | |
| --- | --- | --- | --- |
| | Name (country trained) | Race | Rating |
| 1 | Wise Dan (US) | Stephen Foster Hcap | 128 |
| | Fort Larned (US) | Breeders' Cup Classic | 128 |
| 3 | Mucho Macho Man (US) | Breeders' Cup Classic | 127 |
| | I'll Have Another (US) | Preakness Stakes | 127 |
| 5 | Bodemeister (US) | Arkansas/Preakness | 126 |
| | Caleb's Posse (US) | Met Mile | 126 |
| 7 | Amazombie (US) | Churchill Downs | 125 |
| | Game On Dude (US) | Awesome Again | 125 |
| 9 | Ron The Greek (US) | Stephen Foster Hcap | 124 |
| | Shackleford (US) | Met Mile | 124 |
| | Successful Dan (US) | Alysheba Stakes | 124 |
TOP ALL-WEATHER PERFORMERS
| | | | |
| --- | --- | --- | --- |
| | Name (country trained) | Race | Rating |
| 1 | Wise Dan (US) | Ben Ali | 128 |
| 2 | Dullahan (US) | Pacific Classic | 127 |
| 3 | Monterosso (UAE) | Dubai World Cup | 126 |
| 4 | Amazombie (US) | Bing Crosby Handicap | 125 |
| | Game On Dude (US) | Hollywood Gold Cup | 125 |
| 6 | Camp Victory (US) | Triple Bend Hcap | 124 |
| 7 | Krypton Factor (BHR) | Golden Shaheen | 123 |
| 8 | Musir (SAF) | Maktoum Challenge R1 | 122 |
| | Colour Vision (GB) | Sagaro Stakes | 122 |
| | The Factor (US) | Triple Bend Hcap | 122 |