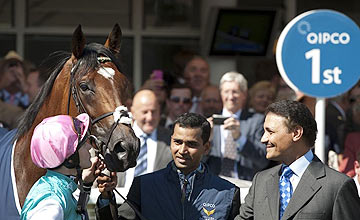 Frankel: the story of this true racing legend closes this weekend
PICTURE:
Edward Whitaker (racingpost.com/photos)
Frankel the blueprint to measure future stars

WORLD CLASS: an analysis of the international scene according to Racing Post Ratings
DAWN APPROACH was the star of Future Champions Day but you only have to look forward a week to see what a tough act he has to follow.
On Saturday, Ascot hosts the final curtain call for one of the greats. And this is not a makeshift champion, a pseudo-legend or a passing great. Frankel's name is one that will pass the real endurance test in racing.
Elevating champions beyond their station is an annual event in our sport - because in their moment they are the best around - but after decades of inverted-comma legends, along came a real one.
After Sea The Stars the sport was braced for a long wait until another superstar came along but just a year later we had Harbinger, who ran to a similar level of form as John Oxx's colt when winning the King George, albeit just the once.
And then the following year up popped Frankel. All of a sudden it seemed like becoming an exceptional champion was easy. Then Frankel kicked it up a notch.
His two-year-old form promised plenty. A 13-length win, a ten-length Group 2 win, then a cosy Dewhurst success. Unbeaten in four. And the margins were backing up that lofty reputation.
Juvenile form is only a promise though, and similarly exceptional youngsters like Celtic Swing have shown us it isn't always fully converted in their three-year-old season. Then Frankel converted it.
Six lengths in the Guineas, five lengths in the Sussex, four lengths in the Queen Elizabeth II. Unbeaten in nine. His winning margins continued to defy convention, his beaten rivals continued to cement the form.
And then a third season. Not enough to be exceptional, connections broke from the traditional three-year-old retirement plan to prove what the mature horse could achieve. And Frankel achieved it.
Five lengths at Newbury, 11 lengths at Ascot, six lengths at Goodwood and seven lengths at York. Still untouchable, still beating horses who would win Group 1 races elsewhere.
The story of this true racing legend closes this weekend. He will go on to fresh challenges, which will leave a lasting impression on the breed as he has on the racetrack.
Sir Henry Cecil's colt has shown us how high the bar goes, earning a rating almost 10lb higher than an average world champion.
He is a phenomenon, a one-off. We won't see wins by such great margins again, especially with such consistency, and we won't see form work out so incredibly well again; Frankel was clear at the top of the highest tree.
Next year the normalisation process begins and Dawn Approach has the ominous task of trying to impress a racing public who have just had three seasons of Frankel.
Enthusiasts will have to return to the humdrum of an annual champion who was the best of his group but ultimately beatable on an off day and certainly no Frankel; a return to championship races which are open to more than one horse; to speculative punting instead of money-laundering on 1-20 shots, to a time of oligopoly instead of monopoly, and to a time when valid debates can be held over who is the 'best' horse in a given year.
But perhaps Frankel will not affect our long-term perception? Perhaps we never really believed it in the first place? Perhaps his superiority was so alarming to our understanding of variables, distribution and probability that we will be comforted by the return to run-of-the-mill champions who win by a length? Perhaps the comedown will happen so quickly that someone might pop out the "legend" epithet next year?
Nobody knows what Dawn Approach might achieve next year, or what next year's champion juvenile might do in 2014, but thanks to Frankel there is a new barometer to which we can expect everything to fall short.
Dawn Approach is an early favourite to become the 'best horse since Frankel' after stretching his unbeaten run to six in the Dewhurst Stakes on Saturday, earning an RPR of 122+ (1lb off his National Stakes figure).
He is certainly the classiest two-year-old in Europe. He can cover a racing distance faster than any other of his age - the clock backed that up on the weekend - but he doesn't have another gear; there's no finishing kick and no tactical acceleration, so he will need things to fall right next year.
It sounds finicky to pick holes in a six-time winning champion juvenile, but the gap in his profile seems obvious when compared to Frankel.
And perhaps that will be Frankel's real legacy for the racecourse? The perfect blueprint. By measuring each horse against him we can see what is missing; the reason others cannot consistently win by wide-margins with unfettered brilliance.
Dawn Approach can still win races without a turn of foot and stepping up to a mile for the first time may help him power away to win the 2,000 Guineas in May. He just won't be Frankel. Nothing will.
In 20 years someone might be tempted to take a good look at Frankel sat up there on the highest perch; to challenge the supremacy of the triple champ, but Frankel is there to stay.
He will sit on the top shelf forever. He might get company, but that shelf will not fill up; 1,000 bloodstock experts working on 1,000 tablets couldn't come up with a mating to achieve another Frankel. Not even if one of them was Jim Bolger.
TOP OF THE CLASS Dawn Approach 122+ Jim Bolger (Ire) (Dewhurst Stakes, Newmarket, 7f, October 13)

TOP LIST
| | | | |
| --- | --- | --- | --- |
| | Name (country trained) | Race | Rating |
| 1 | Frankel (GB) | Queen Anne/International | 142T |
| 2 | Cirrus Des Aigles (Fr) | Prix Dollar | 131T |
| 3 | Black Caviar (Aus) | Lightning Stakes | 130T |
| 4 | Hay List (Aus) | Newmarket Handicap | 129T |
| | Orfevre (Jap) | Takarazuka Kinen | 129T |
| 6 | Wise Dan (US) | Ben Ali/Stephen Foster | 128A/D |
| 7 | Camelot (Ire) | Derby | 127T |
| | Excelebration (Ire) | Lockinge Stakes | 127T |
| | I'll Have Another (US) | Preakness Stakes | 127D |
| | So You Think (Ire) | Tattersalls Gold Cup | 127T |
| | St Nicholas Abbey (Ire) | Coronation Cup | 127T |
| | Nathaniel (GB) | Eclipse/King George | 127T |
| | Moonlight Cloud (Fr) | Prix Maurice de Gheest | 127T |
| | Dullahan (US) | Pacific Classic | 127A |
TOP TURF PERFORMERS
| | | | |
| --- | --- | --- | --- |
| | Name (country trained) | Race | Rating |
| 1 | Frankel (GB) | Queen Anne/International | 142 |
| 2 | Cirrus Des Aigles (Fr) | Prix Dollar | 131 |
| 3 | Black Caviar (Aus) | Lightning Stakes | 130 |
| 4 | Hay List (Aus) | Newmarket Handicap | 129 |
| | Orfevre (Jap) | Takarazuka Kinen | 129 |
| 6 | Camelot (Ire) | Derby | 127 |
| | Excelebration (Ire) | Lockinge Stakes | 127 |
| | So You Think (Ire) | Tattersalls Gold Cup | 127 |
| | St Nicholas Abbey (Ire) | Coronation Cup | 127 |
| | Moonlight Cloud (Fr) | Prix Maurice de Gheest | 127 |
| | Nathaniel (GB) | Eclipse/King George | 127 |
| | Wise Dan (US) | Fourstardave Handicap | 127 |
TOP DIRT PERFORMERS
| | | | |
| --- | --- | --- | --- |
| | Name (country trained) | Race | Rating |
| 1 | Wise Dan (US) | Stephen Foster Hcap | 128 |
| 2 | I'll Have Another (US) | Preakness Stakes | 127 |
| 3 | Bodemeister (US) | Arkansas/Preakness | 126 |
| | Caleb's Posse (US) | Met Mile | 126 |
| 5 | Amazombie (US) | Churchill Downs | 125 |
| | Fort Larned (US) | Whitney Handicap | 125 |
| | Game On Dude (US) | Awesome Again | 125 |
| 8 | Ron The Greek (US) | Stephen Foster Hcap | 124 |
| | Shackleford (US) | Met Mile | 124 |
| | Successful Dan (US) | Alysheba Stakes | 124 |
TOP ALL-WEATHER PERFORMERS
| | | | |
| --- | --- | --- | --- |
| | Name (country trained) | Race | Rating |
| 1 | Wise Dan (US) | Ben Ali | 128 |
| 2 | Dullahan (US) | Pacific Classic | 127 |
| 3 | Monterosso (UAE) | Dubai World Cup | 126 |
| 4 | Amazombie (US) | Bing Crosby Handicap | 125 |
| | Game On Dude (US) | Hollywood Gold Cup | 125 |
| 6 | Camp Victory (US) | Triple Bend Hcap | 124 |
| 7 | Krypton Factor (BHR) | Golden Shaheen | 123 |
| 8 | Musir (SAF) | Maktoum Challenge R1 | 122 |
| | Colour Vision (GB) | Sagaro Stakes | 122 |
| | The Factor (US) | Triple Bend Hcap | 122 |