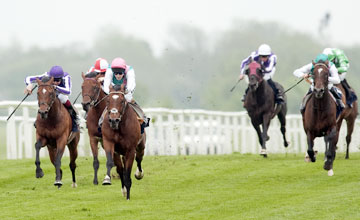 Frankel (pink cap) maintainted his unbeaten record in the Lockinge Stakes
PICTURE:
Edward Whitaker (racingpost.com/photos)
Dreaming of Goodwood for Frankel and Caviar

WORLD CLASS: an analysis of the international scene according to Racing PostRatings
IN THE last two weeks Frankel and Black Caviar have shown they are still the best in the world.

On Saturday, Frankel matched his best RPR of 139+ by defeating old foe Excelebration by five lengths in the Lockinge Stakes, taking his unbeaten record to ten.

That came just seven days after Black Caviar proved she is still the best mare Racing Post Ratings have ever seen by winning a Group 1 without raising a gallop, taking her unbeaten record to 21.

He is a long-striding monster and she could be the fastest we've ever seen. Two of the greatest horses to walk the earth; two unbeaten champions representing the best their hemispheres have to offer; two horses, this summer, who will be running in the same time and place.

A meeting between the pair has been long touted and short expected. The perfect conditions for each had seemed so far apart that a compromise may never be reached. Until now.

Both Sir Henry Cecil and Peter Moody have been open to a match ontheir own terms but it was only ever on the middle ground that a meaningful meeting could take place.

Over 6f in Melbourne or over 1m at Ascot the results would be inevitable and excuses for the defeated quick to hand. Such events would be pointless, but we could be getting closer to a compromise.

Cecil recently suggested Frankel will stay at a mile for the Queen Anne and the Sussex Stakes in the coming months, which means the middle ground is a little more achievable than it might have been had he gone up to 1m2f.

Another glimmer of hope for the match came last week, when Sir Henry said he would love to see Frankel take on Black Caviar. Because, said the man knighted for services to horse racing, it would be good for racing.

He thought the Sussex Stakes was the only place it could happen. That's a race Frankel won last year, in his hemisphere, on his date of choice, at a trip Black Caviar has never run over. Not exactly the middle ground.

But if Team Frankel could concede on just one point there is the chance that a meaningful and, more to the point, spectacular clash of the titans could take place.

The race could still be run on Frankel's schedule, in his country, on his track, on his day of choice, but not over a mile.

Instead a one-off race should be created at Glorious Goodwood. It would be over 7f (for fairness) and a match race (to avoid trouble in running and for spectacle).

An easy downhill 7f round Goodwood is one of the most unbiased meeting places they could wish to find for the Northern and Southern hemisphere champions. It would accommodate both parties.

Frankel's team would still get everything their own way in terms of venue and schedule – and he did hammer Excelebration over an easy 7f at Newbury last year, while Black Caviar has also won over an easy 7f.

There is a slight question mark over the mare being fully effective in a strongly run 7f, as her only win at the trip came in a muddling race, but she has officially won over 1400m and Peter Moody is confident she can handle it.

In terms of how a match race would play out, Goodwood is a solid choice of venue. Because it is downhill, front runners don't always come back to the field, so neither horse will want to give away too much ground.

It would be toe-to-toe from gate to wire, solid fractions, eyeball to eyeball, tension building throughout and nothing left at the finish; both horses drawing from each other that which other good horses could not touch.

In the Nassau Stakes at the same track a few years ago Alexander Goldrun and Ouija Board had a memorable battle, where neither would give an inch and they wound up separated by just a short head.

In the Frankel and Black Caviar match, both horses have such high cruising speeds and so much class and determination, this race could produce a similar finish to the 2006 Nassau – only with much greater significance.

Glorious Goodwood would not know what hit it. It would be the greatest and most important race in living memory.

Nobody runs match races anymore. They are reserved for times like this, for races whose running would be hugely significant both globally and historically.

It would be like selecting two great horses from the past and creating a level playing field on which they could provide answers to those eternal imponderables – only this could be run for real, this summer.

It would be fair to say I have not always been so supportive of a match race, but now I believe it could happen I only hope connections can agree terms.

Until recently there were three reasons I was against the match. The first was that it would fly in the face of careful race planning.

Sir Henry and Peter Moody are both perfectionists, they are both patient and they both sing from the 'best for the horse' hymn sheet.

It's the conscientious way. To protect great horses is the 'right way' to do it: run to a schedule that will suit the horse, plan races well in advance, use them as stepping stones; always think three moves ahead.

Both men are fantastic at race planning, always listening to the horse and doing what was best for them every step of the way.

Their method is so ingrained that selecting races becomes second nature and both men will continue to work in the same way long into the future with every horse they train. But just this once it could be time to loosen the iron grip on fate.

The second reason to be against the match would be if fair and unbiased conditions could not be found. A sprint race would favour the mare, a mile the colt.

The middle ground has always been around the 7f mark, but there are different types of 7f race. As outlined above, Goodwood should provide a race suitable for both parties.

Talk in recent months has concerned potential match races at Ascot or Newmarket, but a stiff 7f, or one with an uphill finish, would be asking Black Caviar to run 'further' than she ever has before.

The Australian team are already conceding enough by flying to Europe in their off-season, they should not have to step into the unknown on distance as well.

A Goodwood 7f match would be ticking every box for the British team other than the distance. The date and track are right and they have already suggested it as a meeting place. Now they just have to concede on one point: the distance must be fair.

The third reason against a match is that one horse would be beaten. Why should two such great horses not go their entire careers unbeaten?

If they were born in different decades they could both have trotted out winning streaks 20 or 30 long and retired unbeaten and untouchable.

Why, then, just because they are around at the same time, should one of them lose that right?

It is this traditionalist view which always keeps racing's stars apart. In 2009 Sea The Stars, Goldikova, Rachel Alexandra and Zenyatta won 19 top grade races between them, but never saw one another.

It is a sound and reasonable stance for trainers to take to protect their charges, but this situation is different. This match race, win or lose, would be the greatest moment in the careers of both horses.

It would be an honour to lose this race and simply taking part would raise the profile of both horses forever. Anyone who saw it would remember not just the race, but the life of both horses for a very long time.

To remain in the memory great horses need spectacular races. It could be just one moment which lifts them onto a different plane of consciousness; making them a legend.

Sea The Stars didn't have one standout moment and let's not forget how quickly he fell out of favour once Frankel turned up.

Folks outside racing have forgotten John Oxx's colt already, if they ever knew of him, but they won't forget Denman and KautoStar in such a hurry. Nor would they forget the match of the century.

The loser of a match would not retire as a defeated horse, they would retire having taken part in one of the greatest races of all time; as one of the greatest horses of all time. And as for the winner...

A fair match is the right thing for both horses and it is the right thing for racing.

Just to tidy up the weight issue. Cecil might want level weights, Moody might want the Aussie 2kg (4.4lb) mares allowance.

The fair compromise is the 3lb allowance Black Caviar would receive in a normal conditions event at Goodwood over 7f. Both horses are now mature so there would be no weight for age.

Now it's just up to Cecil to email Moody, or Moody to email Cecil. 'Did you read it? What do you think? We're game if you are...'

On Saturday Frankel (139+) won as expected. He followed the script, tracking Bullet Train before powering away from the European Hay List, Excelebration (127).

Frankel held a length-and-a-half lead over Excelebration before he kicked away, so this five-length win can't be seen as a direct improvement on his typical margin of four-lengths over his main rival.

Cecil's colt did, however, suffer an interrupted preparation and this was his first start of the campaign, so there could be more to come from here.

Any improvement on the figures would see him rated the best horse in RPR history – he currently shares that honour with Dubai Millennium.

Over in America I'll Have Another collared Bodemeister in the final strides to land the Preakness Stakes, setting up a repeat of the exacta from the Kentucky Derby.

Both horses repeated their Kentucky Derby figures, with thewinner hitting an RPR of 126+ and the runner-up 125+.

Front-runner Bodemeister will probably drop back in trip from here, while I'll Have Another will step up to 1m4f as he bids to complete the triple crown in the Belmont Stakes next month.

The way he stormed home in the first two legs suggests he might just last the distance, which would make him the first triple-crowner since Affirmed in 1978.
TOP OF THE CLASS: Frankel 139+ Sir Henry Cecil (GB) (Lockinge Stakes, Newbury, 1m, 19 May)
TOP LIST
| | | | |
| --- | --- | --- | --- |
| | Name (country trained) | Race | Rating |
| 1 | Frankel (GB) | Lockinge Stakes | 139T |
| 2 | Black Caviar (Aus) | Lightning Stakes | 130T |
| | Cirrus Des Aigles (Fr) | Prix Ganay | 130T |
| 4 | Hay List (Aus) | Newmarket Handicap | 129T |
| 5 | Orfevre (Jap) | Hanshin Daishoten | 128T |
| | Wise Dan (US) | Ben Ali | 128A |
| 6 | Excelebration (Ire) | Lockinge Stakes | 127T |
| 7 | Bodemeister (US) | Arkansas Derby | 126D |
| | Cityscape (GB) | Dubai Duty Free | 126T |
| | I'll Have Another (US) | Kentucky Derby/Preakness | 126D |
| | Monterosso (UAE) | Dubai World Cup | 126A |
TOP TURF PERFORMERS
| | | | |
| --- | --- | --- | --- |
| | Name (country trained) | Race | Rating |
| 1 | Frankel (GB) | Lockinge Stakes | 139 |
| 2 | Black Caviar (Aus) | Lightning Stakes | 130 |
| | Cirrus Des Aigles (Fr) | Prix Ganay | 130 |
| 4 | Hay List (Aus) | Newmarket Handicap | 129 |
| 5 | Orfevre (Jap) | Hanshin Daishoten | 128 |
| 6 | Excelebration (Ire) | Lockinge Stakes | 127 |
| 7 | Cityscape (HK) | Dubai Duty Free | 126 |
| 8 | Rulership (Jap) | QEII Cup | 125 |
| | Foxwedge (Aus) | William Reid | 125 |
| 9 | Ambitious Dragon (HK) | Stewards' Cup/HKGC | 124 |
| | St Nicholas Abbey (Ire) | Sheema Classic | 124 |
| | Rain Affair (Aus) | Expressway/Apollo | 124 |
| | More Joyous (Aus) | Sapphire Stakes | 124 |
| | Atlantic Jewel (Aus) | Sapphire Stakes | 124 |
| | To The Glory (Jap) | Shinshun Hai | 124 |
TOP DIRT PERFORMERS


Name (country trained)
Race
Rating
1
Bodemeister (US)
Arkansas Derby
126
I'll Have Another (US)
Kentucky Derby/Preakness
126
3
Caleb's Posse

(US)

Carter Handicap

125
4
To Honor And Serve (US)
Westchester S
124
5

Game On Dude (US)
San Antonio

123


Smart Falcon (Jap)
Kawasaki Kinen
123
Jackson Bend

(US)

Carter Handicap

123
8
Amazombie

(US)

Potrerop Grande Stakes

122
Dullahan (US)
Kentucky Derby
122


The Factor (US)
San Carlos

122
Union Rags (US)
Fountain Of Youth

122
TOP ALL-WEATHER PERFORMERS
| | | | |
| --- | --- | --- | --- |
| | Name (country trained) | Race | Rating |
| 1 | Wise Dan (US) | Ben Ali | 128 |
| 2 | Monterosso (UAE) | Dubai World Cup | 126 |
| 3 | Krypton Factor (BHR) | Golden Shaheen | 123 |
| 4 | Musir (SAF) | Maktoum Challenge R1 | 122 |
| | Colour Vision (GB) | Sagaro Stakes | 122 |
| 5 | African Story (UAE) | Godolphin Mile | 121 |
| 6 | Capponi (UAE) | Dubai World Cup | 120 |
| 7 | Planteur (GB) | Dubai World Cup | 119 |
| 8 | Prince Bishop (UAE) | Meydan Hcap | 118 |
| | Dullahan (US) | Blue Grass Stakes | 118 |
| | So You Think (Ire) | Dubai World Cup | 118 |
| | Red Cadeaux (GB) | Sagaro Stakes | 118 |