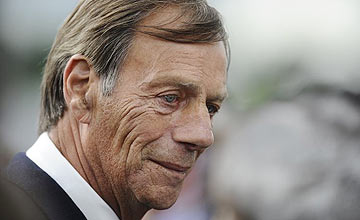 Sir Henry Cecil: looks to have another smart filly in his care
PICTURE:
Getty Images
Cecil looks to have another gem in Hot Snap

WORLD CLASS: an analysis of the international scene according to Racing Post Ratings
Anyone who thinks Mother Nature deserves all the plaudits for creating Black Caviar, Frankel and Sprinter Sacre needs to go back to their naturist camp and have a short, flabby look at themselves - nurture is just as important.
While there's no denying these legends of the turf all have powerful engines, smashing rear-ends and toes that point to the finish line, it is no coincidence that these extreme examples of god-given ability have also been handled by three of the most accomplished horsemen in the business.
Sir Henry Cecil, Nicky Henderson and Peter Moody have careers that go far beyond their stable stars and their continued success comes not from their raw materials but from their process. When you have a perfect process and a perfect horse amazing things can happen.
A horse's environment, or nurture, encompasses everything that happens to it after birth. It could mean just a few pounds that turn a maiden into a winner, a handicapper into a Group horse, or a Group 1 winner into a superstar.
But nurture can have an even greater influence, as trainers like Willie Mullins and Gordon Elliott regularly prove by drawing significant improvement from almost everything they lay their hands on. There are also trainers at the other end of the spectrum who are guaranteed to reduce a horse's capacity to perform.
Give nature its due: if they'd put Frankel in against a selling plater he'd have won no matter what feed and training he was given. But put him in a different environment; in another pair of hands and he may not have become the same invincible champion who went unbeaten in 14.
The bare fact naturists fail to conceal is that some licence holders would have got Frankel beaten. And if the rumours are true about the former point-to-point trainer - who got his horses 'fit' by chasing them round the field in his tractor - then there are clearly some, albeit unlikely, life trajectories which could have prevented Frankel winning a graded race.
Creating greatness in a racehorse is a separate skill from improving new recruits. Let's call it providing genetic fulfilment.
Giving an individual perfect conditioning from birth to race - developing it, feeding it, patiently easing out the talent, harnessing and directing the power and matching its calendar to the racing calendar - allows it to peak, whether for one day or for a more sustained period, at the highest level its natural ability permits.
Genetic fulfilment is why Sir Henry Cecil has readied more winners than anyone in history at Royal Ascot. It's why Nicky Henderson has done the same at the Cheltenham Festival. And it is why in Peter Moody's young career he's already saddled 17 individual Group 1 winners.
It is also the path that allows the greatest natural wonders on earth to become something quite exceptional, as these trainers all proved when given the opportunity with Frankel, Sprinter Sacre and Black Caviar.
As a punter genetic fulfilment is important because it removes the preparation element from the equation. If you can guarantee a horse's nurture is as near perfect as possible the only question becomes whether its natural ability will be great enough. Then the task is just to work out where each trainer sits on the nurture scale.
Although Sir Henry Cecil may be largely remembered in years to come as the trainer of Frankel, the horse was not the man's greatest achievement. Cecil achieved things with horses lower down the order than Frankel that defied nature.
The most statistically significant achievement in Sir Henry's career to date came in the late 90s. In fact, he was right on the cusp of proving nurture the more powerful influence when a series of well publicised personal and health issues saw the number in his string drop back to 30 and successes taper off just after the millennium.
Between 1996 and 2000 there were ten fillies Classics run in Britain. Cecil managed to win seven of them with seven different horses. Bosra Sham, Sleepytime and Wince took the 1,000 Guineas and Lady Carla, Reams Of Verse, Ramruma and Love Divine took the Oaks.
It is highly unlikely in such a competitive arena that Sir Henry was actually in possession of the most naturally talented fillies on each of these separate occasions, which suggests he had a method of preparing them to hit their natural peak on that one, most important Classic day. Wince, Sleepytime and Lady Carla support this theory as none were able to repeat the form of their Classic victories either before of since.
Though he has won the 2,000 Guineas (three times), Derby (four) and St Leger (four), it is his record in the fillies Classics that sets Cecil apart, with a total of six wins in the 1,000 Guineas and eight in the Oaks - he even secured the fillies triple crown in 1985 with Oh So Sharp. With fillies, Cecil is truly a force of nurture.
After Frankel helped the great man back to his position of power among the Newmarket set, Cecil now looks ahead to a first year without his superstar. But with his first runner of 2013 his intent became clear.
Newmarket's Craven meeting is a place Cecil traditionally likes to showcase his wares and on Wednesday he unleashed a filly who looks set to get him back in the Classic groove.
Hot Snap has long been held in high regard. She beat the form horses in good style in the Nell Gwyn, moving to the top of the 1,000 Guineas order with an RPR of 113+. The trainer says she will come on a lot for the run and improve for the return to 1m.
A man so adept at preparing Classic winners doesn't need to rely on having the most talented filly in the line-up but in Hot Snap he might just have her. At 4-1 she's a gift to give Cecil his 15th fillies Classic.
Toronado was the pick from the 2,000 Guineas trials last week, posting a career best RPR of 119+ for his dominant win in the Craven Stakes.
That figure sits him clear second behind Dawn Approach (123) in the European Classic crop. A figure of 119 is normally enough for a top three place in the Guineas and there could yet be more to come.
The highest RPR of the week came in the Doncaster Mile at Randwick where three-year-olds swept the first three places. Sacred Falls was first home (114) but with the second, Pierro (121), carrying 9lb more than the winner he came out best at the weights.
Game On Dude (118+) and Ron The Greek (112+) were the big names in action last week but a dawdling pace in the Charles Town Classic rendered the form meaningless.
TOP OF THE CLASS: Pierro 121 Gai Waterhouse (Aus) (Doncaster Mile, Randwick, 1m, 20 April)
TOP LIST
| | | | |
| --- | --- | --- | --- |
| | Name (country trained) | Race | Rating |
| 1 | Black Caviar (Aus) | Lightning Stakes | 128T |
| | Game On Dude (US) | Santa Anita Hcap | 128D |
| 3 | Animal Kingdom (US) | Dubai World Cup | 125A |
| | Orfevre (Jap) | Osaka Hai | 125T |
| 5 | Point Of Entry (US) | Gulfstream Park Turf Hcap | 124T |
| | Ron The Greek (US) | Sunshine Millions Classic | 124D |
| | St Nicholas Abbey (IRE) | Sheema Classic | 124T |
| | Wise Dan (US) | Maker's 46 Mile Stakes | 124T |
| 9 | Gold Ship (Jap) | Hanshin Daishoten | 123T |
| | Shea Shea (SAF) | Al Quoz Sprint | 123T |
TOP TURF PERFORMERS
| | | | |
| --- | --- | --- | --- |
| | Name (country trained) | Race | Rating |
| 1 | Black Caviar (Aus) | Lightning Stakes | 128 |
| 2 | Orfevre (Jap) | Osaka Hai | 125 |
| 3 | Point Of Entry (US) | Gulfstream Park Turf Hcap | 124 |
| | St Nicholas Abbey (IRE) | Sheema Classic | 124 |
| | Wise Dan (US) | Maker's 46 Mile Stakes | 124 |
| 6 | Gold Ship (Jap) | Hanshin Daishoten | 123 |
| | Shea Shea (SAF) | Al Quoz Sprint | 123 |
| 8 | All Too Hard (Aus) | Futurity Stakes | 122 |
| | Ambitious Dragon (HK) | Queen's Silver Jubilee Cup | 122 |
| | Await The Dawn (SAF) | Meydan Handicap | 122 |
| | Eishin Flash (Jap) | Sankei Osaka Hei | 122 |
| | Lord Kanaloa (Jap) | Takamatsunomiya Kinen | 122 |
TOP DIRT PERFORMERS
| | | | |
| --- | --- | --- | --- |
| | Name (country trained) | Race | Rating |
| 1 | Game On Dude (US) | Santa Anita Hcap | 128 |
| 2 | Ron The Greek (US) | Sunshine Millions Classic | 124 |
| 3 | Dreaming Of Julia (US) | Florida Oaks | 122 |
| | Royal Delta (US) | Sabin Stakes | 122 |
| 5 | Graydar (US) | Donn Handicap | 121 |
| | Ultimate Eagle (US) | San Pasqual | 121 |
| 7 | Cyber Secret (US) | Oaklawn Handicap | 120 |
| | Orb (US) | Florida Derby | 120 |
| | Sahara Sky (US) | Carter Handicap | 120 |
| 10 | Coil (US) | San Pasqual | 119 |
TOP ALL-WEATHER PERFORMERS
| | | | |
| --- | --- | --- | --- |
| | Name (country trained) | Race | Rating |
| 1 | Animal Kingdom (US) | Dubai World Cup | 125 |
| 2 | Mental (UAE) | Al Shindagha Sprint | 121 |
| 3 | Red Cadeaux (GB) | Dubai World Cup | 120 |
| 4 | African Story (UAE) | Burj Nahar | 119 |
| 5 | Hunter's Light (UAE) | Al Maktoum Challenge R2/3 | 116 |
| | Reynaldothewizard (UAE) | Mahab Al Shimaal/Golden Shaheen | 116 |
| | Soft Falling Rain (SAF) | Godolphin Mile | 116 |
| 8 | Balmont Mast (IRE) | Al Maktoum Challenge R1 | 115 |
| | Moonwalk In Paris (UAE) | Firebreak Stakes | 115 |
| 10 | Haatheq (UAE) | Godolphin Mile | 114 |