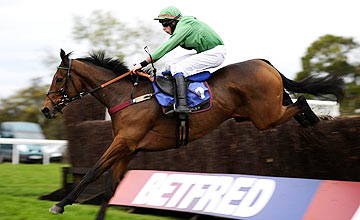 Wetherby are currently unraceable but water levels are dropping
PICTURE:
Getty Images
Wetherby to inspect at 11am on Saturday
OFFICIALS at Wetherby on Friday gave the track more time to dry out after postponing a decision on whether Sunday's meeting can go ahead until after another inspection at 11am on Saturday.
A large area of the back straight remained waterlogged after successive days of torrential rain and there was little change despite a dry day when the course was inspected on Friday.

Clerk of the course Jonjo Sanderson said: "The chances haven't really improved at all because the vast area of standing water hasn't shifted. The volume of rain we have had has filled the rivers, ditches and dykes we drain into and it has backed up onto our land.
"If we were racing tomorrow I would have called it off by now but the levels of the River Nidd are now dropping and have halved today and if that continues then maybe tomorrow we will see enough improvement to give it another 12 hours.
"If we see no improvement we won't go past 11am."
The forecast remains dry for Saturday.