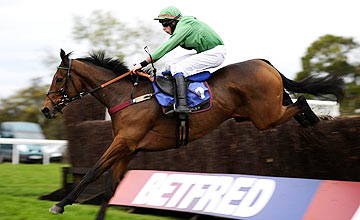 Wetherby: track still waterlogged in the back straight
PICTURE:
Getty Images
Waterlogged Wetherby abandons Sunday card
WETHERBY'S meeting on Sunday has been abandoned after the track remained waterlogged on Saturday morning.
Clerk of the course Jonjo Sanderson reported earlier in the week that successive days oftorrential rain had left parts of the track waterlogged and following an 11am inspection on Saturday, took the decision to abandon the fixture.
He said: "It was torrential rain on Thursday and that left a small lake of the back straight. The river levels are dropping now and I would say that 50 per cent of the sitting water has gone but there's still plenty out there.
"We could start trying to bypass the worst areas but there are some parts that can't physically be bypassed due to extensive waterlogging and it just wouldn't be safe."