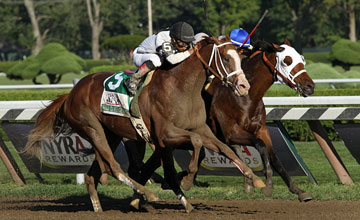 Will Take Charge (near) and Luis Saez touch off Moreno in the Travers
PICTURE:
EquiSport Photos/Jessie Holmes
Saez cleared in Travers 'buzzer' investigation
USA: Luis Saez has been completely exonerated after an inquiry into allegations that he used an electrical device when riding Will Take Charge to win the Travers Stakes at Saratoga on August 24.
An accusation levelled by Eric Guillot, trainer of runner-up Moreno, that Saez had used a 'buzzer' was "wholly unsubstantiated" according to a report released on Friday by the New York Gaming Commission following a month-long investigation.
Investigators cleared Saez after an extensive series of interviews with the rider and several others involved in the race plus scrutiny of video footage, photographs and seven separate searches of the grounds at the New York venue.
"The commission's investigation concluded that Mr. Saez was not carrying any sort of electrical device and that Mr. Guillot's allegation was wholly unsubstantiated," said the NYGC report.
"There is no credible video evidence of any object in Mr. Saez's hands, apart from his reins and paddled riding crop, at any time during the 2013 Travers Stakes. He made no furtive motion that suggests that he has any device in his hands."
Speaking at Keeneland, Saez said he was relieved a line had been drawn under the affair.
"I've never used a machine my whole life," Saez said, speaking to the Daily Racing Form. "I've never cheated.
The D Wayne Lukas-trained Will Take Charge beat Moreno again in the Pennsylvania Derby on September 21.