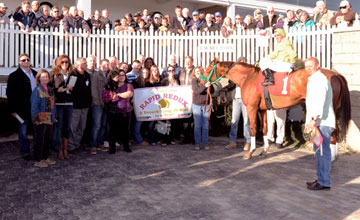 Rapid Redux: humble gelding won special Eclipse Award for achievements
PICTURE:
NTRA
Record-breaking Rapid Redux retires not out 22
USA: The remarkable record-breaking gelding Rapid Redux will never get the chance to match the all-time US winning streak for consecutive victories after connections decided to retire him without another race.

The spit-and-sawdust superstar, whose winning streak of 22 represents a new mark for consecutive US victories since 1900, has been off the track for more than four months since his most recent victory at Laurel on January 4.

But instead of coming back in a bid to match Leviathan, who won 23 successive races between 1797 and 1801, Rapid Redux is to be retired next week to the Kentucky Horse Park in Lexington.

"He's perfect right now and we want him to stay that way," said the six-year-old's owner Robert Cole, speaking to the Baltimore Sun. "Why risk having him get beat?"

Cole claimed front-running Rapid Redux, whose exploits earned a Special Eclipse Award for 2011, for just $6,250 at Penn National in October 2010.

Since that date he has won he has won 24 of his 25 races, scoring at seven different tracks at distances from 5f to 1m1f.

Trained by Penn National-based David Wells, Rapid Redux habitually competed in cheap, low-grade starter-allowance races on the low-tier mid-Atlantic circuit.

Kept to this milieu, he won all 19 of his starts last year to match the feat of the Triple Crown winner Citation in 1948. During that sequence, he also surpassed modern-day US record mark of 19 straight wins achieved by Zenyatta and Peppers Pride.

Rapid Redux's winning streak of 22 is the highest in North America since Camarero set his world record of 56 in Puerto Rico between 1953 and 1955.

Wells added: "I've been taking him out, hand walking him, to eat grass. He's fine, but he ran hard and he's not quite the same horse, to be honest. He gave us a really fun ride, and I'm glad he's healthy and we're letting him go out on top."