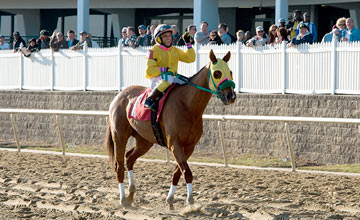 Rapid Redux: winner of 21 successive races and two off all-time US record
PICTURE:
Jim McCue/MJC photo
Rapid Redux odds-on to take win streak to 22

Preview: USA, Wednesday 7.56pm GMT
Laurel
RECORD-BREAKING gelding Rapid Redux (David Wells/JD Acosta) is odds-on on the Laurel morning lineas he bids for his 22nd successive victory on Wednesday night at the Maryland track.
The six-year-old faces seven rivals in a $17,000 starter-allowance contest over 1m on the dirt as he bids to move within one victory of the all-time US record for consecutive victories set by Leviathan, who won 23 races between 1797 and 1801.
Rapid Redux, whose career record stands at 27 wins from 41 starts, won all 19 of his starts last year during a sequence in which he surpassed the modern-day record mark of 19 straight wins achieved by Zenyatta and Peppers Pride.
His winning streak of 21 is the highest in North America since Camarero set his world record of 56 in Puerto Rico between 1953 and 1955.
A 3-5 chance on the morning line, Rapid Redux starts from gate two under JD Acosta in a race restricted to horses who have run for a claiming tag of just $5,000 or less in 2010 or 2011.
Owner Robert Cole claimed Rapid Redux for just $6,250 at Penn National in October 2010, since when he has won 22 of his 23 races for trainer David Wells, scoring at seven different tracks at distances from 5f to 1m1f.
With retirement on the horizon, life now gets tougher for Rapid Redux on the track as he is seldom eligible for the bottom-grade starter-allowance contests in which he has made his name.
Speaking to the Daily Racing Form, Wells said: "I didn't want to race him anymore, but he came out of that last race sound, so we will race him one or two more times and then retire him."
Cole will not risk losing Rapid Redux in claiming company. "He cannot be treated like a normal horse and be running for a tag after he loses the condition," said the owner.
"I found five starter-allowance races east of the Mississippi that he is eligible to run in. It is conceivable to have one or two more starts after this one because there are already races written in condition books that accommodate his date.
"Finding races for him the next couple months is not an issue but I don't see him ever running for a claiming price because I don't want anyone else to own him. He has done too much for us and that wouldn't be fair to him."