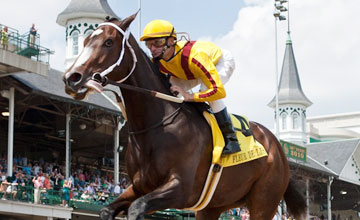 Rachel Alexandra: gave birth to a filly foal on Wednesday
PICTURE:
EquiSport Photos/JB Falconer
Rachel Alexandra still in 'very serious' condition
USA: Rachel Alexandra remains in a "very serious" condition after emergency surgery on her small intestine following the birth of a filly foal on Wednesday.
Owner Barbara Banke said that her mare seemed better on Thursday but that it remained "a day-to-day, hour-to-hour type of thing."
Having had surgery on her intenstine to remove the damaged section and fluid in the region, Rachel Alexandra is receiving intravenous antibiotics, fluids, anti-inflammatory agent, butrition and medication.
Dr. Brett Woodie, the attending surgeon on the case, said on Thursday that Rachel Alexandra was doing "the best that can be expected".
Banke added: "Her condition is very serious but it is too early to give an accurate prognosis."
Rachel Alexandra was Horse of the Year in 2009 when she claimed Grade 1s against the males in the Preakness Stakes and Woodward Stakes.