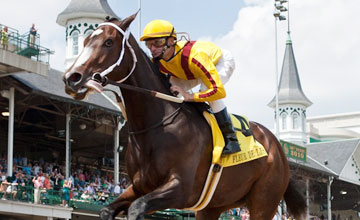 Rachel Alexandra: beat the males in the Preakness and Woodward Stakes
PICTURE:
EquiSport Photos/JB Falconer
Rachel Alexandra's condition remains stable
USA: Rachel Alexandra, who underwent emergency abdominal surgery following foaling complications last week, remains in a stable condition according to the doctors treating her.
Crowned Horse of the Year in 2009, the mare is being treated at Rood and Riddle equine clinic in Lexington, Kentucky where she underwent surgery to remove a section of intenstine following the birthing of her filly foal.
The Bernadini filly is healthy and being looked after by a nurse mare, and on Monday Rachel Alexandra was able to go for a short walk, during which time she ate a small amount of grass.
Her appetite continues to improve, and Dr Bonnie Barr, one of the doctors attending her, said: "If she wasn't as smart and as strong-willed as she is, she wouldn't be progressing the way she is."