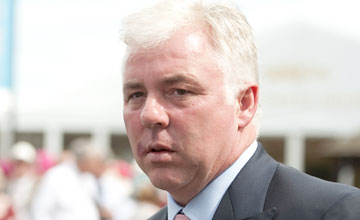 Jeremy Noseda: became involved in a war of words with Kent Desormeaux
PICTURE:
Edward Whitaker (racingpost.com/photos)
Noseda looks on as Mister Brightside returns
USA: Jeremy Noseda will be an interested onlooker as Mister Brightside starts the next chapter of his career in Saturday's Grade 2 Mathis Brothers Mile at Santa Anita.
The colt's last start in the Hollywood Derby ignited a war of words between Noseda and Hall of Fame rider Kent Desormeaux, who incurred the trainer's wrath after coasting home for ninth, having met trouble in running, on the Walter Swinburn-owned three-year-old.
Noseda offered an opinion on the ride in a short tweet sent soon after the race, while he later revealed he had done so only because of the jockey's subsequent behaviour, which led Noseda to say: "I have never experienced rudeness like that in my whole career."
Reacting to that, Desormeaux criticised Noseda's groom Sean Murphy and told paulickreport.com: "I got off the horse and he jumped down my throat. He said 'Why didn't you just ******* let him run?' I said 'Where, over the horses in front of me?' I was trapped like a rat. There was never any place for me to go. The horse did not break."
Desormeaux, who has partnered over 5,000 winners and countless big-race wins including three Kentucky Derbys, added: "This is a simple fact of him trying to save grace by blaming the rider. He wants to play games. He wants to light me up and say 'Desormeaux was rude'. This is bull****. He can kiss my ass."
First start for new trainer
Noseda has left Mister Brightside in the US with Paddy Gallagher taking over training duties, while Mike Smith replaces Desormeaux in the saddle for the $200,000 contest.
"Those things happen at Del Mar," Gallagher told the Daily Racing Form. "It seems like someone always gets a tough trip."
Mister Brightside will renew rivalry with Om, who is seeking to improve on his third-place finish as the odds-on favorite in the Hollywood Derby after victories in the Del Mar Derby and Twilight Derby.