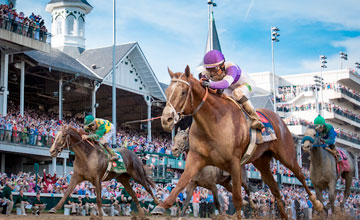 I'll Have Another winning the Kentucky Derby at Churchill Downs
PICTURE:
EquiSport Photos/Matt Wooley
I'll Have Another set to move to detention barn
USA: Triple Crown contender I'll Have Another is headed to new digs, along with his potential ten rivals in Saturday's Belmont Stakes.
They'll take up residence no later than Wednesday in a special barn where every move and visitor will be closely monitored, a change in routine that has angered some trainers.
New York racing officials mandated the move as part of new rules announced last week to ensure that the race is run fairly.
The so-called detention barn has bare bulbs illuminating every stall and visitors have to be logged in and out.
Instead of being spread out in barns around Belmont Park, all Belmont runners will be sequestered in stalls next to each other.
Trainer Doug O'Neill plans to move I'll Have Another on Tuesday.