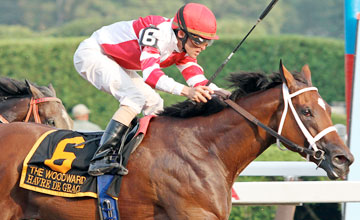 Havre De Grace: third successive female named US Horse of the Year
PICTURE:
EquiSport Photos/Jessie Holmes
Classy Havre De Grace retired with ankle injury
USA: Havre De Grace, the reigning Horse of the Year, has been retired owing to an ankle injury.
The five-year-old, trained by Larry Jones for owner Rick Porter's Fox Hill Farms, was found to have sustained the injury in her off-fore ankle after a workout on Sunday morning at Churchill Downs, where she was due to run on Friday week in the La Troienne Stakes.
Porter revealed the news on his website, saying some heat had been detectedin the ankle after the work.
Havre De Grace was then examined by Dr Larry Bramlage at Rood & Riddle Equine Hospital in Lexington, after which the decision was made to retire her.
"It is with great disappointment that I have to announce that Havre de Grace has been retired," said Porter. "We didn't get a positive prognosis for continuing her racing career.
"Owning Grace through her racing career has been the highlight of my time in horse racing," he added. "She was a wonderful, wonderful racehorse, and I feel confident she'll be an equally wonderful broodmare. Thanks, Grace, for all you gave us, and here's to a long and enjoyable retirement."
According to the Blood-Horse, Bramlage said Havre De Grace's injury would take about a year to heal but would not affect her future career as a broodmare.
"This is just one of many ligaments that support the fetlock by attaching to the base of the sesamoid," Bramlage said.
"Unfortunately, with one injured the remaining ligaments become progressively more vulnerable, and they would sequentially become injured if we trained on. These are slowhealing and are prone to re-occur once injured the first time."
Havre De Grace, a daughter of 2005 horse of the year Saint Liam, landed the ninth victory of her career on her seasonal debut in the New Orleans Ladies at Fair Grounds on March 17.
She won nearly $2.6 million in prize-money, including five wins from seven starts last term, among them a victory over males in the Grade 1 Woodward Stakes at Saratoga.
Although she could finish onlyfourth in the Breeders' Cup Classic, she completed a hat-trick for female horses when she followed Rachel Alexandra and Zenyatta when she was named Horse of the Year at the Eclipse Awards in January.