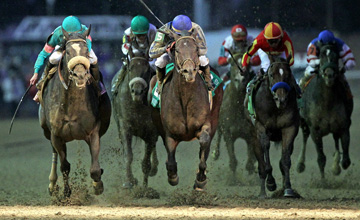 Blame (centre) and Zenyatta (left) were seperated by a head in the Breeders' Cup Classic and will take each other on again in retirement
PICTURE:
Getty Images
Goldikova, Zenyatta and Blame in Eclipse battle

GOLDIKOVA will face stiff opposition from the Breeders' Cup Classic one-two - Blame and Zenyatta - for the Horse of the Year award at the 40th annual Eclipse Awards dinner atFontainebleau Miami Beach hotel in Florida on January 17.

Blame is also a hot favourite to pick up champion older male, while Zenyatta is likely to pick up the female equivalent and Goldikova heads the champion female turf category.

There will also be a Special Eclipse Award for the connections of Zenyatta- owners Jerry and Ann Moss, trainer John Shirreffs and jockey Mike Smith, as well as her racing manager, exercise rider, groom, hotwalker and assistant trainer - to honour the way they embraced her popularity and shared her with the public in 2010.

Blame won four of his five races last season, three of which were Grade 1s - culminating in his thrilling defeat of Zenyatta. Goldikova, who also lost only once in 2010 and became the first horse to win a Breeders' Cup race three times, is the only finalist set to race in 2011.

Voting for both divisional honours and the overall Horse of the Year award closed on Tuesday. Three finalists for each division were announced on Thursday and all winners will be revealed at the dinner.