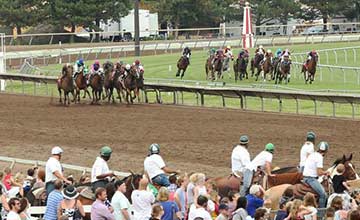 Seeing double: runners on the turf course try to catch the dirt leaders
'Battle of the Surfaces' pits dirt against turf

USA: A small racetrack has hosted a bizarre dirt-versus-turf contest as the feature event of its annual 'Extreme Race Day'.
The seventh race at Canterbury Park in Minnesota on Saturday was dubbed the 'Battle of the Surfaces' and was a 20-runner claiming contest with a difference: eight of the runners ran on the dirt oval, with the other 12 competing on the inner turf track.
The two starting gates were opened simultaneously, with one commentator following the action on the dirt before switching mid-race to a colleague detailing the action on the turf.
In a bid to ensure there was little advantage from racing on either track, officials framed the race by taking into consideration several significant factors such as class ($5,000 claimers on dirt, $7,500 on turf) plus the varying speed of both surfaces.
As a result, there was a staggered start, with dirt horses racing for a mile and the 'turfers' horses going an extra half-furlong, and while the gates opened in unison, the two fields did not finish as one.
The 7-1 shot Joshua's Journey led home a clean sweep of the first four places before the first turf horse came home about ten yards back. As a result, officials suggested there would be some further tweaking of the formula for next year.
Other attractions at the unusual fixture included ostriches, zebras and camels racing on the track, plus a two-furlong race for thoroughbreds and a 110-yard dash for quarterhorses.
Canterbury's eighth Extreme Race Day attracted a crowd of 18,915. "We are not Saratoga or Del Mar," said track spokesman Eric Halstrom. "We need to manufacture interest. We have good racing here but a lot of places have good racing. We are trying to do something different so new people might watch and/or wager."