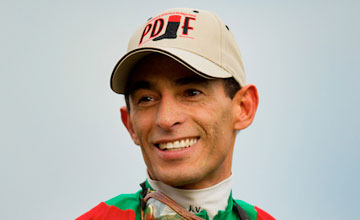 John Velazquez: 5,000-win fillip before Animal Kingdom at Royal Ascot
PICTURE:
EquiSport Photos/Alex Evers
Ascot-bound Velazquez hits 5,000-win mark
USA: John Velazquez will arrive at Royal Ascot on Tuesday to partner Animal Kingdom days after reaching the 5,000-winner milestone in North America as he rode a hat-trick at Belmont Park on Friday.
The Puerto Rican superstar, 41, became the 28th jockey to hit the landmark when he scored on the Todd Pletcher-trained Galloping Giraffe in the sixth race at the New York venue.
"Everybody says that when you get close to a big number you go into a slump," said Velazquez. "I started to believe it. 'Maybe this is why I'm going so slow!' Everything was second and third, second and third. I was riding really good races and, unfortunately, was getting beat. Finally, it's over!"
Dual Eclipse Award-winning rider Velazquez has won 11 Breeders' Cup races and has to his name a total of 26 single-meeting titles in New York, including five at Saratoga.
After partnering winner number 5,000, he paid tribute to colleague Ramon Dominguez, the three-time champion forced into retirement earlier this week owing to injuries sustained in a fall at Aqueduct in January.
"I plan to ride for a few more years, if I'm healthy enough," said Velazquez. "If God blesses me with health, I'll be here. We got to count on being healthy. Look at what happened to Ramon, one of the best riders I've seen in my 23 years, right at the peak. You have to be healthy and be lucky."