Watch Monet's Garden win his third Old Roan Chase
Monet's retired after life-threatening infection
MONET'S GARDEN, the popular top-class chaser who took his third Old Roan Chase this season, is battling for his life after suffering an infection in his hoof.
Connections have announced the retirement of the 13-year-old three-time Grade 1 winner who, with bold-jumping displays and characteristic determination that saw him claim Kauto Star as a notable scalp in October 2007, became one of the most popular racehorses of recent times.
Speaking on Tuesday afternoon, owner David Wesley Yates told racingpost.com: "He's been having treatment at Oaklands Veterinary Centre for several weeks. He was found lame after winning atAintree in his off-fore and there is an infection which has spread to the bone [navicular] in his hoof.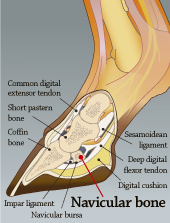 "It's looking very doubtful [whether he'll survive]. He's a fighter - it's in his nature - but he does look well and is eating. He has a special shoe on the foot which is designed to put no compression on, and we keep hoping that it will heal but it's not looking good."
Trainer Nicky Richards also reported Monet's Garden to be in good spirits, but admitted he faces an"uphill struggle".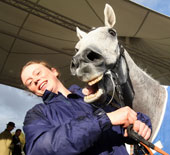 Monet's Garden with groom Joey Richards
PICTURE:

John Grossick
He said: "What they have done with him [at Oaklands] and are trying to do is brilliant. We had a blacksmith fit a specialist shoe and that seems to have been a success - it's taken a lot of the pressure off the hoof. The vet Caroline Blackiston is doing an absolutely fantastic job.

"He's in as good a hands as any in the country and we're absolutely devastated. He couldn't have got it in a worse place on his body. We're not quite sure how and when it did happen. Where it is you would have thought he would have gone very lame very quickly but it just got worse and worse after he won at Aintree and it's been a nightmare."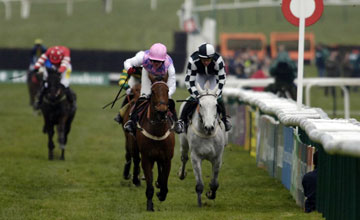 Monet's Garden (right) finishes second to Voy Por Ustedes in the 2006 Arkle - a race both trainer and owner nominated as his career highlight
PICTURE:

Edward Whitaker (racingpost.com/photos)
Both Richards and Yates were in agreement as to Monet's Garden's career highlight, nominating his narrow defeat at the hands of Voy Por Ustedes in the 2006 Arkle Chase at the Cheltenham Festival.
Yates said: "I still think his best race was when he was second to Voy Por Ustedes in the Arkle in 2006, when we were giving him 5lb and were only just beaten.

"But we had many glorious races with him - at Ascot and Aintree - and every step of the way he has performed to the highest level."
Senior figures in racing sent their best wishes to Monet's Garden, with both champion trainer Paul Nicholls and jockey Robert Thornton tweeting messages on Tuesday afternoon.

Nicholls said: "All good wishes for Monets Garden.Never see a tougher more genuine horse," while Thornton tweeted: "Sad news that Monet's Garden has been forced to retire. Best wishes to all his connections, hope he recovers."
Monet's Garden boasted a remarkable strike-rate of 17 victories from 32 races, netting connections more than £650,000 in prize-money.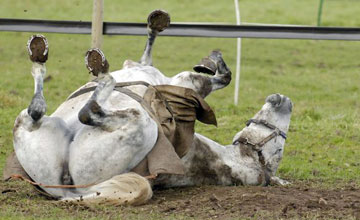 Monet's Garden takes a roll at home in October 2007
PICTURE:
David Dew
View Monet's Garden's glorious career in pictures with our photo gallery