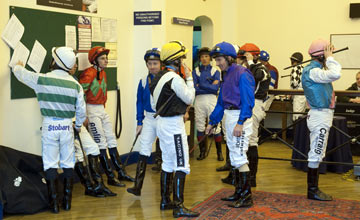 Sexual orientation is no big deal in the weighing room, says Jack Duern
PICTURE:
Edward Whitaker (racingpost.com/photos)
Daley shows times are changing - but winning line still to be crossed

After diver Tom Daley's public revelation about his personal life, award-winning journalist Lee Mottershead uses his Monday column to examine the weighing room's relationship with homosexuality
JOCKEYS are sometimes battered, occasionally bruised and always brave. They are single-minded, exceptionally dedicated, incredibly fit and, in a few cases, they are also gay.
Unless their DNA is different to the rest of the human race, or they completely defy statistics, at least a small handful must be. Until now, however, none has been willing to be reported as such.
A person announcing themselves as gay should not be news, and in an ideal world it never would be - but the world is not ideal, the sporting world certainly not.
When Olympic diver Tom Daley voiced his own public statement seven days ago, announcing he is in a relationship with another man, it became a talking point because in sport such declarations are relatively rare.
There is nothing wrong with an individual choosing to keep their private life private. However, if a person wishes to be open about their sexuality but feels unable to be so due to fears relating to their working environment, there is a problem that needs addressing. In sport that is patently the case.
When assessing the financial implications of the Civil Partnerships Act, the Treasury estimated six per cent of adults in Britain were gay. In none of the top four football divisions of English or Scottish football is there a single openly gay player.
Fortunately, racecourse grandstands are less abusive places than football terraces.
Until a back injury triggered his retirement in 2002, there was indeed a gay English jump jockey but he was not out. Northern-based rider Andrew Garrity, twice a Cheltenham winner, was enjoying the best season of his career when misfortune struck at Wetherby. While he now earns a living outside the industry, he has remained in racing riding out for Sir Michael Stoute. Once troubled and in, he is now happy and out.
"I always knew in the back of my mind but I had put it in the back of my mind and it stayed there," says Garrity.
"Jockeys are mostly quite intelligent, and I think for me it was as much that I couldn't deal with it personally. But because there were no others, I would have been singled out. That was a pretty daunting thought.
"The whole gay thing was one of the reasons I retired from riding when I did. After I got hurt I think I saw the injury as a means of escape and a chance for me to stop living a lie.
"I didn't come out straightaway but eventually, after moving to Newmarket and flying horses around the world, I began to realise it was not going to be so much of an issue for me.
"I didn't lose a single friend. There were others in Newmarket then, and there are more now, although I know of a few who still won't go public because they are scared.
"Looking back, I wish I had done something when I was still riding. It might have done my career some good! People don't care really. I'd like to think if one jockey is better than another jockey he'll get used regardless of whether he's gay or straight.
"In the weighing room it would probably be the same as it is in a racing yard's tack room at breakfast. People take the piss but without any malice."
Exactly the same view is held by the most respected of all riders, Tony McCoy.
"It certainly wouldn't bother me if there were gay lads in the weighing room," says McCoy.
"You hear rumours about footballers, but have I heard rumours about lads in the jumps weighing room? I actually haven't. Statistically I'm surprised no-one has come out before now but I honestly don't know of anyone who I've ever thought might be gay.
"The reason no-one has come out can't be because people are afraid they won't look macho, because the rugby player Gareth Thomas came out and you couldn't get more of a brute than him.
"I don't see any reasons why someone shouldn't come out, certainly not based on the people they work with in the weighing room. Thirty years ago they might have been alienated but not now. If someone came out they would get a bit of slagging but not in a nasty way. It would be done with a laugh and a smile. The weighing room isn't a place where people want to make the life of another jockey uncomfortable. That's not the way we are.
"If someone is hiding it's no way to live their life. You can't change what you are and you only get one chance at life. There's no point living a lie to suit other people."

It was with that mindset Jack Duern chose to approach his relationships with other jockeys. Duern, 19, is coming to the end of his fourth year as a Flat apprentice. In 2011 he rode seven winners, in 2012 there were 14 and so far this year there have been ten, including one at Ascot.
He is not coming out on this page because most of those he rides against are already aware Duern is gay, as is his boss Andrew Hollinshead. For Duern, and seemingly for those he rides against, his sexual orientation is encouragingly no big deal.
"Everyone is equal in the weighing room and it never really gets mentioned," says Duern. "Andrew and his family have been brilliant and I've been having a few winners so things are going well.
"With racing, like any sport, you try to fit in with the crowd, but in the end I just decided, I am who I am, and that was that.
"I've known pretty much since I started in racing, and maybe because everyone knew from the start as well it's been a lot easier. What Tom Daley did shows times are changing. Everyone is now a lot more comfortable with it and most of the straight lads have gay friends anyway."
Duern's story is heartening. There are openly gay trainers, openly gay grooms and for the not inconsiderable number of us in the racing media who are gay, the story is similarly positive.
Yet there is still a way to go. While working on this article I was made aware of a professional female jockey. She is lesbian but is known to be so by only a very small handful of her colleagues. She would like others to know, and would like it not to be an issue if they did, but she fears it would be.
She very much wants her voice to be heard but, for the moment at least, does not want her name to be printed.
"I think it's a little bit different and a little bit easier for gay lads," she says. "None of the trainers I ride for knows, but the only issue stopping me from coming out is the fear that some owners, especially those from a different generation, might stop wanting to use me.
"I don't know for sure they would, but I worry they would, and that's enough. With my very close friends in the weighing room who do know it hasn't made a difference, which is quite pleasing.
"I would like to be out with everyone. It troubles me that I'm not. It's difficult. I just want to be who I am and not have to hide it for the sake of my career - and that is literally the only reason why I don't say anything.
"I try not to let it get me down. I'm doing a job I love, I have a really good family behind me and I have a life outside of racing, but this subject is something that needs to be addressed."
For racing as a whole, it is not a big subject. The sport's future funding, the flouting of corruption rules and field sizes in novice chases are weightier matters that will always take more of our attention.
But at the heart of a sport are the people who participate in it, and for a few of those people, especially for those like the unnamed female jockey, this subject provides a sadness that should not exist.
Judged against other sports, racing in this part of the world is perhaps more forward-thinking than most. The winning line, however, has not been crossed.
Read Lee Mottershead's column every Monday in the Racing Post newspaper and iPad edition