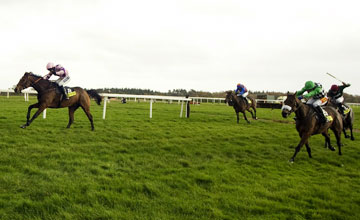 Exeter: two going changes have left the ground as heavy
PICTURE:
Getty Images
Going eases at Exeter, Ayr and Worcester

HEAVY ground at Exeter has led to a rash of defections from the track's first meeting of the season.
There are 14 non-runners at the track, including four in the opener, for which Printmaker is a solid 6-5 favourite.
There has also been an easing in going at Worcester, where the ground is now good, good to soft in places. Prompter, Tony McCoy's mount in the last, is 8-11 from evens while Sovereign Spirit in the 3.00 is as short as 2-1 (from 6).
At Kempton Unidexter, who was as big as 33-1 for the 6.50, is now no bigger than 6-1.
The going at Ayr is now heavy, soft in places and clerk of the course Harriet Graham tweeted at 1pm: "3mm [of rain so far] but raining hard".