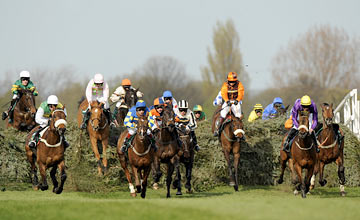 "The National was one of the best broadcasts of the year," David Coleman
PICTURE:
Edward Whitaker (racingpost.com/photos)
The National and David Coleman - for 24 years a match made in heaven
Racing journalist of the year Lee Mottershead talks to former BBC TV stalwart David Coleman, the first of the iconic Grand National presenters.
THE voice remains instantly recognisable. Now and again it is halted by a chesty cough and splutter, for which its owner is needlessly apologetic.
David Coleman, an icon of sports broadcasting, is recovering from pneumonia, the same condition that, in 1960, caused him to stand down from presenting BBC Television's first Grand National.
For 23 of the following 24 years, he made up for that absence. Across almost a quarter of a century, in the years before Des Lynam, Sue Barker and Clare Balding took control of Aintree,
Coleman was the man who brought the world's greatest horserace into our living rooms.
They proved to be a match made in heaven. Coleman, a doyen of World Cup Finals and Olympic Games, established himself as the BBC's principal football and athletics commentator, but the long-term Grandstand presenter was every bit as much a racing man. He was also very much a BBC man, hence his appearance on this page. The soon-to-be 86-year-old, retired since 2000, famously does not do interviews, but when asked to mark his former employer's final TV National with a few personal reminiscences, he ended his public silence.
"The problem is I can't get to my notes so I'll have to do this off the top of my head," says Coleman, whose memory, it transpires, is easily jogged.
From his first National in 1961 to his last in 1984 - he watched Red Rum's third triumph as a racegoer due to his own contractual dispute with the BBC - he talks of horses, trainers and jockeys with a clear, deep affection for the race itself.
"I always enjoyed doing the National," he says.
"It was one of the best broadcasts of the year but it was a great test of a broadcaster's ability, a real test of almost every facet of the job. You were all over the place doing everything - compering, interviewing, the whole lot. So much of itwas off the cuff as well. We made a really special effort, though. For the Grand National you had to."
But for Coleman, working at the National was no effort or hardship. It was a passion, one that stretched back to his childhood.
"The National was always one of my lucky races, right from being a young boy," he says.
"I was still at school when I had a few pence each-way on Battleship and Bruce Hobbs in 1938. I won a few bob on him and it remained a lucky race for me all the way through. I backed Nicolaus Silver the first year I hosted the coverage and then the following year I backed Kilmore and Fred Winter. Fred had twins about the same time we did, in fact in almost the same week. I had lunch with him and ended up backing Kilmore at 28-1."
He was a winner again in 1967 when, like his millions of viewers at home, he watched stunned as Foinavon plotted his way through what Coleman describes as "chaos at the 23rd fence".
"We weren't altogether sure what was going on," he recalls.
"It was hard to work out what was happening but Ihad a fair idea as Iknew the National course well. Luckily, I'd also drawn Foinavon in the BBC sweep and I had a fairly substantial bet on Honey End and Josh Gifford, who finished second, so it was an incredible result for me."
Also incredible were the scenes following the 1962 race when celebrity hairdresser 'Teasy-Weasy' Raymond, owner of winning horse Ayala, got a tad carried away.
"In the unsaddling enclosure it was a riot," says Coleman.
"Teasy-Weasy somehow managed to grab hold of the microphone while I was interviewing him and started to sing in French. It was hilarious. I couldn't risk getting into a fight with him. The late Bryan Cowgill, who was the producer and also head of BBC Sport, was going mad because he wanted to get out of Aintree as we had a contract to cover a rugby league semi-final. 'Get hold of the bloody microphone David,' he said.
'What does he think this is, the Eurovision Song Contest?'
"Having survived the musical barber, Coleman continued at the helm through the 1960s and 70s until bowing out with Hallo Dandy in 1984. For almost every one of those races he has a story, but few engage him as much as Red Rum's epic defeat of Crisp in 1973.
"Tremendous!" he says, real enthusiasm in his voice. "What a race that was. I'm afraid Richard Pitman asked too much of Crisp but it was a wonderful race and what a story Red Rum gave us. It was obvious throughout the race that this was something special."
To Coleman, all Grand Nationals are special. "I love it," he says. "The Grand National was always an emotional occasion in every sense.
The number of stories it throws up is unbelievable. It's the same every year."
As a stalwart of the corporation, how does he reflect on Saturday bringing toan end BBC Television's 52-year coverage of racing's greatest event?
"I think if I was still a stalwart of the corporation this wouldn't be the last BBC National," he says. "Of course I'm sad that this is going to be the last one, but I think it's the BBC's fault. I think they've just given it up. I don't think Channel 4 have had to fight to get it. It's a bloody disgrace."
So, like so many others, Coleman will on Saturday afternoon switch on BBC1 as one great British institution parts company with another.
"I certainly will be watching," he says, adding: "I think that Tony McCoy will win the race again on Synchronised. I do fancy him."
We should take notice of what he says. As a broadcaster, and a Grand National punter, it was always worth listening to David Coleman.