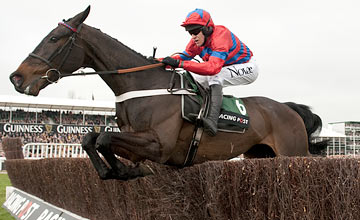 Sprinter Sacre: top chaser is set to run at Ascot on Saturday
PICTURE:
Edward Whitaker (racingpost.com/photos)
Tracks keeping fingers crossed for Saturday

OFFICIALS at the three British tracks set to race on turf on Saturday are hoping racing will be able to take place.
The headline action comes from Ascot where the top-class Sprinter Sacre is due to contest the Victor Chandler Chase.
However, Ascot must pass an inspection at 4.30pm on Friday.
Clerk of the course Chris Stickels said on Thursday: "The track is raceable today. I've looked under the covers where I can, including the most vulnerable places, and haven't found anything that's not raceable. There's evidence of some frost under the covers but not enough to be a concern at this stage.
"We're due another -3C frost tonight and then a high risk of snow tomorrow from lunchtime, according to the majority of forecasts. It's anything from light flurries to quite a substantial amount; the forecast is not particularly clear.
"There is no point calling an inspection in the morning because we are raceable at the moment, and quite likely to be raceable in the morning. A Friday afternoon check gives me time to have a proper look under the covers. If it's obvious we have problems I'll bring the inspection forward."
Kirkland Tellwright: weather watch
PICTURE:
Edward Whitaker
The Grade 2 Peter Marsh Chase is the feature of Haydock's card, but clerk of the course Kirkland Tellwright will check conditions at 8.30am on Friday.
"We would have raced today and the forecast for temperatures are slightly warmer than they were," he said on Thursday. "The problem appears to be one of snow rather than temperature.
"We can really do nothing than deal with it as and when/ it arrives, if it arrives. Tomorrow afternoon is the riskiest time. All we can do is promise everyone that the minute it becomes clear we cannot race we will abandon."
There is no inspection planned at Taunton and chief executive Bob Young said on Thursday: "We're raceable and just waiting to see if the snow arrives or not on Friday morning. If it snows we won't race, if it doesn't we have a chance."