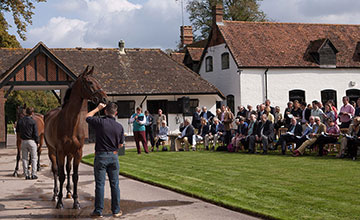 Owners look on as Henderson's stars are paraded at his open day
PICTURE:
Fiona Crick
Henderson: Sprinter's crown was only lent
CHASING'S sidelined superstar Sprinter Sacre is giving encouraging vibes that his troubles of last winter can be dismissed as a one-off and will not impinge on his performance this season, Nicky Henderson told 250 guests at his owners' open day in Lambourn on Sunday.
The winner of seven consecutive Grade 1s looked magnificent when paraded and the trainer reported that all the signs are the spark has been reignited following the former champion's first defeat of his chasing career at Kempton last Christmas.
He said: "Things just didn't work out for Sprinter last season. We attempted to come back after the Kempton scenario, which undoubtedly was due to the fibrillating heart that self-corrected and has been perfectly normal ever since, but he blatantly wasn't himself.
"He'd had a minor wind operation at the beginning of that season and it hadn't been an entirely fluent preparation.
"Maybe we just need to pretend last season never happened because there are no repercussions and, accordingly, we've started with a clean sheet. His first piece of work will tell us where we stand and if all is fine we can press on from there."
A racecourse gallop would then feature as part of Sprinter Sacre's preparation as he builds towards the first of what is likely to become a series of winter showdowns with Sire De Grugy.
"They could meet five times and it's going to be fascinating," said Henderson. "Sprinter hasn't given away his crown, it was lent.
"We'll give him a racecourse gallop and make certain everything is tickety-boo before he goes in to bat."
Read all the news from Nicky Henderson's open day, including fresh new faces to watch out for and the plans for superstars such as Simonsig and My Tent Or Yours, in Monday's Racing Post - available on iPad from 8pm Sunday