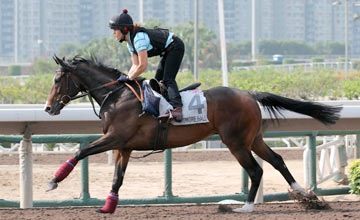 Wigmore Hall: Mirror images shocked racing
PICTURE:
Hong Kong Jockey Club
Groom devastated
by Mirror pictures
THE groom who accompanied Wigmore Hall around the world has admitted to being left "devastated" after the Daily Mirror on Saturday printed a large and graphic front-page picture of the popular horse being shot dead - a move that led to racing uniting in fierce condemnation of the newspaper.
The Michael Bell-trained Wigmore Hall sustained an irreparable leg fracture at Doncaster last weekend that resulted in him being put down by a racecourse veterinary surgeon, and travelling groom Gill Dolman said: "I was absolutely devastated at what happened last Saturday and devastated again to see the images in the Daily Mirror."
Daily Mirror editor-in-chief Lloyd Embley defended his decision and stressed a desire to maintain racing's long association with the tabloid, whose portrayal of Wigmore Hall's death was in the same edition as an eight-page racing pullout extensively backed by bookmaker advertising.
However, an appalled BHA is now seeking an urgent meeting with Embley, whose sensational splash coverage, billed as an 'exclusive' and 'The Great Horse Racing Debate', came as a result of an alliance with Animal Aid, the protest group that seeks to have racing banned.
The RSPCA and British Equine Veterinary Association also criticised the red-top title, which in recent years has raced its own horses on the Flat and over jumps under the Mirror Punters Club.
The Trinity Mirror-owned publication, which sells just less than a million copies a day, obtained the pictures on Monday but waited until Friday to inform the BHA it intended to use them in Saturday's edition.
Under the headline, "Shot in the head . . . a tragic end for a £1.3m champion", one of the photographs, showing Wigmore Hall with a gun to his head, was splashed across the top half of the front page.
Read full coverage of racing's condemnation of the Daily Mirror in Sunday's Racing Post, including the views of Alastair Down - also available on your iPad