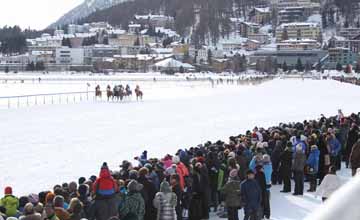 St Moritz: the field approach the winning post on the first circuit
PICTURE:
Morhaf Al Assaf
Fanal Al Samawi makes history at St Moritz

Report: Switzerland, Sunday
Sheikh Zayed Bin Sultan Al Nahyan Listed Cup 1m1f (ice)
ARABIAN races are more regularly witnessed at prominent European racedays, at courses like Longchamp, Ascot and Newbury, and on Sunday the Sheikh Zayed Bin Sultan Al Nahyan Listed Cup, over 1m1f, graced Switzerland's richest meeting for the first time, with Fanal Al Samawi winning on the ice.
The HH Sheikh Mansoor bin Zayed Al Nahyan Global Arabian Flat Racing Festival was set up to increase the worldwide profile of the sport and, having already visited the US, Australia, Germany, Poland, Morocco, France and Britain, St Moritz was added for the first time, when last year's German champion Arabian carved a place in the 106-year history of racing on the frozen lake.
The Regine Weissmeier-trained five-year-old made virtually all. A class edge on his rivals undoubtedly helped, but he still needed to handle conditions that couldn't be more different from the deserts the breed was designed to conquer.
Ridden by the trainer's son Fabian, Fanal Al Samawi led from the start. Momentarily passed by Italian raider Logudorese as the field entered the back straight, he regained the lead before the home bend.
It was then that Fanal Al Samawi asserted, Weissmeier looking to put the race to bed on the home bend. The tight turn caused the favourite some bother, however, and coming into the short home straight Logudorese was still in contention, the Franco Fadda-trained runner looking like causing an upset.
But Weissmeier held on, with Logudorese putting up a bold effort in second and the winner's stablemate Badjy staying on for third.
Regine Weissmeier, multiple champion Arabian trainer in Germany, was unable to attend the fixture and did not have access to live television pictures, but she received a commentary from her husband and said: "I'm delighted, very happy he has shown he's as good and as well as I thought he was.
"It was also a good run by Badjy to finish third, though I'm disappointed by the mare Ghilali, who was unplaced."
A race for Arabian horses featured at St Moritz, at a different meeting, from 2000 to 2002, with Weissmeier only failing to win the race in 2001, with her Tarim El Parry winning the other two contests. "We're the snow kings," she added.
The kickback made it difficult for anything to come from off the pace and the locally trained Nil Ashal (Franzisca Aeschbacher) fared best of those to try hold up tactics, closing close home and just failing to take third from Badjy on the line.